Athena loves baths, and she probably gets that from me as I could (and frequently do) spend hours in the bath! To get her out we have to drain the water, take out all the toys and wait for her to get bored or bribe with an extra bed time story!
Not long after she started walking she would spent bath times marching up and down the bath like a little soldier, until one day she slipped and came crashing down into the side of the bath, clonking her head so hard on the side that she cut herself just under the eyebrow! I think I was more worried than her at the sight of the blood but since then bath times have been a bit worrisome for me in case it happens again! When I became a Babymoov ambassador this was the first item I wanted to use and review, and it's made bath times much less stressful!  Now we're bathing both children together it will mean that there is less chance of Athena falling onto her brother too!
The underside of the mat has more suction cups than a very large octopus (not that I have ever got that close to a large octopus, but I imagine they have a lot of suckers too) and once stuck to the bottom of your bath it will stay put! We've also used it in the base of our double shower. It fits in the tray perfectly which was great for when I was on my own and showered with Athena because getting her in or out of the bath might was a bit much post C section!  It has lots of little padded bumps for added comfort too on the top side too, which admittedly doesn't help getting her out as she's happy to sit on it for ages!
There's a red dot on the mat which tells you when the water is above 37 degrees, which means it's too hot for little bodies. I tend to top up the water for myself with hot once Athena is out of the bath (if Sam is around to dry her that is!) and I leave the mat in as it means I don't have to prop myself up with my feet on the end of the bath to stop slipping down, short people problems!
There are two designs of Bath Mat to choose from, this blue and green frog design or a purple sealion design. The mats cost £14.99 and of course come with BabyMoovs amazing lifetime guarantee! Along with this useful invention Babymoov also sell three different types of baby-bath tub, perfect for every need (one is inflatable and one even keeps the water at the correct temperature!) plus a few other bath time bits, check out the full range here!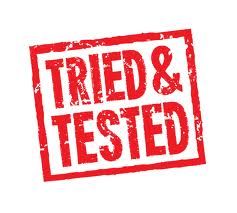 We are testing out various products from Babymoov this year, here's my intro post to find out more!