The last of this weeks 'blogger takeover' posts is from Caroline – aka Mrs Magovern! She's sharing her 3 favourite places to visit in her hometown. If you want to see the other posts in this series you can click here!
I've lived in Cheltenham for about a year now and I feel incredibly lucky to do so. As a youngster my parents always brought us to Cheltenham shopping and it's always kind of had a homely feel. Now I'm raising a family of my own we do much more in Cheltenham than just shop. As a family of, almost, six we like to hunt down activities that don't cost a lot and if it tires the kids out too that's a bonus!
Now, if you're planning a visit to Cheltenham as a family or perhaps just as a couple you can't miss a visit to Pitville Park – it's one of the the counties best parks and I absolutely adore it. It has recently had over half a million pounds spent on refurbishing the children's play area and people flock their from far and wide. The park is home to beautiful lakes – perfect for feeding the ducks or boating, cafes, woodland walks and plenty of open space to kick a ball or learn to ride a bike. It's the home of many group fitness clubs and mothers with prams meet weekly to catch up, make friends and stay in shape. It also happens to be where my husband and I tied the knot so I guess it will always hold a special place in my heart.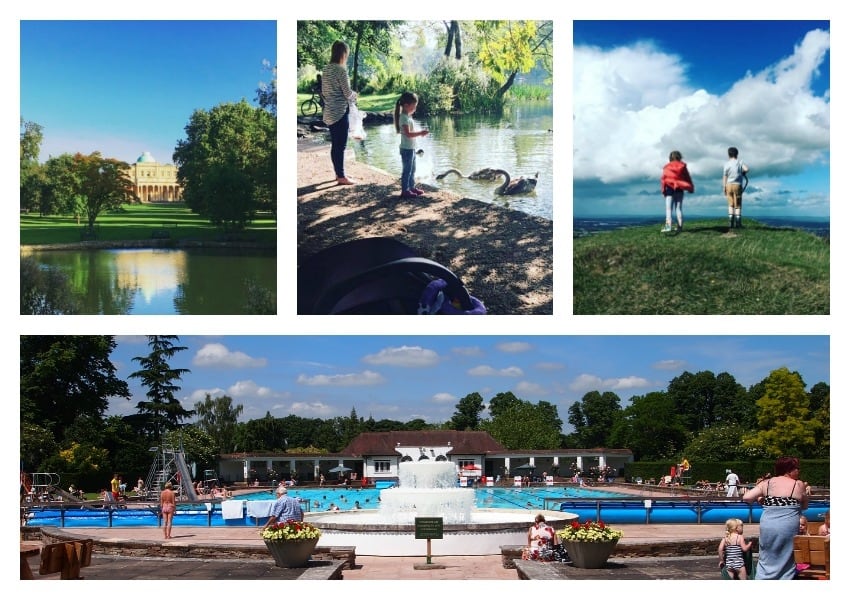 Another firm favourite of ours is Crickley Hill Country Park; it's a National Trust site and also an Area of Outstanding Natural Beauty. It's free to visit besides a little loose change for the car park and it could easily be a good half day activity. Pack a picnic or bring a disposable BBQ and you can enjoy the amazing views across Cheltenham and Gloucester. It's suitable for prams and wheelchairs in most places and there are a variety of walks to do. There's an information centre on site as well as a cafe and toilets. Kit the kids out in their wellies and let them run themselves ragged.
My final recommendation, and perhaps one for Summer, would be a trip to Sanford Park Lido. It's not everyday you come across outdoor pools in the UK and Sanford Park is particularly good if you have kids. Besides the main 50m pool there is also a kids pool, a paddling pool and slides. A family of four can visit for less then £15 and under 5's are free! That's pretty good value for money in my book. The cafe serves hot and cold drinks as well as sandwiches and more hearty meals. It's the perfect day out as long as the weather's behaving itself!
So there you have it; my three favourite places to take the kids in Cheltenham. Not only are they all extremely affordable they'll also ensure the kids are ready for a good nights sleep by bedtime. I'd love to know if you've visited any of these places or if you have any other suggestions to add.
Huge thanks to Caroline for sharing three gorgeous outdoor places to enjoy in her hometown! You can find her blogging at Mrs Magovern, tweeting here, on facebook here & instagram here!