This post contains affiliate links, which means I may earn a small percentage of any sales – the cost to you does not change.
Let's face it, there are infinite options when it comes to gift ideas for kids at Christmas. The little darlings change their mind about four times a day about what they want in the run up to the 25th but are actually pleased to get anything they have to unwrap. This year I've focussed on educational and arty/crafty type gifts with a few fun things thrown in too. Our main present for the kids will probably be an experience of some sort: days out, soft play vouchers or lessons for something; we've not quite decided just yet. We're trying to reduce the amount of 'stuff' in the home too, so every fortnight we ask the kids the pick two toys each to be donated in preparation for the new gifts coming at Christmas.
Splash! from Coiledspring Games available here. First up this is a really compact game – so great for taking on holiday and a great stocking present to keep everyone entertained whilst you pour the bucks fizz and prepare for unwrapping chaos! There are a selection of differently shaped, sized and coloured wooden pieces, and some water drops (which look like blue gems). You need to carefully build a tower out of the pieces and try and force your opponents to topple it, earning yourself water drops – the first person to get 3 wins! It's fun, fast and infuriating and up to 8 people can play.
Playmobil Puzzles. available here. If your kids love playmobil but sometimes you want them to do something that doesn't spread out and cover the whole living room floor a puzzle featuring their favourite playmobil sets and characters is a great alternative! 150 pieces (Though there are small puzzles available) will keep them busy for a while, and then you can post questions or get them to tell stories based on the picture they've put together!
Pengoloo – available here. A family friendly game for 2-4 players, ideal for kids aged 4 and up. A memory game that's really fun to play. Each wooden penguin is hiding an egg, roll the dice to play and remember where the coloured eggs are! I love that it's not plastic playing pieces, and the kids love the thrill of trying to beat each other, without realising they are improving their brain-power at the same time!
Dinosaur Discovery from Orchard Toys. available here. Just one of the great educational puzzles available from Orchard Toys. This one is 150 pieces that once assembled create a great scene full of dinosaurs, as well as dinosaur, plant and insect facts and names around the outside too. Orchard Toys do so many great toys and games, and I found out recently they will replace an missing parts too, how amazing is that! More info on their website.
World Map Colour in placemats from EatSleepDoodle. This is SUCH a good idea – and actually great for families who eat out a lot too – a surefire way to keep your kids entertained whilst they're waiting for food. In the pack is four placemats that put together create a world map. Of course they can be used individually too. You get a set of wash-out fabric pens included so you can reuse them over and over again too! As well as this set you can get pencil cases, bags, tablecloths and even duvet covers – all washable so hours more entertainment than a colouring book and functional too!
My Fabulous Storyteller by Lunii available here. I was so intrigued by this little device, and I think all kids would enjoy it- even ones who are often found engrossed in their tablets. It's a story-telling device aimed at kids 3+ that lets them make up their own stories by choosing different elements such as the setting, and the character. They then hear them read aloud via the speaker. There are 48 preset stories, with more available to download to expand the experience. Stories last between 3 and 7 minutes, and the battery lasts for 10. This means it's a great alternative to a tablet when you're travelling, plus it has a headphone socket! You don't need wifi to use My Fabulous Storyteller either, and stories are available in 8 different languages. This is a gift that would definitely be used a lot, and will help widen imaginations of anyone who uses it.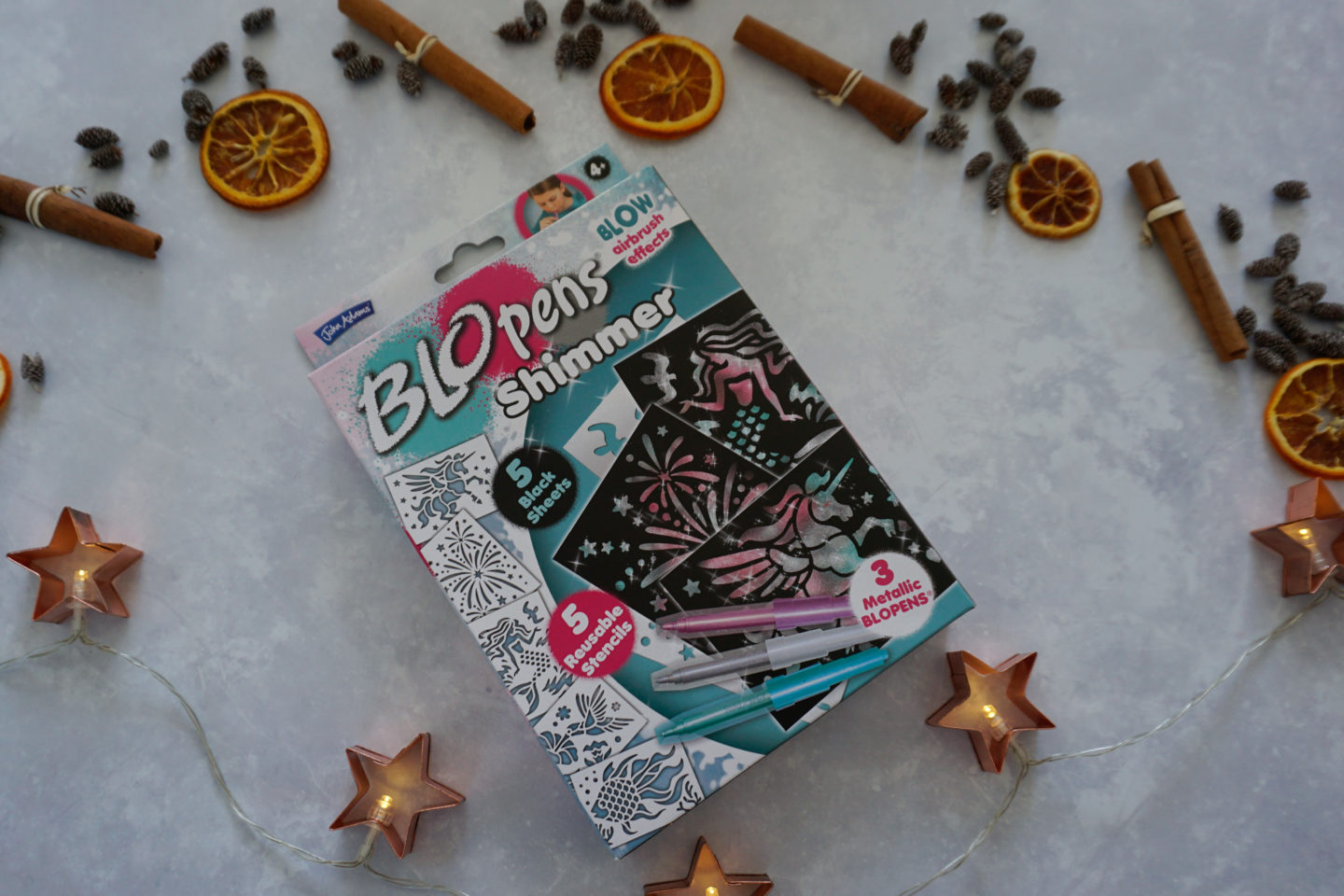 BLOpens Shimmer available here. A relatively mess free art idea, and one that I remember from my own childhood, though we just had bog-standard colours back then! BLOpens let you create fun, pretty and unusual art effects with a little bit of puff! This set comes with some stencils to help get the creative juices flowing but then pens can of course be used on their own too. They're both washable in case of accidental clothes-colouring in and also non toxic.
ion8 drinks bottles available here. I am a firm believer that sometimes kids need to be given things they actually need rather than want, and christmas is a great time to do so. Bog standard kids drink bottles are all well and good but when your kids want ones that nobody else has, have funky patterns on but you need them to be drop-proof and non spill then ion8 is a great solution! They're sturdy, hard wearing and include carry handles or straps too, as well as coming in different sizes, shapes and patterns! These are great stocking fillers that will actually be used past boxing day!
OjO Story Creations Game available here. From the people who brought you OKIDO, OjO have created a great collection of STREAM (Science, Technology, Robotics, Engineering, Math) based games and puzzles. Story Creations is a board game where players roll the dice to start their journey, then have to tell stories based on the cards the pick up (which contain prompts) and the spinner. Successful stories mean tokens! This is such a fun way to get kids thinking about different environments and get their brains working to make up stories to entertain the other players. OjO have got a kickstarter campaign to help launch a STREAM curriculum, and there are four NEW games available to supporters. More info here.
Lego Storage Brick available here. I absolutely love these giant 'Lego Bricks, that look just like their miniature counterparts! Coming in different sizes and colours they are ideal for sorting and storing all kinds of things – but I think they are perfect for keeping all the random bits of Lego that we have together. I think any kids (and a fair few adults) would be pretty pleased to see one these under the tree – storage doesn't have to be boring!
Frozen 2 Puzzle Pack of four puzzles. available here. I think we'll be seeing a LOT of Frozen 2 merchandise in the run up to Christmas, and this box of four puzzles is a great choice. You get a 12, 20, 30 and 36 piece puzzle, all creating a different scene from the film. You'll be pleased to know that each puzzle has a different shape stamped on the back so you can tell which piece goes with which puzzle – genius!
Animagic Scoot, interactive puppy available here. If you have kids that love animals and desperately want a pet, but you have neither the inclination nor the space for a pet then here's a wonderful, battery operated solution! This schnauzer is voice activated and responds to his own name, running towards you happily! There are over 35 different sound/movement combinations to get used to, and Scoot will react differently depending on whether he is on or off his lead – a bit like a real puppy! Scoot is probably much more obedient than a real pet, though real pets don't need 4xAA batteries (they're included though!). There are more interactive animals in the Animagic range, if a schnauzer isn't up your street then there are other pets available too!
Frozen 2 True Friendship Game available here. Another Frozen 2 appearance, this time a board game! The aim of the game is to get all the friends to Elsa, working together as a team to defeat the Water Nokk. Using the spinner players must work their way round the board to try and get to Elsa first! This is ideal for kids of four plus, and you need a minimum of 2 players. It will be a great game to play to keep the spirit and story of the film alive, once you've seen it! And let's face it, anyone with kids will probably be seeing it, right?
Colourmazing available here. A new way to colour in, and great for kids who aren't keen on normal colouring because they don't like going over the lines but find it tricky to colour within the lines just yet (like Arlo)! Containing 4 projects and six differently coloured pens, this set has a jungle theme. You spread the ink from the pens and the ink magically stops at the lines! You can also blend colours together to get the exact colours you want. Inside the box are the bits to make finger puppets, flying birds and more.
Lexgo Harry Potter Edition available from Waterstones. A fast-paced word game played with letter tiles. Ideal for anyone aged around 8+ this a special Harry Potter themed edition. You'll find specific tiles which help you increase your chances of winning the game! All the tiles are securely stored in the L shaped pouch which is small enough to pop into a bag for playing on the go!
Woody colouring pencils from Stabilo, available here. These chunky pencils give a great colour, 8 times more than a regular colouring pencil and on black paper! They're great for small hands as the extra width helps a good grip plus they come with a bigger sharpener to fit them. They can be used on paper, card, leather, glass and plastic etc and then can be wiped off with ease – perhaps some festive window drawing can be done! The pack actually comes with a christmas stencil too, so you could make some hand made christmas or thank you cards.
Reindeer Sweater from Nurture Collective available here. This reindeer print sweatshirt is perfect for the festive season! A family focussed website selling clothes for kids and mums as well as toys, linens and more. Their motto is 'Love your family, love the planet' so you can find a huge variety of brands and products that are all ethical and eco-friendly. There are some gorgeous wooden toys and gifts that would be great for people wishing to give gifts that last and have less of an environmental impact.
Stocking Fillers from Pound Toy This website is a dream for stocking fillers, but it's also handy all year round – we've used it in the past to bulk buy presents for kids parties, and there is a great party bag section too. You can find big brand names available for super low prices. Everything here cost just under £50 – and includes mugs to colour in, special edition Hot Wheels cars, magic sand, 'jo-jo' bows, craft sets, note pads and so much more! You can also find bigger toys too so definitely worth to see if you can tick off anything from your child's list for much cheaper! Plus tracked delivery is free when you spend over £25.
Personalised Letters from Santa from Lapland Mailroom. This a lovely website where you can order a variety of different letters from 'Santa' to help build up excitement for children. Each letter is highly personalised and comes with a few lovely festive surprises such as a festive door hanger, cut out and keep decorations, colour in christmas card and poster. The wonderful thing is that once the letters have been received, opened, read and enjoyed they can then be saved to look back on future years as a reminder of each Christmas, and what was on the present list!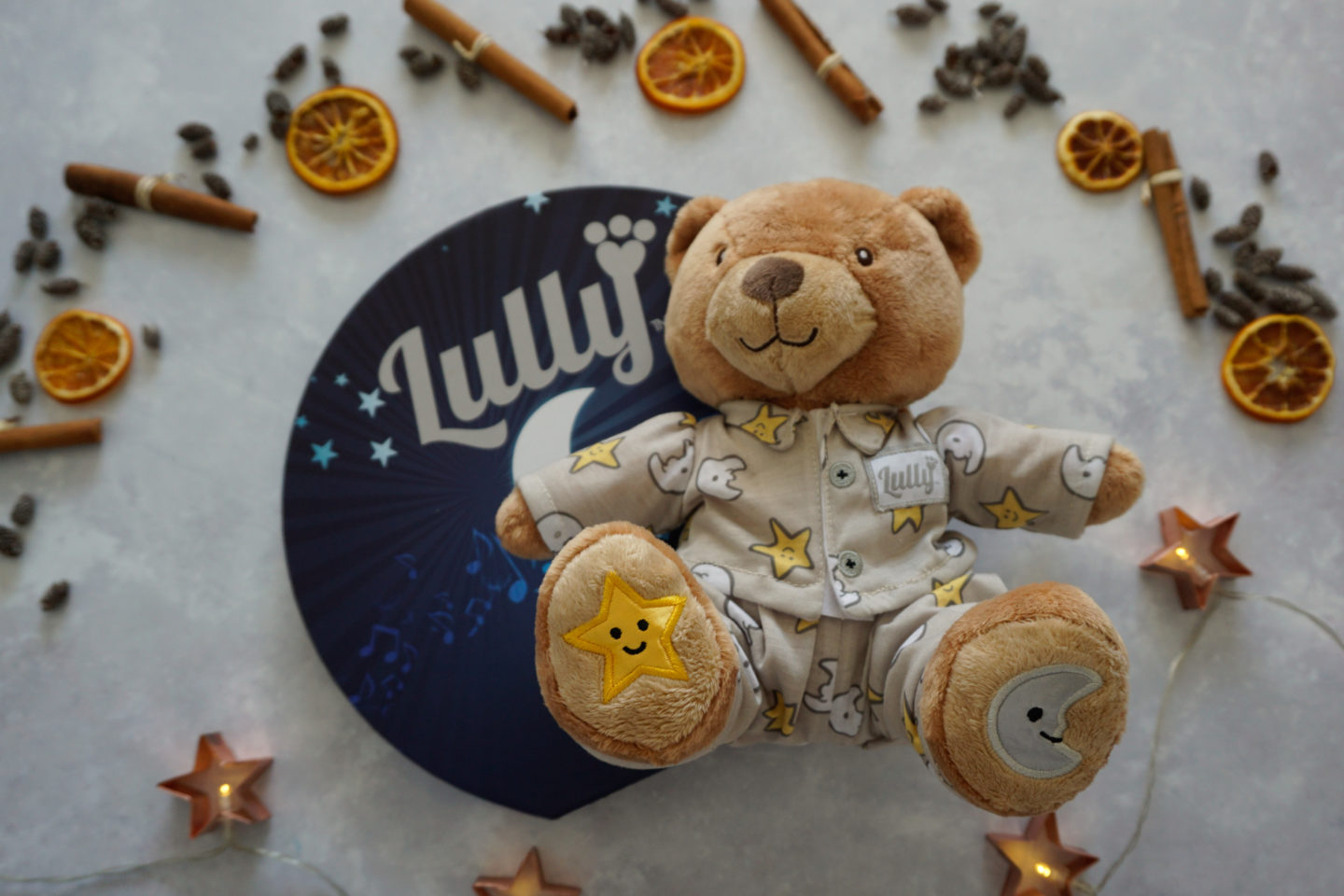 Lully Bear, the musical teddy available here. Lully Bear combines both teddy and lullabies, to create a soft, very cuddly teddy bear in super-cute PJs that sings! Providing an hour of uninterrupted lullabies and classic songs sweetly sung by Jane Stewart – who came up with Lully Bear as an alternative to electric sounding tunes and white noise! Arriving in a gorgeous gift box with batteries and a strap to attach to a cot or pushchair Lully Bear is an ideal bedtime companion for any little child, right from newborn up! He complies with the NHS safe sleeping guidelines too and I think will help many a parent to settle their baby without losing their voice from singing their child to sleep!
The best bit is that I have one to give away! To win your own Lully Bear just enter below! Full T&Cs in the gleam widget, ends Friday 29th November
Win Lully Bear, a gorgeous lullaby singing teddy bear worth £59.95