Scooters are definitely the in thing, in fact I'm not sure they will be ever be 'out'! When I walk Athena to preschool she scoots, as do at least half her class, they leave their scooters lined up ready and waiting for them to finish and scoot home again. We also have a lot of parents walk past us after dropping their kids off at the primary school near by, most of whom are carrying empty scooters, and some even riding adult sized scooters themselves! So we've put together a Mini Micro Scooters review.
Ever since Athena learnt to scoot her scooter as been a permanent fixture on days out and trips to the shops. It keeps her happy and she gets less tired than walking everywhere too, but means she's still getting more exercise than if she was sat in the buggy. In fact her scooting so much was one of the main reasons we sold our double buggy as she just wasn't using it! Of course now that Arlo is bigger he wants in on the scooter action, and now after months of watching his sister hurtle ahead of him, coast round corners and (eventually) learn to use her brake to stop he has the chance to catch up with her! To enable younger kids to join in with scooting Micro Scooters have come up with two clever types of scooter, the Mini2Go and the Mini Micro 3-in-1 and they sent us both so we could put them through their paces and explain the difference in the two models.. I've made a video of Arlo learning to scoot which shows the difference in the models too.
Mini2Go Scooter
Mini2Go is suitable from 18 months to 5 years, and consists of a sturdy plastic seat with a built in storage compartment, which opens from the back and enables you to store a few nappies, wipes and a coat or perhaps your purse and keys for a quick spin round the park! The unit has little foot rests, which would work brilliantly with the ScooTow bar or Scoot n Pull strap (which are sold separately) but we found that as Arlo had seen his sister use her scooter and had also used other ride on toys at playgroup he knew what to do with his feet and didn't really use the foot rests much! I found that the Mini2Go was slightly sturdier than the 3-in-1 because it's heavier with the seat unit attached (and obviously heavier still with things in the storage compartment) but that the smooth running wheels meant Arlo could get going on grass or a path with no problems! Once your child has got a bit bigger and wants to start scooting without the seat you can easily remove it with the allen key and they're left with a scooter with an adjustable height handlebar (no allen key required) that should see them up to the age of around 5! It has two wheels at the front and one at the back so is sturdy and doesn't require them to balance on two wheels yet. Steering is easy (once they've learnt and requires very little effort, unlike a bike!
The Mini2Go range is available in blue pink and red with a whole heap of accessories too!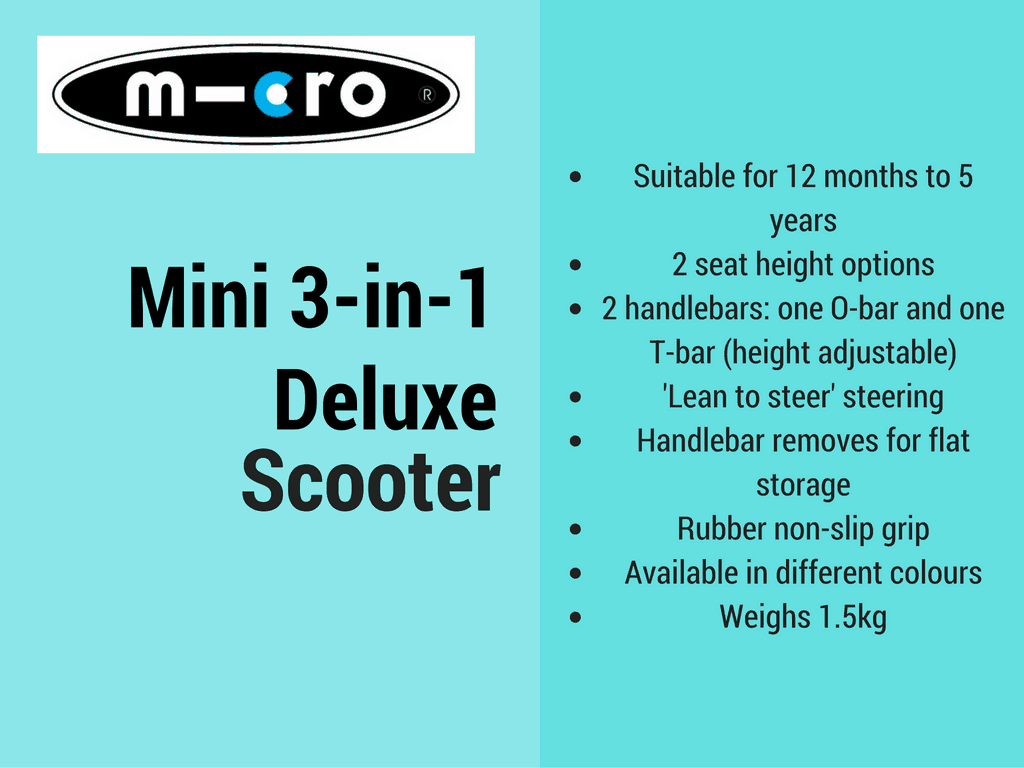 Mini Micro 3-in-3 Deluxe
The 3-in-1 Deluxe scooter comes with two handlebars and a seat unit. The seat is more lightweight and narrower than the Mini2Go, and obviously has no storage option. It's slightly padded and there are two height options to use as your child grows. The 'O' shaped handlebar is perfect for the first few months as it means your child isn't accidentally putting pressure on one side of the regular handlebars, and therefore steering off to the side when they don't want to! I think if we had had this style handlebar for Athena when she was learning it would have made life a lot easier! You can use the O shaped handle without the seat too once they've graduated to scooting without the seat, and then once they've got that done out comes the height adjustable T shaped handlebar and away they go! The Deluxe version of the scooter has an increased weight limit and a rubber raised grip on the deck which means it's great to use in wet weather as less likelihood of slipping.
This model is also available in four colour options, although if you wanted to pick from the wider colour range of mini-micro scooters (or even design your own!) you could buy the seat and O bar separately.
Micro Scooters sell a huge range of accessories to spruce up their scooters, Athena has been sporting multicoloured ribbons, a bell and sometimes a water bottle and holder too (though she loves this so much she takes it into preschool for her daily water bottle as it has owls on it!) As well as these accessories there are baskets, bags, ponchos, wheel covers and lots more!
Teaching your child to scoot
Now I have two scooting kids I thought i'd share some tips that we found useful when we taught them how to use their mini micro scooters:
Be patient! Most toddlers get frustrated when they can't do something the first time. Take them to a park where there are likely to be other kids scooting so they can see how they do it. Then let them give it a go! Both my kids spent the first few times we took them out pushing or pulling the scooter along, but this is fine as it's just their way of getting use to it, how it works, how much it weighs etc
Don't do too much at once, not only is it frustrating when you try to learn a new skill but it's also quite psychical especially for a child who normally gets pushed or carried around! So don't expect too much at once!
Don't make a big deal if they fall or topple, let them stand back up, sort themselves and the scooter out and try again
If you've got the O bar, use it! It definitely made life easier for us to teach Arlo with one as it meant he wasn't steering sideways when he didn't want to
Teach them to use the brake only after they've mastered scooting quite well, we kept trying to teach Athena to early and the act of having to use one foot to put behind her on the brake kept making her wobble. Now though she uses it like a pro! Arlo doesn't go fast enough to need it yet so we're holding off explaining how, although I expect he will watch and learn from Athena eventually!
Good Luck!
Mini Micro scooters really have made our life a lot easier, everyone's happier with a scooter to ride on now, and as my husband has his long board when we head to the beach I often get left behind as I'm the only one with no wheels! Tempted to ask for an adult scooter for my birthday actually so I can catch up!  I often see people on facebook groups saying 'oh but they're a bit expensive aren't they?' when they ask for suggestions of brands to try/toys to get their kid for their birthday and yes, they are more expensive than some, but having bought a cheaper version before we bought Athena hers I can hands down say they're worth every extra penny!
Steering is easier, they're a lot more sturdy, they're lighter and if your child uses is just three times a week from two to five years old, a Mini Micro Deluxe costing £69.95 equates to under 45p a week! Unlike other types the handlebar is easily removed for storage, so they take up next to no room in the boot of the car either! Plus you can then pass it on to a younger sibling, cousin or friend as they're so well made they'll last for yonks! The wheel layout (two at the front) means they're a lot easier to use than cheaper ones with one wheel at the front and two at the back, and your child can move on to a two wheeled version when they're ready; around tween sort of age, as there is a maxi micro scooter that is the next step after the ones I've featured here, which will see your child from around 6 years to 12 years old
To view the full range of scooters for kids and adults take a look at the Variety of Micro Scooters and follow them on facebook for the latest news and competitions!
Do your kids scoot?