My last update was at 32 weeks here, and blimey time flies! I've now finished work and although the next two weeks are actually annual leave rather than maternity leave it means that if everything goes to plan I have around 4 weeks until this baby appears!
Appointments
I had my 34 week midwife appointment last Monday, I am measuring spot on and haven't gained too much weight. The midwife was clearly having a bad day, rushed through my appointment (that was 30 minutes late anyway!) and was generally unhelpful with answering my questions. I have an appointment next Friday with the obstetrician at the hospital to confirm my C-section date though and talk through any questions I might have. I have a few actually now I've sat down to think about it!
I want skin to skin as soon as possible so want to know if I can wear my gown the 'wrong way' so it opens at the front and not the back
I want to know if they will let us use cord ties made of natural material rather than the regular plastic ones, if so I'll make some from embroidery thread and sterilise them.
I'd like to know how long they will keep me for as a minimum (I was home after one night with my first C-sec but this is a different hospital so may have different rules)
Symptoms
More heartburn, less sleep and definitely more needing to pee pretty much all the time! I can't wait for this baby to move down a bit so I can breathe a bit more easily too! Although I am waddling a bit it tends to be more towards the end of the day, but now I'm off work I am trying to get out for a proper walk each day to help loosen up, and finding I'm less stiff in the evenings than I was after sitting at my desk at work all day!
There is definitely a lot of involuntary grunting going on when I get up from the sofa or bed, or have to walk up more than one flight of stairs!
I still have a really bunged up nose and a headache when I wake up most mornings too. So far no swelling of feet or hands though! Annoyingly I am not finding baths comfortable because I can't be on my back for too long and I am too short to sort of prop myself up at the end of the bath with my feet, if you know what I mean? So I end up sitting sideways and cross legged to read my book, which is not much fun! Anyway, it's easier to shower these days because I can take Athena in with me and not have to lift her in and out of the bath, and the steam helps to clear my nose a bit!
I've also been having some odd dreams, some of which involve going into labour early but I'm hoping that's quite normal and not a sign! I am however putting my foot down and lot letting Sam go on an overnight work trip when I'm almost 39 weeks pregnant, although he pointed out I drove 2 hours to an overnight work trip when I was 38 weeks pregnant last time! Something feels different this time, plus if something did happen I would need to sort out someone to look after Athena, which is something I didn't have to worry about last time!
Preparation
I'm going to pack the hospital bags on Tuesday when Athena is at Nursery, although I have written up a couple of lists already! I think I have everything I need, I just need to get it all together! I also need to wash all the first size and 0-3 month clothes ready for baby to wear them! We have somewhere for the little guy to sleep now thanks to Chelle loaning us her Snuzpod co sleeper, her little one outgrew it at just the right time!
The car seat is ready to take a little squish home, and we have a rocker, a pile of muslins, and some nipple cream, and lots of lovely tots bots nappies, so all the necessary things!
We *think* we've decided on a name now, although we're being super secretive about it at the moment. Also when he pops out he may not look like the name we've decided on, so we've spent a couple of fun sessions playing with the Baby Name Genius app. It's a little like tinder (not that I've used that though!) in that you tell the app whether you like or don't like the suggestions it comes up with, then it adapts the results to give you names you might prefer. All the names have some background info and there is a trending section too (although we want a more unusual name, so if our chosen name appears there we may change our minds!)
Below is me with Athena at 35 weeks, and now. I can't see a difference at all, can you? I've had a lot less people ask me 'is it twins?' this pregnancy though, so perhaps bump is a bit smaller? I'm intrigued to find out how big this little dude will be compared to his sister!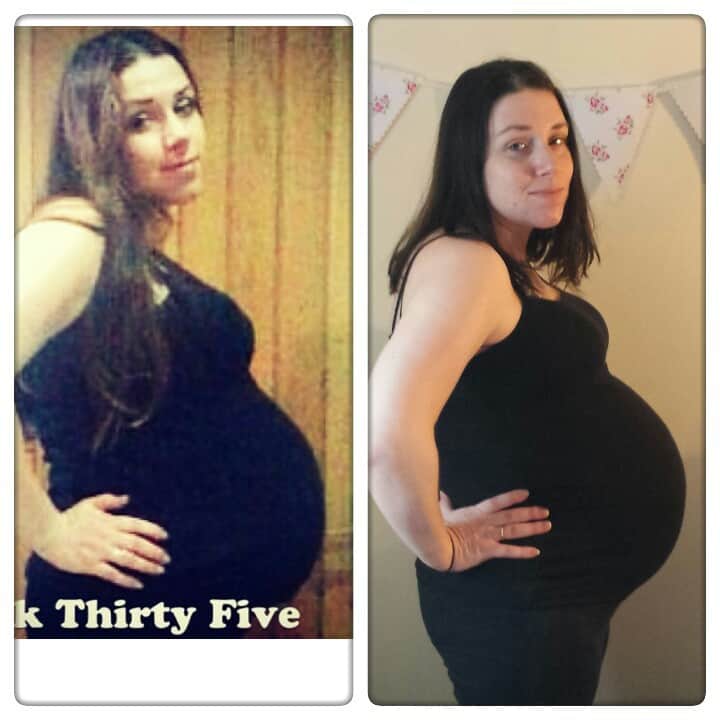 That's it for now I think, I'll try and squeeze one more update in before baby arrives!