Finding sandals that look good,  go with everything and are comfortable enough to wear all day is like looking for a needle in a haystack – but I think I've  found  that shoe-shaped needle!  These  are the 'Elle Backstrap' Keen sandals – and not only do they match my requirements but they  are consciously created  as the straps are made from 100% recycled plastic bottles, and have  a jute-infused outsole for less rubber usage making them  Eco friendly too.
Firstly the only sandals I've found that   are supportive enough to wear all day are Birkenstocks – but they need a fair amount of wearing in before they're comfy as the leather needs time to become supple and the footbeds are quite stiff – plus they're pretty casual looking.  The Elle sandals  however have three stretchy straps made from material that won't rub, meaning  you get a comfortable wear right out of the box – something that amazed me as it really never happens!
Available in size 2.5 to 8.5  (yay half sizes!)  they come in 5 different colours and have an ever-so-slightly wedged heel  for a little   lift, but are more than comfortable enough to stroll in all day,  on pavements or country paths and even at the beach. The innersole has arch support and is  a little squishy to absorb impact.   I've worn them with jeans, shorts and dresses and they go well with everything – I am in love!
Keen design and sell shoes, sandals and boots for men and women, as well as kids – mostly in half sizes and different widths, up to a mens 16 and a womens  12 in some styles! Very inclusive, and from a family with a dad with  big but narrow feet and a daughter who looks like she's following in his footsteps  that's much appreciated! There's also a sale on now, with some really great reductions.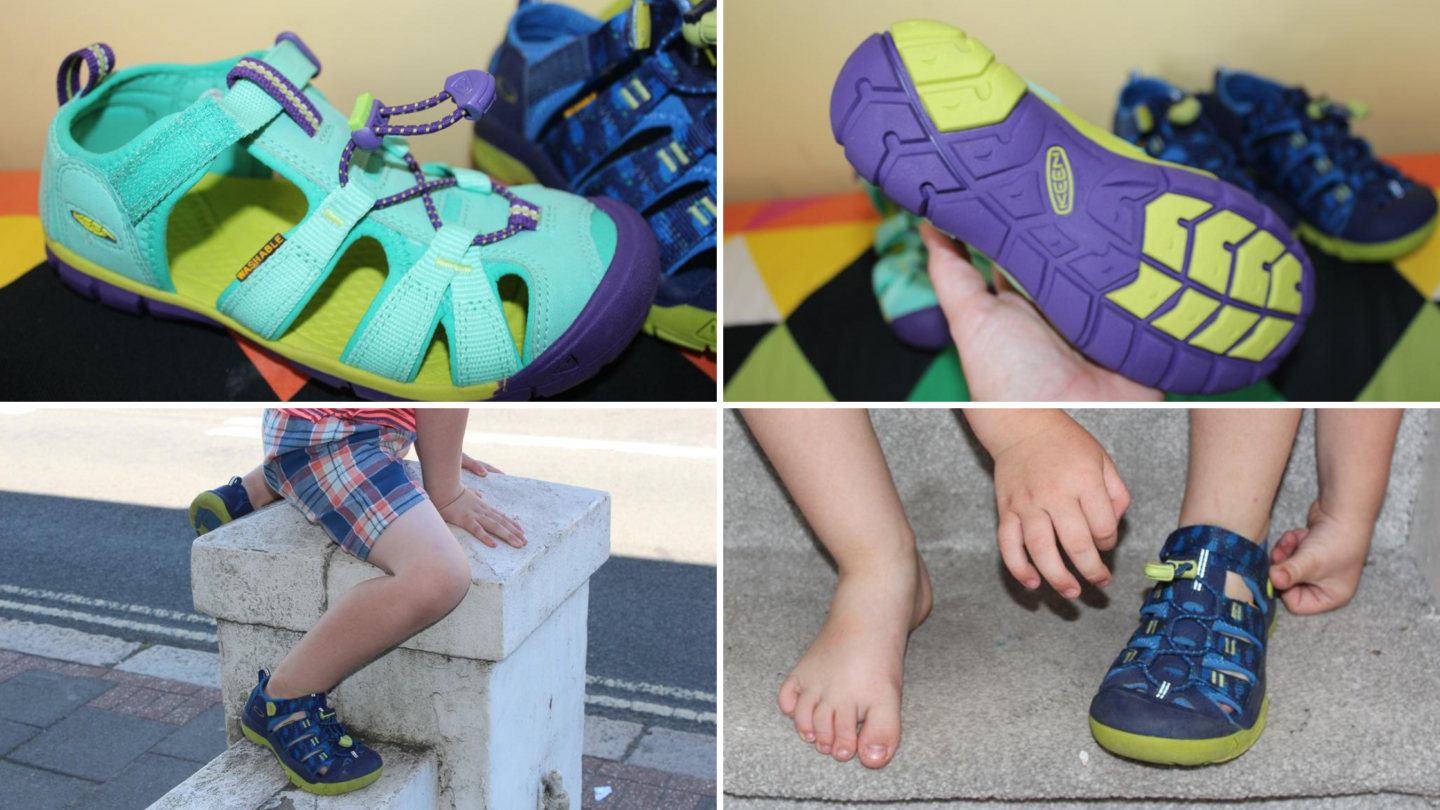 Athena is wearing the Seacamp II shoes, which are  from the 'older kids' section and come in sizes 13-6 and are  available in 20 different colours – which is just amazing though it took Athena ages to pick the ones she liked best!  They are a hybrid water sandal for active kids – which means not only are they perfect for beach, streams, puddles and anything else water based (like sailing or paddle boarding perhaps!) they are perfect for land too.
Super supportive and really flexible  both kids have loved  putting these on for our adventures this summer – from our local beaches in all weathers, to muddy camping trips and finally on the Norfolk Broads , where they came in very handy on not  slipping when she was walking up and down the boat and  climbing on  and off when we moored!
Arlo picked the Newport H2 sandals from the 'little kids' collection, available in junior 7 up to  12, and in 9 different  colours. They're very similar in design to Athena's with both having an upper sole designed with lots of ventilation, an adjustable elastic cord for width and tightness and an easy to use  hook/loop fastening to keep them secure.
Neither kid has had any sign on a blister, which happens so often with sandals but these have a really soft  edge around the heel and no straps or seams inside that might rub, which meant that they can be worn happily all day with no socks – even when they're wet!
But, even better than being able to be worn in water and not cause blisters is the fact that you can fling them in the washing machine and they come out looking brand new again!  I put them in a pillowcase with a regular coloured wash and  despite being washed 3 times so far they still look amazing.
The features that make these shoes so versatile are:
Flexible rubber sole for climbing, running and clambering.
Air flow design that lets air circulate but doesn't let little stones in – this was a godsend on our many beach trips on holiday!
Closed toe – so no snubbed toes and no scuff marks that you get with open toed sandals. It also means they are school-uniform-policy friendly (for us anyway!)
Easily adjustable
Machine washable
Lots of colours available in all styles.
Searching for the right shoes is easy  on the Keen footwear website, you can define by size, colour, activity and type of fastening .
I also wanted to say that I try and do a bit of investigation into a company's ethos, background and practises before I agree to work with or promote them, and Keen really do come up trumps. They were already eco-friendly in a lot of ways, but at the start of lockdown they started producing masks instead of shoes when it was clear there was a big shortage and everyone needed to be wearing them. Then, as if that wasn't enough when I was writing up this review today I found this post talking about  their stance on racism, BLM and equality and what they're doing about it – AND they've shared it in different languages too.  Keen – a company that are doing things right