Down a leafy lane in Hampshire round a bend in the road a yurt will come into view, with lavender fields beyond. Behind you, there's a thatched cottage, nestled in amongst a large and lovely garden. Over the lane is a private stretch of river, peaceful and serene.  Riverside Cottage is where I spent two days and nights last week, on a Bloggers' Retreat, and it was just what I needed! No herding kids, no traffic, no mess, plus comfy beds, a relaxing atmosphere and a bunch of new found friends.
Nine other bloggers and I descended on Riverside Cottage, and made it our home for a little while, and I left feeling inspired, refreshed and relaxed. Inside the cottage, you'll find five bedrooms, and plenty of space to relax too, including a long table in the conservatory sitting atop a painted rug, and another conservatory at the end of the country style kitchen, complete with Aga. We quickly made ourselves at home, Nicole and I managed to bag the Master bedroom, which had two comfy single beds, a dressing room and a bathroom with a rainfall shower head over a bath and Riversides own lavender scented soap and hand cream.
Upstairs the bedrooms have sloping ceilings and old leaded windows, character oozes from every angle! Because of the age of the building, there are no overhead lights, instead, side and floor lamps give a cosy feel. The décor is 'home from home' style as described by Clare the owner, and is in keeping with the style of the cottage. There are some wonderful quirky touches though, like the bright pink embroidered chairs, rocking horse and mini grand piano!
It was a gorgeous afternoon so most of us decided a dip in the heated pool was a good idea. The Lodge is another, smaller, accommodation at Riverside, sleeping up to four people and that's where the heated pool is. It was the perfect temperature and just long enough to get a few lengths in if you desired!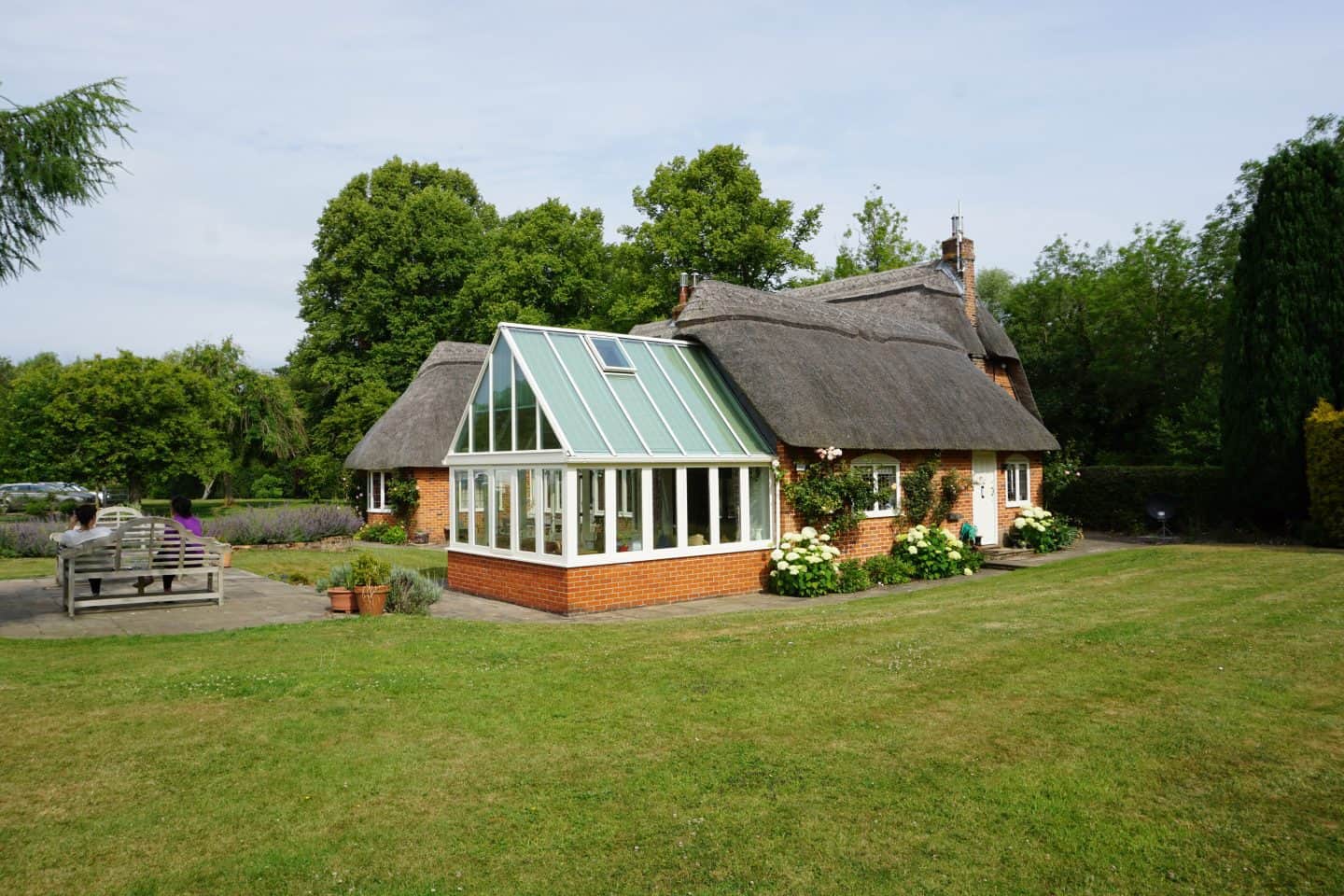 The Kitchen was well equipped and even with almost all of us in it at some points, making tea, breakfast or cocktails (not all at the same time!) it didn't feel cramped. For a self-catering break it would be perfect, though took advantage of one of the services offered; a Chef from The Little Kitchen Company cooking and serving a three-course meal for us, which cost £40 per person. The bonus was that they cleared up afterwards and it was as if they'd never even been there the next morning! Once we'd had dinner we cracked open a few bottle of spirits and got going with cocktails! We'd been sent some bottles to try from 31 Dover, my favourite was the pink gin, I need to get myself a couple of bottles to see me through the Summer Holidays I think!
We had such a nice evening getting to know each other, as some of us had met in person before and other's hadn't, but we all got on so well and put the world to rights out in the evening sun, then we moved into the living room under some blankets with tea before heading to bed!
Tuesday was quite a busy day for some of our little party, with early morning yoga over in the Yurt, and then holistic treatments, including hot stone massages and facials! I had decided to plan absolutely nothing for the day, so I had a morning bath, a leisurely breakfast with my book and a pain au chocolate in the garden and then spent the rest of the day dipping in and out of emails, chatting, scoffing crisps and drinking tea! A few girls went for a stroll in the countryside and said it was so peaceful and perfect for an afternoon walk! At four thirty we reconvened over in the Yurt for an afternoon tea of fresh scones and homemade raspberry Jam, with lavender from Riverside's own crop! We were then given a masterclass in floral arrangements from Judith Searles, which was both fun and strangely satisfying too. We were given a ring of oasis (that foamy stuff) and a heap of greenery and flowers and shown how to create our own arrangements. Now I'll go out on a limb here and say floristry is probably not going to be a career I ever pursue as I'm not in the slightest but in possession of green fingers but it was a fun way to spend an hour and my finished display was actually alright to look at!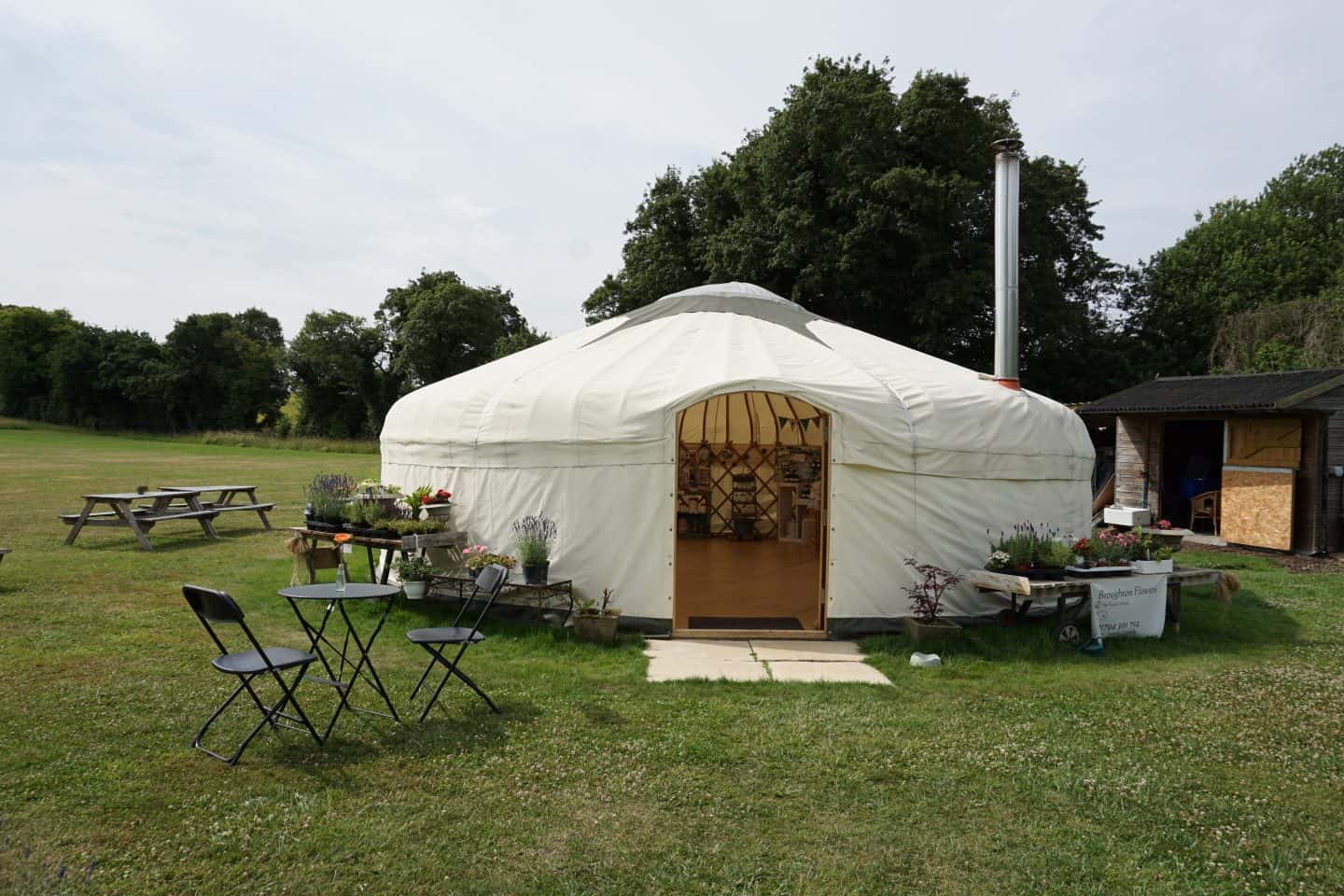 On Tuesday night we thought briefly about cooking dinner, but it was a very brief thought and we ended up with pizza that Laura collected from Andover. We carried on putting the alcohol through its paces with more cocktails! For some reason, I had absolutely no hangover or a headache despite the alcohol, but I have a suspicious feeling it's got to do with being able to sleep in till fancied rather than being woken up with small people appearing next to the bed! We had another lovely chilled out morning, consisting of a leisurely breakfast, lots of tea and a last stroll around the garden watching the butterflies and bees flitting about. We had the loveliest of times, and I can't wait to do it again! I made a short vlog of our stay, so you can see inside the cottage and more of the ground and Yurt Cafe.
Getting to know the other bloggers more was the icing on the cake, you can take a look at their blogs too as they'll all be writing about our retreat too; What the Redhead Said,  Dear Bear and Beany, Five Little Doves, Le Coin De Mel, The Littlest Darlings, Mudpie Fridays, Keep Up With the Jones Family, Bridie by the Sea, &  Mummy and Boo.
I also worked with some amazingly generous brands to put together a bespoke goody bag for all of us, full of nice gifts and pampering bits for us to really treat ourselves! Special thanks to Alex Foster Illustrations for the amazing London City print, it's going to be going on my living room wall soon, along with the gorgeous scented reed diffusers from Harley & Lola, and a gorgeous rain mac from Shores, which was a welcome addition as it drizzled for most of our second day! There were so many other little treats too, I can't wait to get stuck in to them!

More about Riverside Cottage Hampshire
You can find out more about Riverside Lifestyle, including the current Yurt Cafe opening times and events on the website, or you can call Clare on 07973 215407. They're also on Facebook & Instagram. The cottage is located just outside the village of Barton Stacey, not far from Winchester, which easy road links to London and the coast.