Last week we reluctantly had to hand the keys back to a Vauxhall Zafira Tourer. We'd been loaned one for a week to put to the test to see how well it performed as a family car. Our own family car is an Astra Estate, but it's getting on in years, and miles (at 220k!) and we're basically going to keep using it until it needs a large repair, then we'll use our car savings fund to source a new car.  Here's what we're looking for:
Spacious – both kids are in full size car seats and will be for a good few years. We also need a lot of storage space for road trips, Sams snowboarding  and fishing gear also needs to be transported so seats that move to accommodate them without poking the passenger in the back of the neck is a bonus!
Adaptability for drivers – Sam is 6'6 and I am 5'2, but we both need to be able to comfortably drive the same car without being squashed
Economic to drive and low cost maintenance  – We prefer to drive a diesel car, the vast majority of the journeys that our car does are at least half an hour or longer so diesel works well for us terms of miles to the gallon. Ideally we also want a car that is easy to source parts for and fix should anything go wrong.
Athena loved it, as you can see! But what did we think…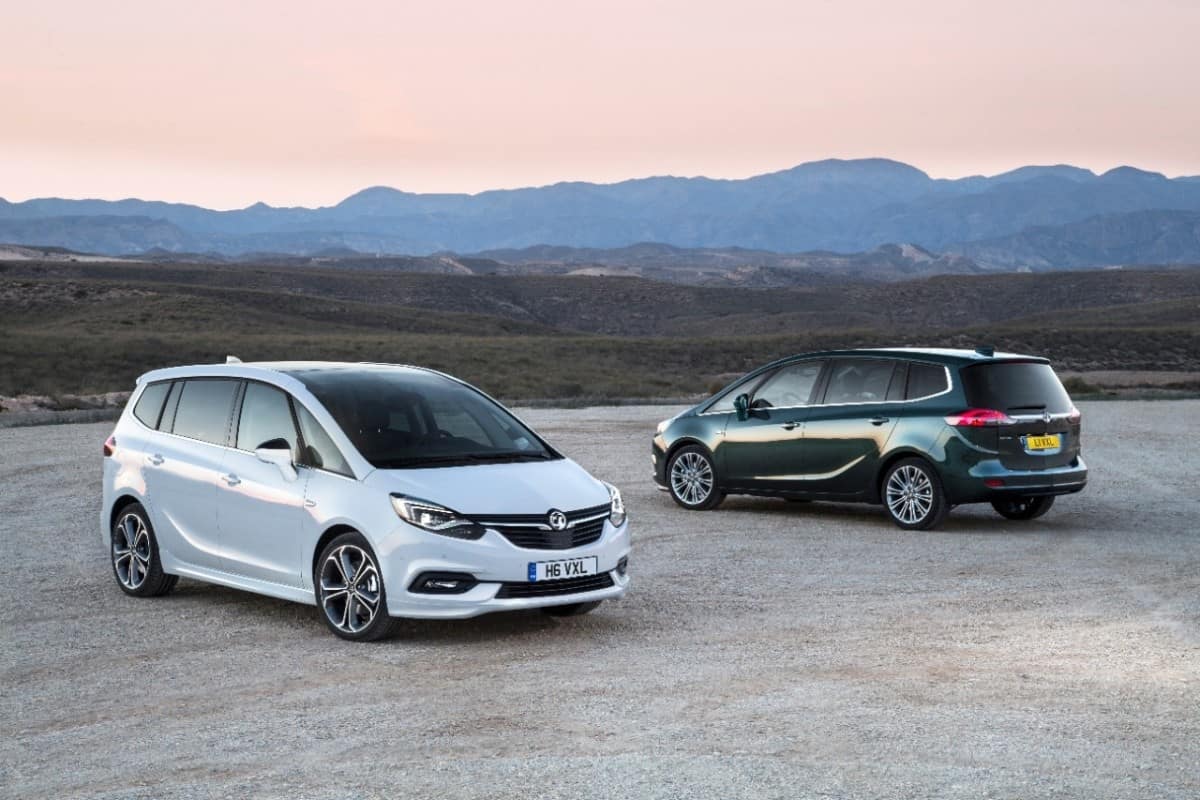 The Zafira seemed so much bigger inside than our Astra, although it is only about 8cm wider. There just seemed to be so much space inside, including a really decent sized central console with oodles of storage. The seats were comfy and really adaptable, I could raise the drivers seat up into an elevated position for someone of my short stature, and Sam could easily lower it and slide it back to accommodate his daftly long legs. Everything was easily controlled from the drivers seat, electric windows front and back (controlled by the keyfob too, so you can lower the windows as you're walking towards the car on a hot day for example)
In the back of the car you can configure the seats in lots of ways. We spent half the week with Athena and Arlo in their car seats on the middle row, with the centre seat folded down and the arms rests up to form lounge style seating which meant they could have toys and drinks right next to them to grab whenever they needed. Later in the week we also put one of the seats in the rear position so we could put long boxes (hello, Ikea!) down one side. The seating configuration is simple to amend, with clear tabs and everything clicks in place securely. Although we're not planning on a third child it would be great to have the option to take friends and family out for the day all in one car, rather than two. As I said earlier Sam snowboards so having seats that move to accommodate this is a huge plus.  Even with all seven seats in use there is a bit of boot space left for bags and things, plus room in the footwells if needed, though if you wanted to go on a weeks driving holiday with a larger family you would probably need a roof box.
Driving the Vauxhall Zafira Tourer is a pleasure, we were loaned a diesel version which didn't feel tank like at all (our Astra does, but it is ten years old!) and having six gears meant that we could cruise more economically on motorways. Sam loves cruise control (though I've never really appreciated it I don't think) and found it easy to set and use from the controls on the steering wheel. There is no traditional hand brake, instead there is a button (which Sam needs to remember to use!) and the engine is started by pressing clutch. There is hill start assistance too. The best bit about driving this car for me is the parking sensors. A visual next to the speedometer and an audible beep warn you when you are getting close to something at the front or rear and I WISH my own car had this as I am a notoriously naff parallel parker! No more driving up the road to find a space I can easily manoeuvre into in the Zafira, oh no! I nipped in with relative ease!
The Vauxhall OnStar system was a welcome addition; it gives you wifi to use on up to seven devices at once, lets you use your mobile to control aspects of the car (hint, don't play around with the 'sound horn' feature in a hotel car park!) and also lets you choose your destination on your phone from the comfort of your sofa, and send it to the car when you get in so no hanging about. You can also view vehicle diagnostics on the app such as tyre pressure and there is automatic crash response along with lots of other cool features. This comes free for 12 months with all new vehicles. There is an easy to use navigation system (maps are included for 30 different european countries) on a large colour display that can be operated by either of the people in the front seats, with DAB radio (Hello Rock FM!) which is a brilliant feature. Mobile phones can easily be connected via bluetooth and there is a USB socket next to the cigarette lighter (which I doubt will exist in cars before too long!)
So, does this car fit our needs for a family car? Yes, it really does. Obviously we are used to driving an older car so anything new is a welcome change, but as we already drive a Vauxhall it was nice to see how much technology has advanced and how nice a car can be to drive. My personal favourite feature was how high up I was, giving a good view of the road and other users, once I had got used to the different shape of the windscreen pillar. I asked Sam to think of something that could be improved, and the only thing he could come up with is that the wing mirrors don't automatically fold in when you switch the engine off (nothing major then!)
A Vauxhall Zafira is now definitely on our short list for a family car, its a brand we already know and a model that really would suit every eventuality (Even a surprise third baby!) and for a 7 seater car/MPV it really didn't feel like one when being driven!
Here's a little video of some of the interior:
The model we drove was a 2 litre diesel 6-speed manual model, giving 54.3 (5.2) miles per gallon. This specific model retails from around £28k but is fully customisable on the Vauxhall Website, where you can play about with paint colours, trims, fabrics and all sorts to suit your needs. Huge thanks to Vauxhall for lending us a car to put through its paces. All words and opinions are my own.