When The Manduca baby carrier dropped onto the door mat (okay, it didn't it arrived in a nice box and was handed over by a courier!) I was about 38 weeks pregnant, but that didn't stop me from trying it out with Athena before her brother arrived! After all, I wanted to test out the claims that it can carry children from birth to pre-school age with no extra accessories needed. I'm pleased to say that at over 39 weeks pregnant here I am carrying my two stone toddler with ease!
When either Sam or I carry Athena it is with the carrier extended, in the photo above the top two green 'stripes' actually zip together so you can shorten or lengthen the back support really easily. Athena is tall for her age (99th percentile on the growth chart) so may well be too tall for the Manduca by the time she's at pre-school age but there is definitely a good year left of wearing her before she's too tall to be supported properly I would estimate! With Arlo  I tend to unzip it when he's napping for more support, and zip together to shorten it when he's awake and wants to look around!
The Manduca is comfortable to wear for long periods of time because of the heavily padded straps (both shoulder and waist belt) and the fact that you can cross the straps over for extra support/comfort for your back. There is webbing for the strap to pass through the other to hold it in place and because the straps can be worn crossed this means they are extra long, so perfect for my very tall husband to wear at 6'6! You an adjust the straps to suit each person really easily so we can swap between both of us (and both kids!) on days out easily.
There are three carrying positions possible to use: front, back and side. Now Arlo is four months old (and chunky with it) we're able to do back carries too but I've not tried a side carry yet. He spent his first two months in a stretchy wrap as it was easier to leave on and pop him in and out off during the day for naps etc, but used the newborn support a couple of times. It's attached to the inside of the carrier so no need to buy anything extra or fiddle with getting it right! There is a built in hood too for sleepy babes, and windy or sunny days!
It's also possible to breastfeed in the Manduca by lengthening the straps and loosening the waist band to drop Arlo down a bit. Now this obviously depends on your bust size but thankfully I'm not that well endowed so it's quite manageable for us! To get Arlo on my back when there is nobody around to help I start him on my front with the waistband done up and then slide him around, lean forwards to pop my arms in the carrier and then do up the chest strap! It's a LOT
cooler to wear during the summer than a stretchy wrap too, as a lot more air can flow around us.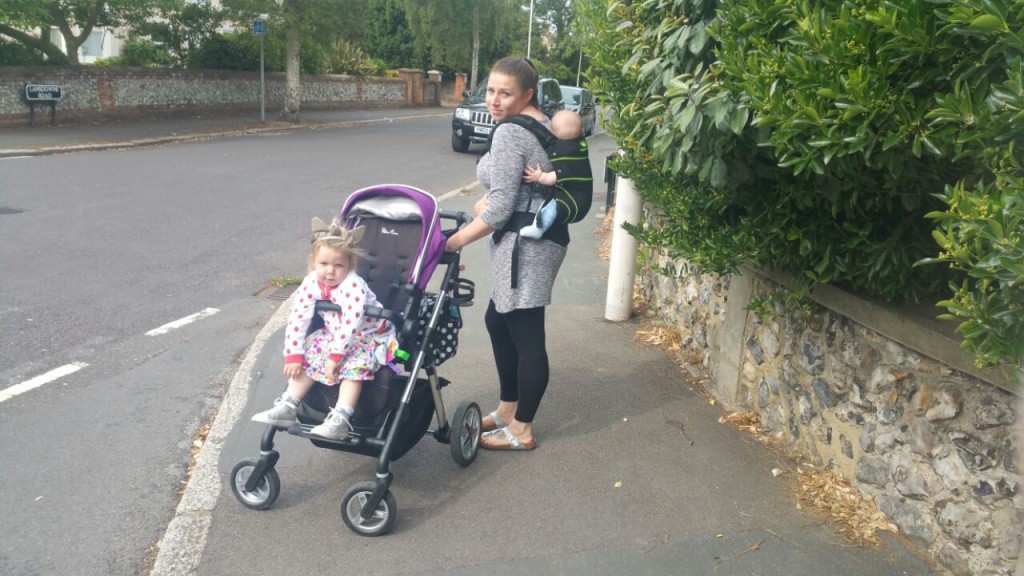 The Manduca retails at £99, and extra accessories are available like a bag to attach to the belt to keep all your bits safe in without the need for a separate bag, and some strap protectors for babies that like to chew! It was voted at number two in the 'top ten baby carriers' as voted for by UK Sling libraries so it's definitely one to try! It comes in a variety of colours and designs too, along with being fully washable and easy to store!
So instead of pushing a gigantic double buggy about more often than not it's a single buggy and the Manduca because I can swap the sprogs around as I please! Although sometimes when we're at the top of a cliff we leave the buggy behind and do a bit of tandem babywearing!
We were sent a Manduca for the purpose of this review from Cheeky Rascals, my amazing Brit Mums sponsor for 2015. For more information about them and the amazing baby products they sell take a look here.