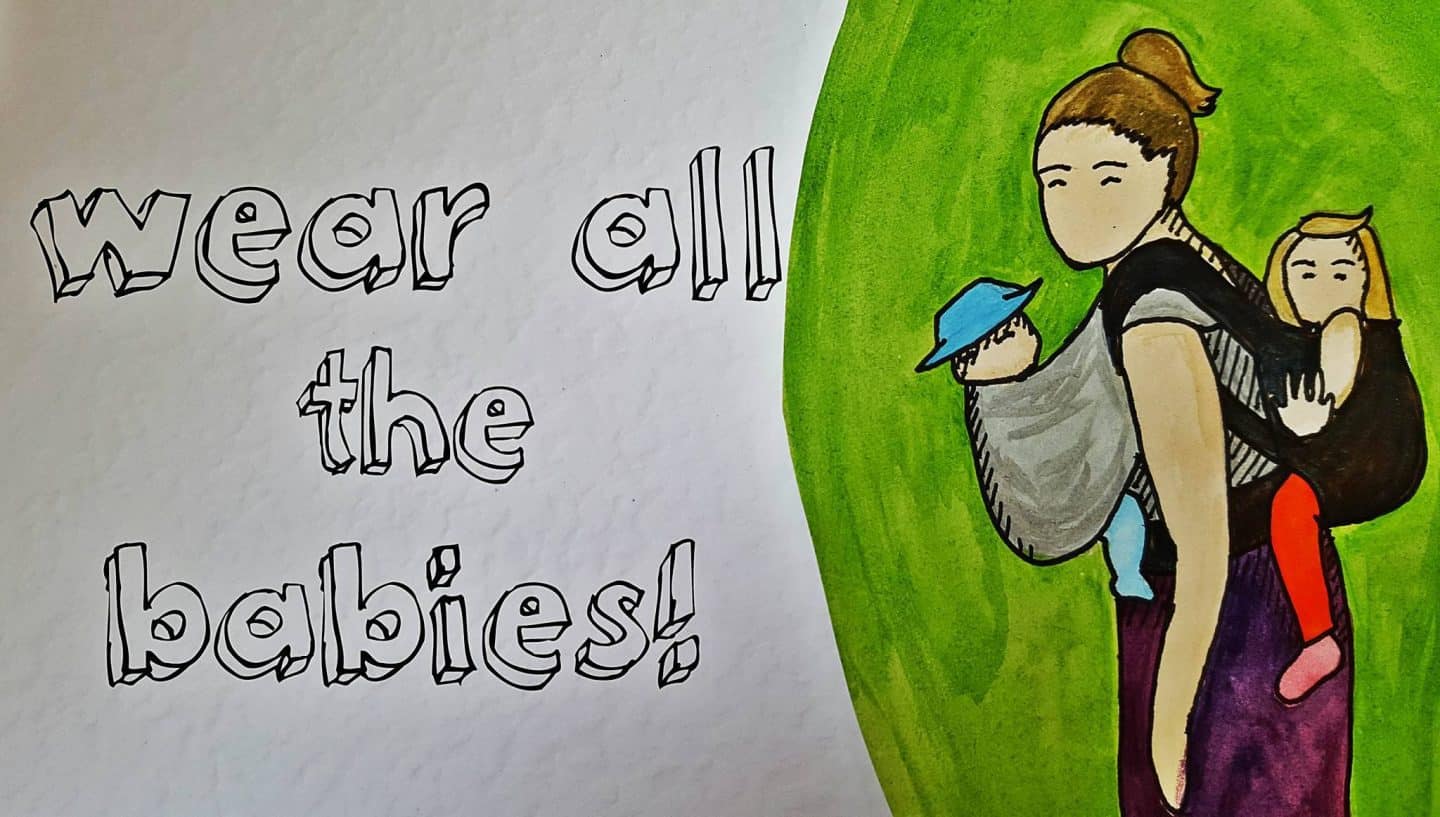 Since Arlo arrived I've been increasingly absorbed in the wonderful world of Baby wearing. I 'wore' Athena on and off but never more than she was in a buggy. Arlo on the other hand spent his first three months in a stretchy wrap, snuggled close to my chest. Once he got too heavy to be in it all day comfortably we started trying out other options. I thought I'd write a little about the types of slings available, and the ones we have/had. Some have reviews already and I will do some for the ones that don't in due course!
Stretchy wrap
What is it? a long piece of material with either a one or two-way stretch, with tapered ends. Can be printed/patterned.
How versatile is it? There are only a couple of carries you can do safely with a stretchy wrap but it can be pre tied and kept on all day, just popping baby in and out. Hugely comfortable too! Most say they are weight tested to far higher than would be comfortable. I stopped wearing Arlo at around 16lbs
In my stash: Sadly none any longer as Arlo is too heavy. I sold on a Patapum (my favourite for thickness and stretch) and a hand dyed tie-dye wrap that I had bought second hand and I have sent my Kanga Wrap to a friend in Norfolk to use for her new baby (review here)
 Woven Wraps 
What is it? a long piece of woven material in various lengths (2/3/4/5/6/7 generally) woven from different materials (cotton, hemp, linen for example or a mix) You can get amazing patterns and colours and some wraps can be really expensive!
How versatile is it? completely! You can front/back/side wrap, carry more than one baby at a time and there are endless different wraps you can try out, two shouldered, one or even none! However it does take time to master each carry, practise makes perfect and if you get it wrong it can be pretty uncomfortable! Use from birth upwards and some carries allow breastfeeding too.
In my stash: A Lenny Lamb Norwegian Diamon size 5 (bought preloved) A Lenny Lamb Heavenly Lace size 7 bought new and a Calin Bleu gauze wrap (lighter material so perfect for summer but a bit diggy for long periods!)
Ring Sling
What is it? A woven wrap with a gathered end with a ring used to secure and adjust the carry
How versatile is it? Most people do a front or hip carry but back carries can be done too, though I've never mastered it! One shoulder so I find can ache for longer periods but good for quick carries!
 In my stash: a gorgeous printed Ring sling from Rockin' Baby. it has a useful pocket and can be worn print out or facing in. Review here.
Soft Structured Carriers (SSC)
What is it? A structured carrier, normally with buckles at the waist and shoulder straps that can be adjusted to get the best fit for the wearer. There are lots of different brands out there to try to find the best fit! Most have attached hoods, some have pockets too.
How versatile is it? Very, different parents/carers can use the same carrier and children of different ages can be worn with just the one carrier. Can be used from birth but some SSC's require an insert to do this. Front back and side carries are all possible. Can breastfeed in most with some adjustments.
 In my stash: A Manduca, wonderfully padded straps, can be used with straps straight or crossed for maximum comfort. I wore Athena in it when heavily pregnant and can still carry her in it now, as well as Arlo of course!  Read the review here
Mei Tai
What is it? A rectangular panel of material with long straps at each corner, two tie around the waist. You can get Mei Tais with padded straps, or wrap straps which are wider and longer and allow for a better fit
How versatile is it? front and back carries, from birth although better when baby can have legs out.
In my stash: A Palm & Pond Mei Tai that I bought when Athena was about 10 months old. It's reversible and is a great cheap option (was around £20 I think) but isn't that comfortable and I tend to use it mostly when I need to carry Arlo and cook dinner for example!
Hybrids – a combination of two different styles
Connecta – My go-to carrier at the moment. Like a Mei Tai but with buckles at the waist and shoulder straps. Front and back carries and comes in baby, toddler and pre school size. Lots of styles available too!
In my stash: I have a Didymos wrap version for Arlo in a baby size, and an anchor print toddler version for Athena! I can tandem carry too using these together with Athena on my back.
Stretchy Buckles – I loved using our Papoozle but sadly Arlo is just too heavy for it to be used for any long period of time now! It has a padded waist band and two stretchy panels that wrap up and around, and a third optional panel to tie around your torso. Review here
Half buckles  – these are like Mei Tais but have wrap straps at the top and a buckled waist. I don't have one but would really like to add one to my collection, so watch this space!
So there's a little insight into the types of carriers and what I use. I'm often posting on instagram pictures of us out and about so feel free to follow me there!  I'll update this page with any more reviews or baby wearing posts!