Today's 'local love' post is from Katy, a blogger from Plymouth who blogs and does Daily vlogs featuring her three kids, husband and baby bump! you can find out how to hear more from her at the end of this post… 
Plymouth is a beautiful city on the south coast of Devon and has so much to offer, whether you live here or have come to visit it is clear to see that Plymouth is a spectacular ocean city with stunning views and a beautiful natural harbour, there is nowhere quite like it. It was so hard to narrow down my top choices to three as there are so many things and places in Plymouth that I absolutely love but I have chosen my top three things to do in Plymouth and have had to the fabulous opportunity to share them with you here.
Firstly and I think this is a MUST SEE for Plymouth, there is no way you can travel to Plymouth and not visit Plymouth Hoe, where you can walk all along the sea front and enjoy spectacular views of our natural harbour! There are a few cafes along the front where you can sit and enjoy the view, or if you prefer to be a bit more active you can walk up to the promenade and even visit our lighthouse Smeatons Tower! Where if you are feeling up to it you can pay to go inside and even climb right to the top! Although I warn you it is quite narrow and steep but the views from the top are worth every single step! Rain or shine you can not take away from the breathtaking view which includes Drakes Island and even Mount Edgecombe along with the beautiful expanse of the harbour and beyond.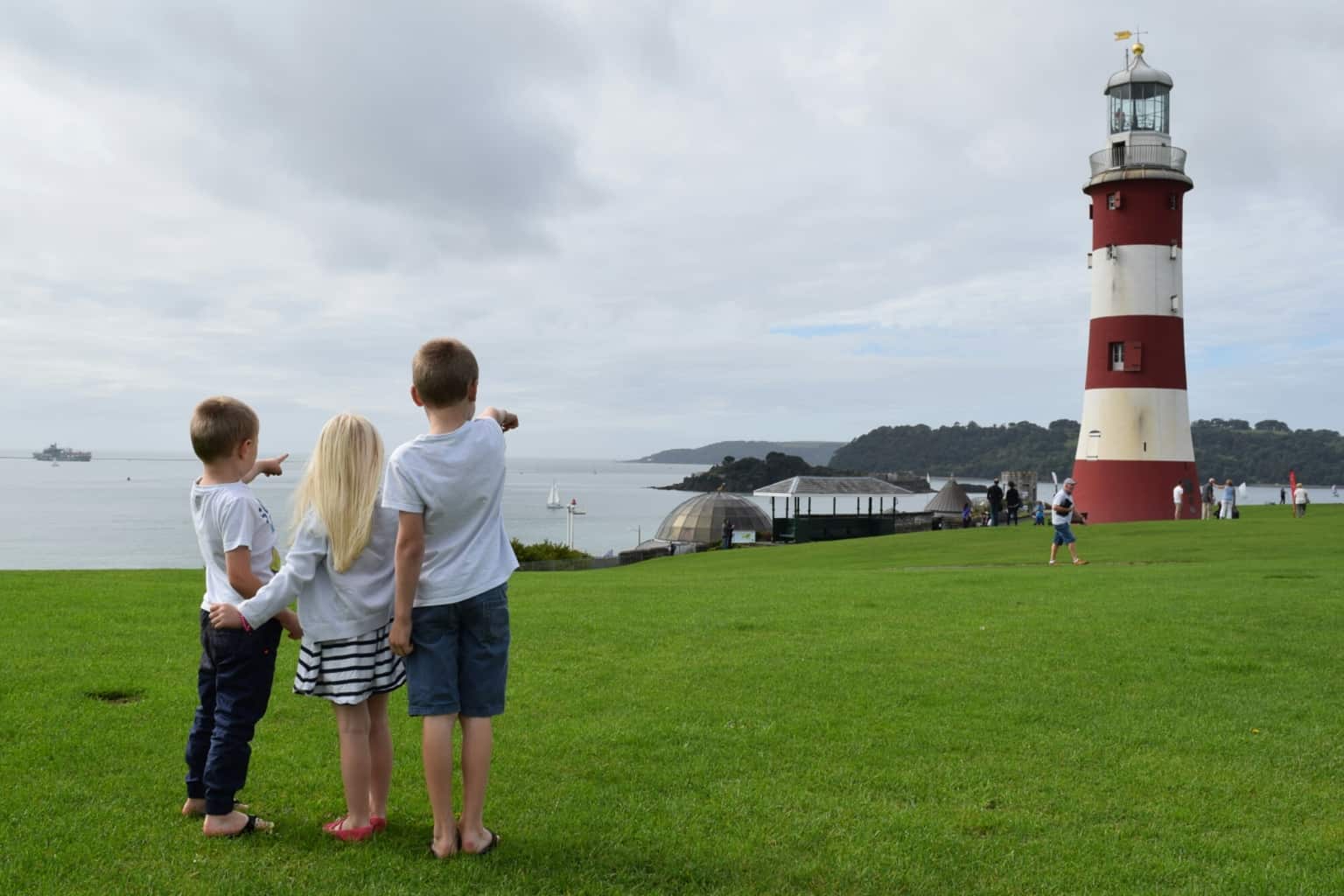 Plymouth is also home the the National Marine Aquarium which is the UK's largest aquarium and also home to the UK's deepest tank as well. It is truly spectacular inside for all ages, I enjoy visiting just as much as my six, five and three year old! If you do visit then I recommend spending a whole day there and taking advantage of the different shows and talks they hold there. There is everything from a diving show to a shark talk and even shark feedings on selected days. You can find out all about the aquarium and the different shows on their website where they have a timetable for shows.
And lastly in my top three is the local national park Saltram, home to a beautiful Georgian Mansion and extensive grounds that you can walk around. For only a few £'s to park (free if you are a national trust member) you can park up and walk around enjoying the grounds, the small onsite play park, feed the ducks at their duck pond and enjoy Saltram House. Saltram can be a complete day out, and doesn't need to cost more than the parking with plenty of places and benches for a picnic you can enjoy the beauty and historical parkland without spending lots of money. Alternatively you can treat yourself to lunch in the cafe or even just coffee and a cake, either way there is something for everyone. Saltram is a lovely way to experience the outdoors.
These top three things to do in Plymouth are obviously my opinion and you may or may not enjoy them but I am yet to meet someone who hasn't enjoyed visiting these places.
You can read Katy's blog at www.katygibson.co.uk and find out what her family are up to every day on their youtube channel Gibson Vlogs. I started watching after meeting Katy and her husband James at Britmums in 2015 and although I don't have time to watch every day I try and watch a couple a week and their channel has grown a lot since I started watching, plus the vlogs are looking so much more professional too! She's also on twitter! Huge thanks to Katy for guest blogging for me whilst i'm away.