Last weekend we had our first experience of Glamping. I can say hands down that glamping beats regular camping by a mile and if I ever have the option between camping and glamping I'll be choosing the latter. Make it 'Explorer Glamping' and it'll be even better, perfect for adventurous little ones (and big ones too!)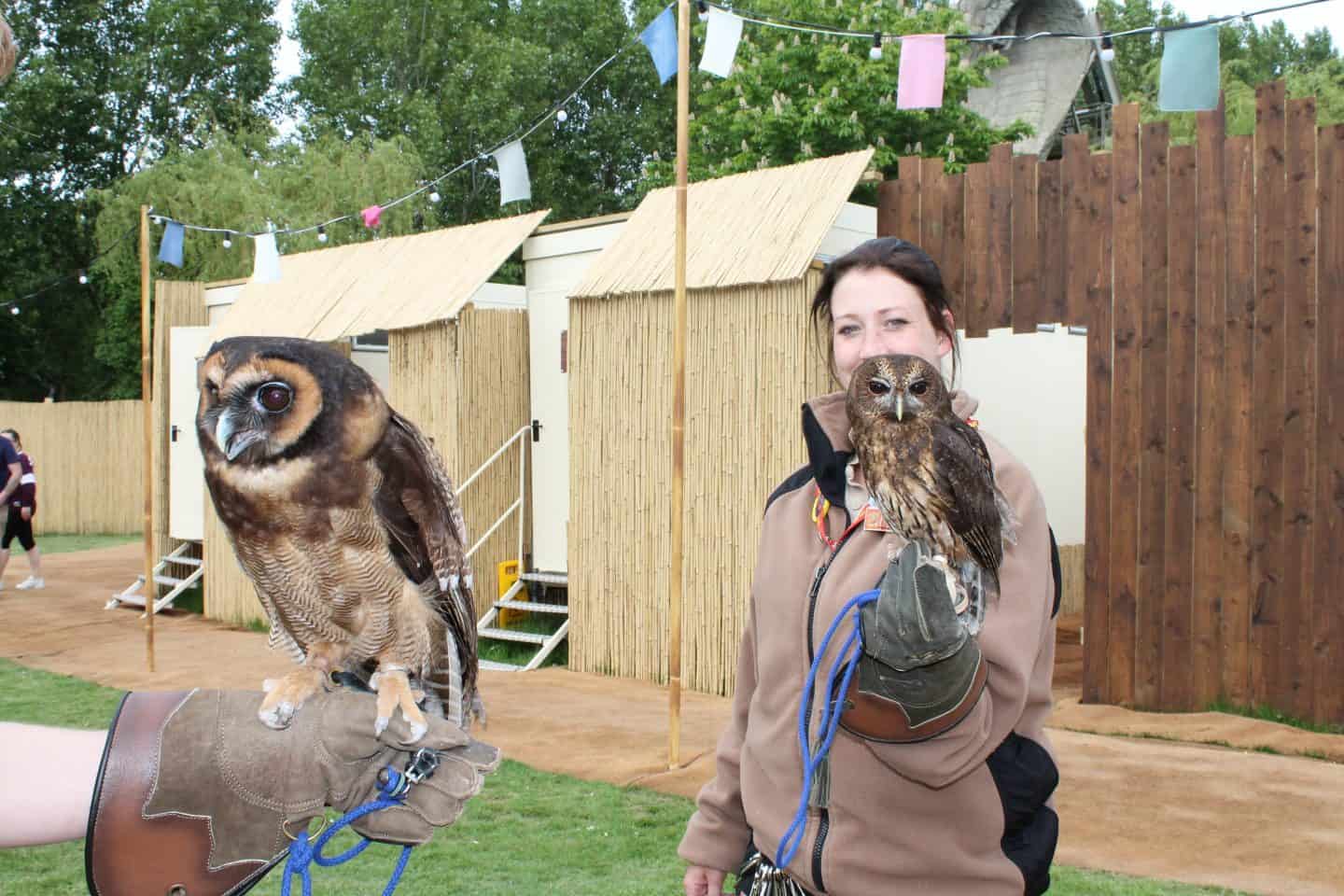 Chessington World of Adventures are launching their new Explorer Glamping experience this weekend and we were invited along to the launch last Friday. We had an absolute blast, had our first family Ceilidh dancing experience, Athena and Arlo met some real Owls and we discovered that Athena is a proper little thrill seeker when we went exploring in the theme park the next day!
What are the tents like? Each of the standard tents are circular, and have a double bed and two singles in them, along with a standing mirror, a hanging rail, a comfy chair and a central table and suspended lights and a rug. There are plug sockets in each tent and free wifi (which was strong enough to stream netflix! A godsend when your toddler wakes up at 5.30am and needs entertaining!) Crisp white linen was present on all the beds, ten times better than zipping yourself up into a sleeping bag! You do need to provide your own towels though. There are also four premium tents available, which are more spacious as they have a separate sleeping area, a lounge area and a kettle for tea and coffee making.
What other facilities are there? There are communal shower and toilet blocks (which were always clean, no matter what time we visited) and a reception tent selling any essentials you may have forgotten to pack plus snacks and hot drinks. In the centre of the camp site there is a large area for outdoor games or gatherings, with logs to sit on. There are no real fire allowed on the site. Each tent can be locked with a padlock, although there are security guards on site overnight for added peace of mind too, and the campsite isn't accessible to anyone other than campers. The campsite is well lit with strings of lights, and there are well marked out walkways so no tripping over guy ropes! We had a buggy with us and it was easy to use it around the site and plenty of space in our tent overnight for it too!
What about food and drink? All the Explorer Glamping packages come with a hot breakfast buffet included in the price. We enjoyed breakfast as there was so much to choose from, Full English, Continental, plenty of pastries and fruit and even a special appearance from King Julien of Madagascar fame!
You can also choose to add dinner to your package at the Explorers' Outpost restaurant, which is another buffet style meal with lots of variety and choice, including starters and desserts. I loved the glazed beef with chilli and maple glaze, Athena loved the macaroni cheese and Sam loved the Peri-Peri chicken, there was something to suit all tastes! There is a bar at the restaurant too and plenty of space for families to chill out after dinner.
What else is included? Two full days park access, with fast-track access to the rides for the first hour that the park is open. You also get access to the Wild Asia section of the park after the rest of the park is closed in the evening. The hotel spa and gym facilities are also free to use, these are on the other side of the park but it would only take a few minutes to drive there.
We had an absolutely amazing time at the camp site, it was both kids first experience of camping and I think we've probably spoilt them now for any future 'put your own tent up' style camping trips! You can book your own Glamping adventure online or find out more about Chessington and what's available on their website or by downloading the app. This was such a brilliant tool for us as it tells you exactly where to go using GPS!
After our all you can eat breakfast we loaded up the car and then headed into the Park at opening time to explore! I'd not been to Chessington since I was in my early teens and it's changed a lot! I was really pleased to find that Professor Burps Bubble Works was still there though! Athena loved going on the Scorpion Express runaway train, and the Seastorm! I think as soon as she hits the next heigh up she'll be going on loads more things, she's already asked to go back to the 'witches house' aka Hocus Pocus Hall again!
As well as the rides we went to see the penguins, visited the Sealife Centre then saw some monkeys! There really is so much to do at Chessington, we didn't even see half of it! We're planning on another visit towards the end of the Summer with friends as we enjoyed it so much! Sam is also a dab hand at winning huge stuffed toys it seems! Chessington World of Adventures is located just off the M25 so easily accessible from all directions! It took us about an hour to get there from Brighton in the car.

A huge thanks to Chessington for inviting us to the press launch of Explorer Glamping, we had a fantastic time!