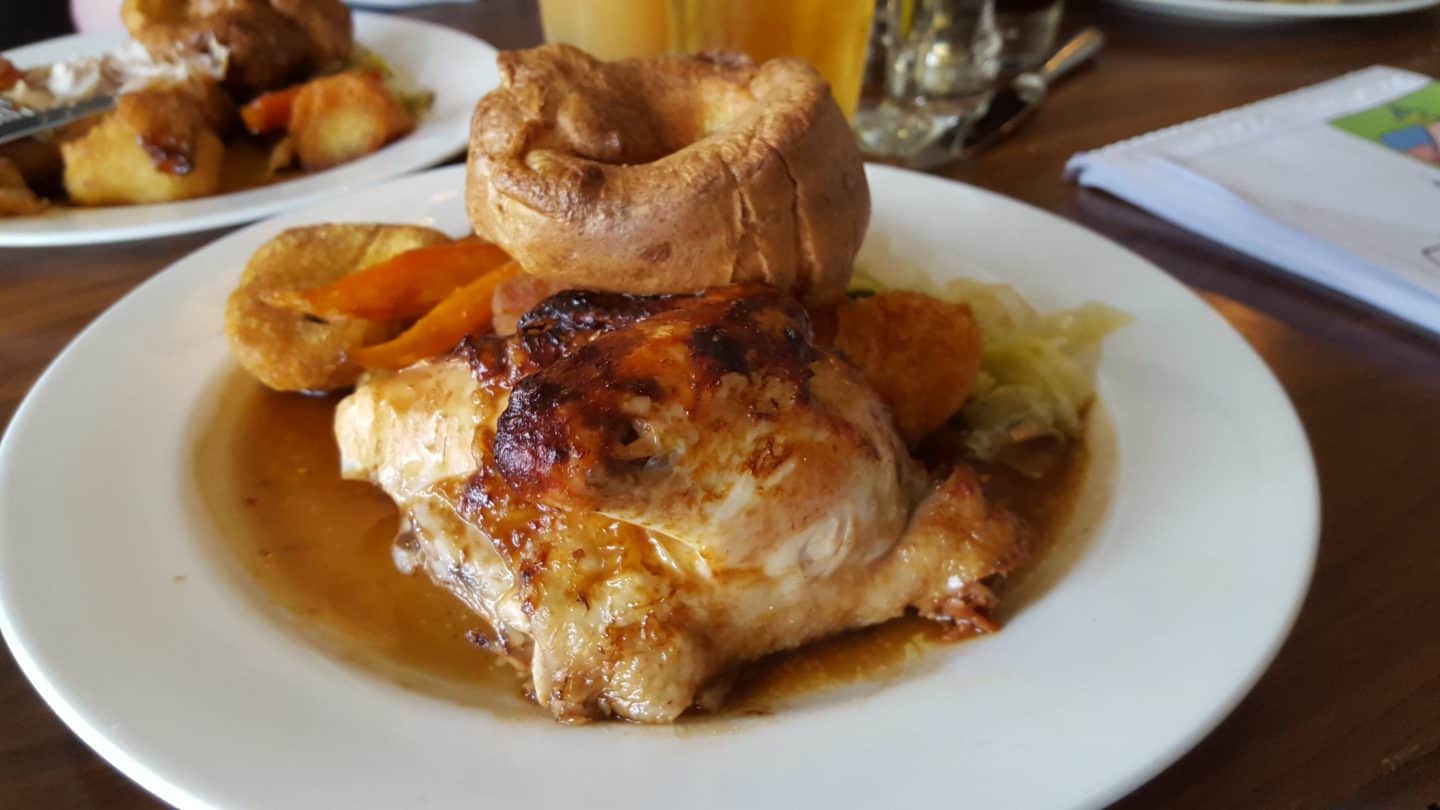 The Chequers Inn in Slaugham opened a couple of months ago under new management, and will have accommodation available within a few weeks too. It's located just north of Haywards Heath in a really picturesque little village. We visited for Sunday Roast last weekend and we're seated in the covered conservatory area overlooking the garden and a sweeping field surrounded by woods. It's about a 35 minute drive from Brighton, and perfectly placed for a post sunday-stroll meal as there are lots of woodland walks to explore around the area.
There is a varied Sunday Roast menu including a fish option and choice of a one, two or three course meal for a set price, three courses will cost you £19.95 which is great value for money for the quality of food.

We had bread and oil to share and Sam had the Calimari as a starter, he said the tartare sauce had a great kick to it, and he devoured his crispy calamari pretty quickly! The kids were kept busy throughout the meal with an array of colouring books and pencils which were all set out on a central table in the conservatory area, with separate pots of coloured pencils and colouring pads with tear out sheets which I thought was a genius idea and I've never come across it in a restaurant before!
I chose the Somerset Roast Chicken which came with honey roast parsnips, carrots, savoy cabbage, roast potatoes and gravy and a fluffy yorkshire pudding. The chicken was so tender, and a generous portion too. Arlo ate most of my parsnips but the veg I did eat was spot on, not overcooked or lukewarm. The roast potatoes were crispier than a really crispy thing on the outside and light in the middle, spot on and Sam told me I need to up my own roast potato game at home to compete! Athena had a kids portion of the chicken too, which was served with just the right amount of veg and came with a yorkie too, though she wouldn't try it so we gave it to Arlo (who devoured it!)
After much deliberation Sam couldn't pick which meat to go for so ordered the 'Sunday Trio' of Lamb, Beef & Chicken. Generous portions of each meat sat on top of a plate heaped with veg, worth the £4 supplement to the fixed price cost for sure! I tried a little of his roast beef, succulent and cooked just right! If you're not a traditional roast person (hard to believe but they do exist apparently!) then The Chequers offers a fish or a steak option too. Also on the menu is a whole roast cauliflower cheese, which is suggested for 4-6 people to share alongside their roast, so we definitely need to come back with friends and try that!
For dessert Athena had a toddler friendly chocolate and vanilla ice cream, Sam chose the Peach Eton Mess, which surprised me as he's not normally a fruity person but he really enjoyed it, and I had the Dulche du Leche cheesecake which was delicious, served with a rosette of cream and a whole walnut on the side, I could have eaten it over again (and again and again, I love cheesecake!)
There is a good sized garden with plenty of tables and chairs to the rear of the pub, although there was no specific kids play equipment the chickens in the garden next door kept Athena busy admiring them! Toilets were clean and easy to find, and the bar area itself was cosy but modern. There is a small car park at the front of the building, although this was full when we arrived as there was a Church service going on at the gorgeous little church across the way. We parked on the road just opposite the pub though so it wasn't an issue. Look out for the cute white traditional phone box as you go in too!
The pub has now closed! Shame!
We were invited to enjoy a complimentary meal at The Chequers for the purpose of this post, all words and opinions are my own.