You know that feeling of six long weeks stretching ahead of you, full of 6am wake up calls from a noisy and energetic three year old? Well that feeling was making me feel a little bit on edge a couple of weeks ago, but thankfully due to a well timed delivery of something fun for Arlo to play with he's being kept pretty busy with not that much input from me, as he's been playing with his new Crate Creature so much it's like having a third child!
These interactive monsters come ensconced in their own crate, locked up with a (plastic) padlock and chain! You first have to work out how to get the creature out, and then learn how to play with him! Arlo was sent 'Pudge' who has tartan pants and scoffs pizza. He has a lovely furry green body with purple feet and paws and knobbly horns.
Pudge needs batteries but they were already installed (3xAA) so all I had to do was switch from demo mode to one of the two volume settings (low, thanks very much – thankfully Arlo hasn't discovered the higher one yet!) and Arlo could start playing! There are lots of different ways to interact with Pudge too:
Tongue Pulling – to hear him say weird things, vibrate and have glowing eyes.
Food Stuffing – press his pizza slice into his mouth for some foody noises!
Belly Squeezing – long press to record 10 seconds of sound, short press to listen to it, hold him upside down and he says it backwards, or wiggle him and he says it with a stutter! Arlo turned three in March so is at the lower end of the age range (3+) so it took a little while for me to teach him to press the belly, wait for Pudge to make his noise and then talk so his voice would be recorded, but after a few goes he got the hang of it and is mostly recording himself blowing raspberries or screaming!
Horn Pushing – makes his eyes spin and change colour. This is Arlo's favourite thing to do and he howls with laughter each time!
Plus he has a motion sensor, so he knows when he's been knocked over, is upside down or being shaken.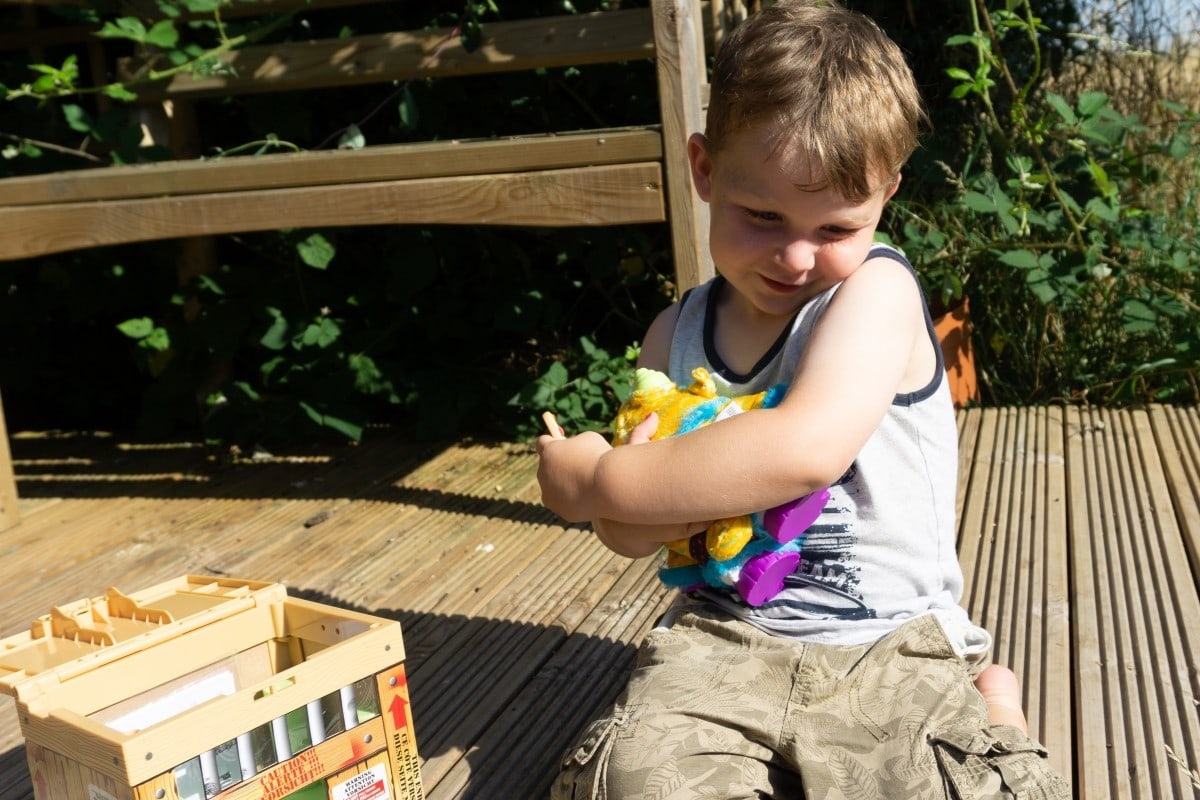 I think this is a great toy for kids of Arlo's age up to probably age 7 or 8, after that I think older kids might get bored of it faster than a three year old, but its certainly a great toy for kids who might be a bit 'monster-phobic' as it shows them that monsters are funny and colourful, and interactive. It's a great way to teach kids about cause and reaction too, and patience when learning to get the Crate Creature to record your voice! Available from all good toy shops with an RRP of £39.99, though currently available on amazon for £29* with prime delivery!