Shimmer and Shine is one of Athenas favourite programs, so she was pretty excited to see the 'Shimmer & Shine Magic Flying Carpet box waiting for her after school. She was so excited, and couldn't wait to get the box open. Thankfully I'd remembered to get some batteries so once I'd popped them in it was ready to go!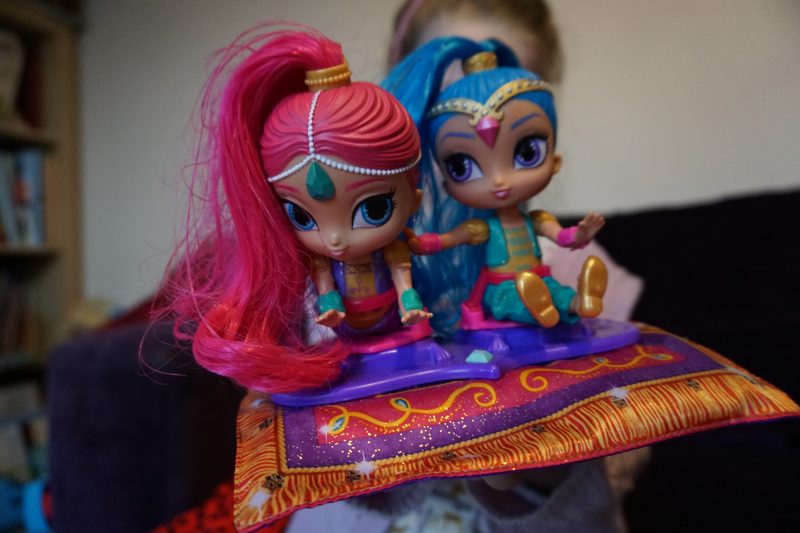 Shimmer and Shine is a TV program that stars Leah and her friends – two genies in training called Shimmer & Shine. Leah is allowed three wishes a day but her genies don't always manage to get them right! The program is shown in the UK on Nickelodeon & Netflix. The Magic Flying Carpet is the latest toy in the range, and this one is sure to delight any little Shimmer & Shine fan.
The Magic Flying Carpet has a couple of options for play, the first is a 'hovering' carpet which works best on hard floors, but will work on a carpet that's not too plushy also. It's activated by pressing the diamond button where the genies sit, and then you'll hear over forty phrases and sounds. As it travels around the end of the carpet flutters up and down. The sounds are also activated by the carpet being tilted, so Athena has been doing plenty of hurtling around the house flying the genies around! The can be removed from the carpet and played with independently too, you just gently tug them out of the clips that fix round their waists. Each genies can sit or lie on the carpet, and just to note that their tiny genie shoes are removable, in case you have any smaller children at home who might pick them up. The toy is suited for age 3+, and retails at around £41.
In case you were wondering how the magical flying carpet actually works… there is a little battery pack underneath with a wheel that trundles along and a couple of parts that make the carpet wave up and down, clever!