It was my mums birthday on Saturday, and it's a tradition that we go out somewhere nice for the day as having an August birthday generally means that we can expect good weather. Thankfully this year was no exception and we had a lovely sunny day with a slight breeze to help us keep cool! We decided on Wakehurst, which is a huge botanical garden in East Sussex near Haywards Heath that is run by funded by Kew Gardens, though if you are a National Trust member you get in free. We're not though so we paid but the kids admission was free as they are under 17.
The grounds are expansive, with lots of different areas to explore. We followed the path adjacent to the stream that runs all the way to the lake at the top end of the property,  through the Himalayan Glade and the Water Gardens and the kids were in their element! Climbing on rocks, dragging huge sticks about, chasing each other around and running away from us all featured heavily!
Once we'd walked up to the lake and round we were getting pretty peckish, so after posing under some giant mushrooms and then playing with the totem poles we saw a little picnic bench symbol on the map and made our way there. It was the most gorgeous look out spot and I'm so glad we went there rather than plonking ourselves down on the picnic blanket anywhere else! With views out over the valley beneath us and huge pine trees surrounding us (one with an added gigantic carved wooden pine-cone nestled on a branch) we settled ourselves at a picnic bench to refuel. Although Wakehurst has a couple of cafes to choose from we'd brought our own picnic, it saves money, means I have something the kids will eat and also means my two little darlings don't need disturb anyone else who might be trying to enjoy a quiet lunch!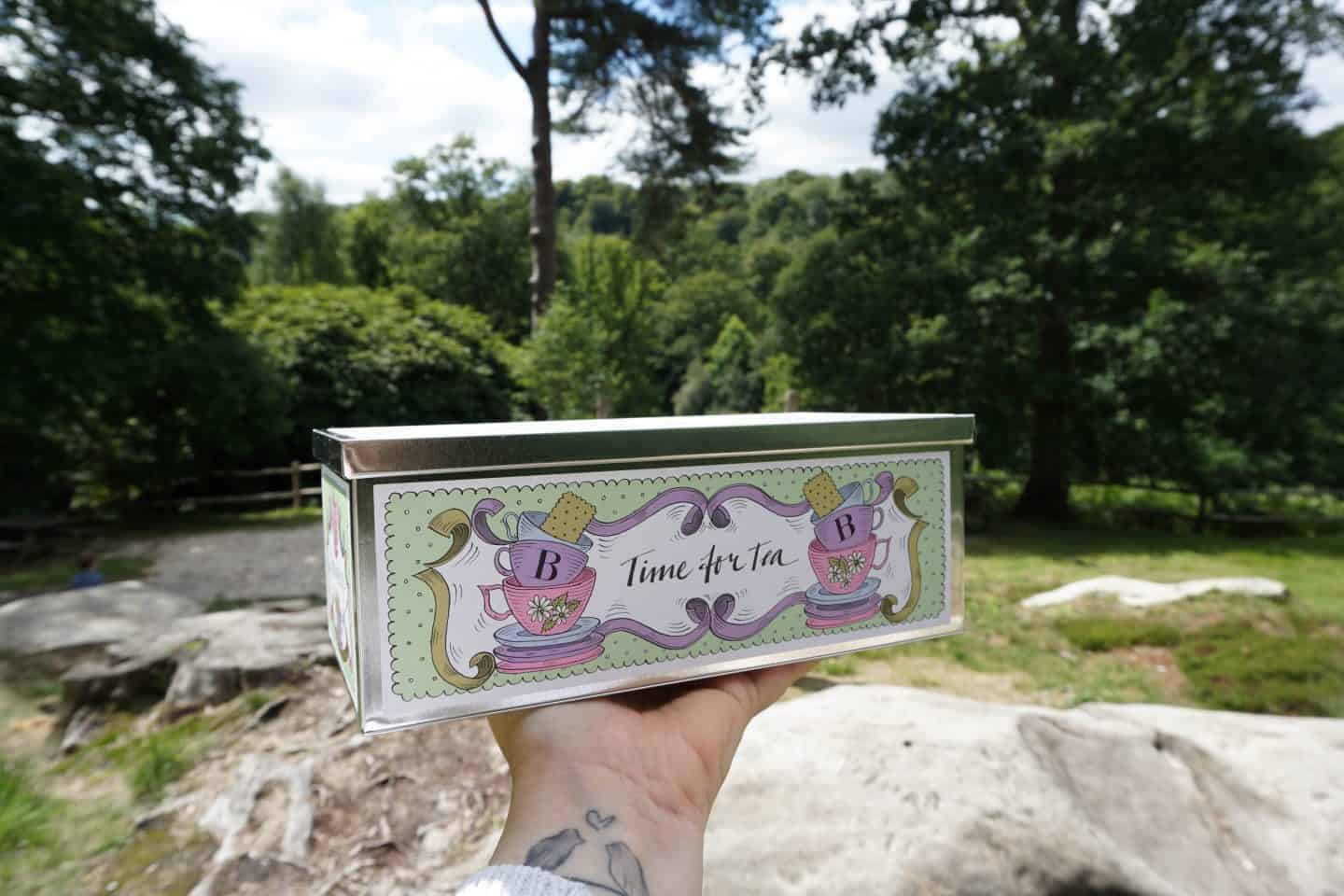 Once we'd got the boring food out of the way, you know- the picnic staples like sausage rolls, crisps and cartons of juice- we moved on to the main event! The lovely folk at Biscuiteers had sent me a box of their very pretty, very delicious biscuits to share with my mum as a 'Thank you' for helping out with the kids, babysitting now and then and also as way to butter her up in preparation for her having the kids overnight on her own this weekend!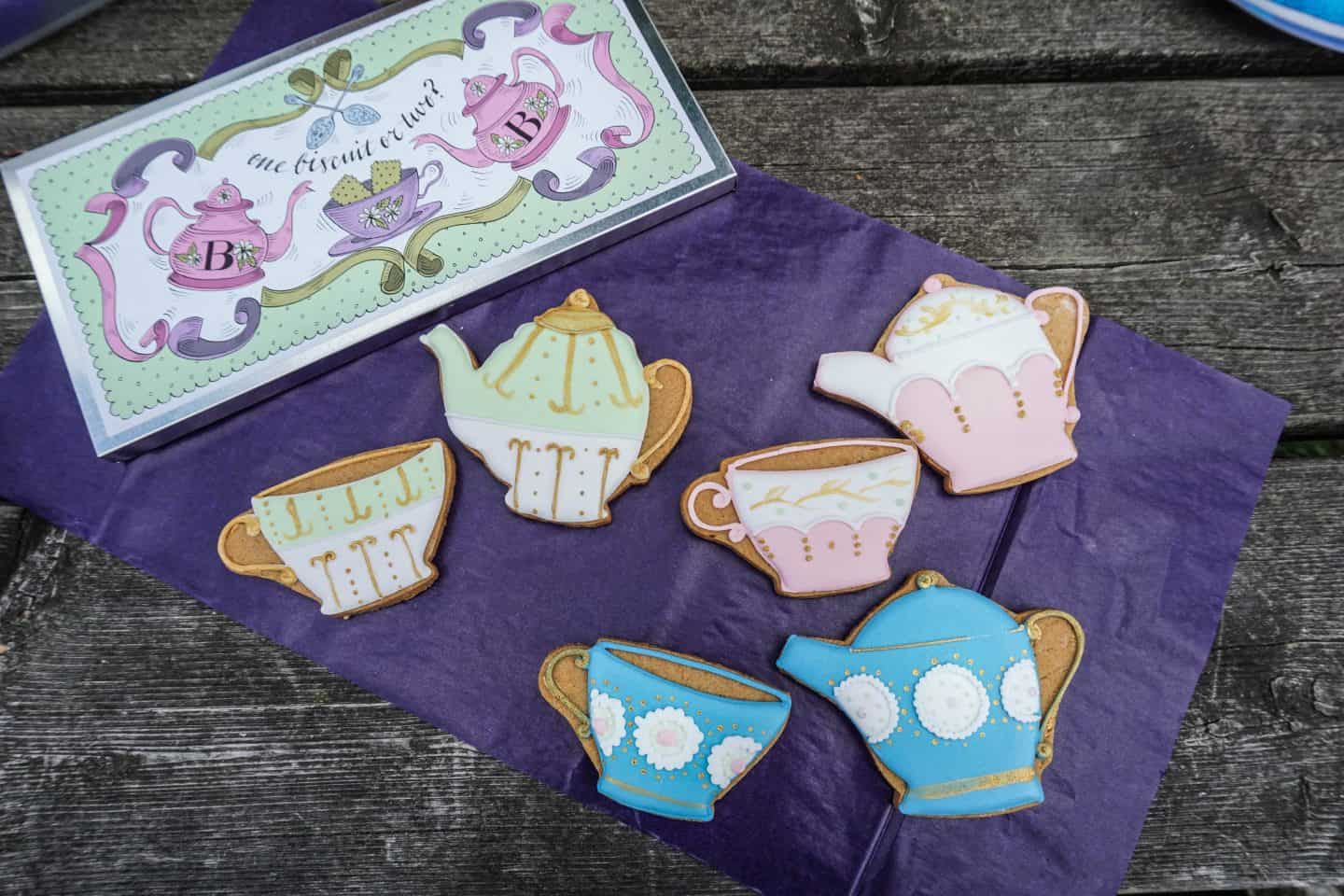 I kid you not, we all gasped as I opened the box and unpeeled the carefully packaged biscuits. They are just amazing! Four little sets of teapots with matching teacups! All hand decorated, in gorgeous pastel colours, with tiny piped flowers and finished off with gold trim!
Even Athena and Arlo got in on the biscuiteers action, it would be rude not to let them! They both thought it was great fun pretending to drink from a biscuit once I'd 'poured' their tea from a baked teapot! The biscuits themselves were really tasty, vanilla flavoured and just the right consistency! I just can't get over how sweet the china pattern inspired decorations are!  They're such a good idea for a gift for anyone, after all who doesn't like biscuits? There is also an option to personalise them, to make a gift extra special! Their instagram feed is just stunning, there's a lot of inspiration on there, and a huge range of perfect tins of tasty biscuits to give as a 'thank you'!
We scoffed a few biscuits and carefully wrapped the others back up and popped them into the pretty tin they arrived in for safe keeping. Then we strolled back down towards the entrance via the Pinetum, through the walled gardens and past the expanse of Mansion House, though there was a private event going on so we didn't go in. There are toilets in the busier part of the gardens in a few locations, but none around the top up near the lake, so that's something to consider if you go with little ones
You can find out more about Wakehurst, including prices, events and opening times online. I think it was around £12.50 for each adult but we spent the whole day there and had a lovely time, so I think it's worth it!