Our tickets for this event /experience were gifted, all words and images are my own and unbiased.
Chilled in a Field really does live up to its name. Chilled in a Field is a small family friendly festival that takes place in the grounds of Bentley estate in East Sussex, not far from Lewes. Here are ten reasons to spend a weekend the Chilled in a Field Festival, though of course there are so many more! You can read our full review & video from last years festival here for a deeper dive!
This year is their tenth birthday, so kids who are 10 this year get in FREE
To celebrate 2020 being the tenth year of CIAF they're letting any kid who turns 10 this year come for free! Pretty darn nice of them right? Get in touch with the team via email to arrange your free ticket if you're lucky enough to have a ten year old!
It has limited mobile internet signal so you can switch off properly
I know this could be a con for some but for us, in the 'always-connected' age it's actually nice to not be glancing at our phones every so often (or more than every so often!) and it made all the difference for us. We go stuck into what we were doing/listening/dancing to and gave the kids a lot more attention than they would have had if we were looking at our phones all the time!
Woodland area for shelter from the sun (or rain!)
The year before last it was sweltering, this year there was a bit of rain – the glorious woods gave us shelter from both when we needed it as the main stage is in the open! There is a woodland bar & stage, as well as a storytelling yurt (basically so your kids get a bedtime story from a profesh storyteller while you bounce about to the music) and so many places to spread out a picnic blanket, perch on a log or even lounge on a bed. Oh! There is also a gigantic wooden marble run set up in the trees – kept us all entertained for hours!
Affordable food stands
At commercial festivals the price of dinner for four can set you back almost as much as a meal in a restaurant… and often you have to queue for ages too! At Chilled in a Field all the food stands are really reasonable, serve a variety of choices (including vegan & catering for allergies) and there was only ever a long(ish) queue at breakfast time. Plenty of tables to scoff your food at too.
Once you're in you don't pay extra for activities, at all!
Bouncy castles, glitter wrestling, entertainers popping up here there and everywhere, circus skills classes, bedtime stories, play tent, crafts, science experiments, sand castle, woodland play area and workshops – plus all the music you can shake a stick at over two stages!
Choice of campsite – quiet in the morning or quiet in the evening
There are two campsites, well three if you count the campervan plots in the woods (one day, a distant dream!) but they're designed so that one area is 'quiet in the evening' and the other 'quiet in the morning'. This way if you have kids who wake up at the crack of dawn then you don't have to worry about them disturbing sleeping revellers as other folk in your campsite will probably have or be early risers too. Both campsites had bell-tents available to hire (direct from the company that supply them rather than the festival itself) which we did this year and had an amazing corner pitch and slept like queens!
Huge variety of music for a small festival
Folk? Disco? Reggae? Young performers? Indie? Electro? All catered for and so much more over three days. You won't find any chart toppers here but you'll find some amazingly talented musicians and performers and that's what it's all about! We've followed a few bands we really loved on social media so we can keep up to date on their new releases and gigs.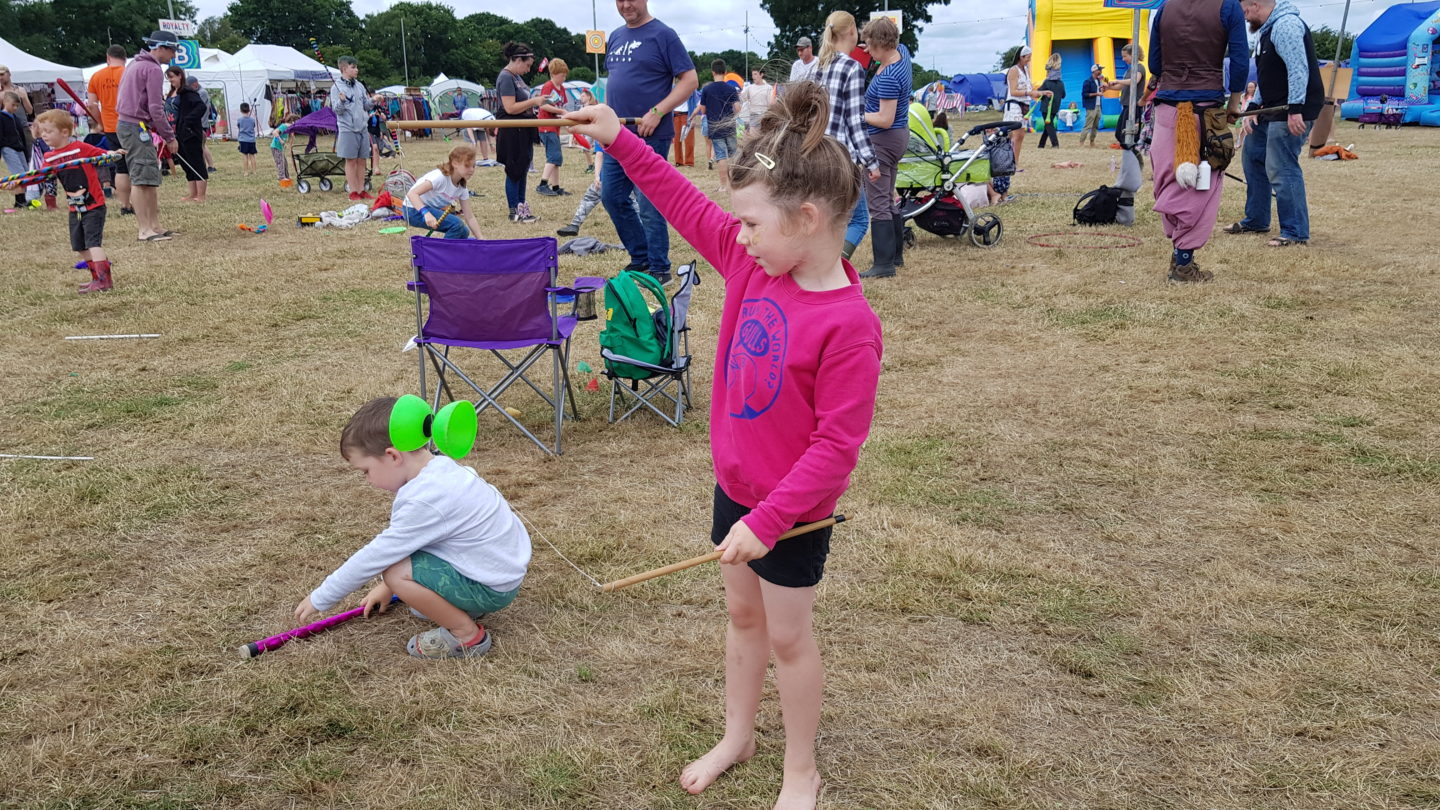 Not for Profit & Eco-friendly
From the amazingly low entry prices to the fact that you don't get stung for activities every 20 minutes it's clear that Chilled in a Field is run for the love of it rather than to fill some fat-cats pockets. BUT that doesn't mean they scrimp in any area. Loads of helpful volunteers wander around pointing lost people in the right direction, checking tickets, sorting the lost kids tent, picking up rubbish, escorting campervans and so much more. All with a smile on their face and all for the love of the festival! You can find out more about their eco credentials and not for profit info here.
Clean toilets and showers – yes really!
Because Chilled in a Field is a smaller festival there are obviously less folk using the loos, but they are proper toilets in cabins rather than porta-loos and there are plenty of them both in the campsites and in the festival field and woodland area. The loos and showers are cleaned well and often throughout the day – though of course flip flops are advised rather than bare feet!
You don't need to panic if you lose sight of your kids
With two small kids who are prone to seeing something they like and heading right for it Chilled is the perfect place to give them freedom without worrying about them escaping, or even getting lost really! When we arrived they were given wrist-bands, one entry band and one numbered band with correlated with our phone numbers & their name. We made sure we showed them where the lost kids tent was, and that they could go to anyone with a fluro jacket on for help if they lost us – thankfully they never did but I did see the system in action for another little girl and she was back with her mum in under 6 minutes and the volunteers with her made it into a game so she didn't even really have time to get upset – genius!
You can find out all about dates, tickets and what's on on the Chilled in a Field website and also their facebook page is a great place to keep on top of all things #CIAF too!