This year we're working with Yazoo as #Shaketesters, trying out their No Added Sugar drinks (Skip to the bottom for a mega giveaway!) and last week they sent us to Chessington World of Adventures for a summer day trip and we had a blast! Thankfully the weather was a lot cooler on the day we picked to go at 24 degrees, and the queue times weren't too horrific either. We'd not been for a couple of years since our Glamping trip and as Arlo is now over 0.9 metres he was able to go on a lot more, though I think the magic height is 1.1 as there were a few things he was still too short for!  We started with a quick tomb blast, merrily firing  our laser guns at zombie-mummies and snakes, Sam managed to get an impressively high score, Athena never actually fired her gun and Arlo fired willy-nilly but managed to get 50 points! Next up was a whizz around on the flying elephants, a ride that I don't think has changed since I was a kid! My two loved it though and Arlo took great pleasure in the fact that our elephant was flying higher than the one Sam and Athena in!
Athena's favourite ride from last time was the run away train (aka the Scorpion Express) and Arlo was big enough to go on it too this time so we prepared for a 45 minute queue as advised by the app but it was only about twenty minutes, hurrah! Arlo loved it once we got off and wanted to go on it again, though sadly by then the queue was a lot longer. Instead we headed off to explore a bit more, seeing if we could spot any of the Tigers that have been introduced in Land of the Tiger but they were nowhere to be seen, which is a shame but obviously they won't be running around in the viewing areas all the time! The kids weren't tall enough to go on Tiger Falls, but we did spend five minutes squirting the people on the ride with the water guns which is always amusing!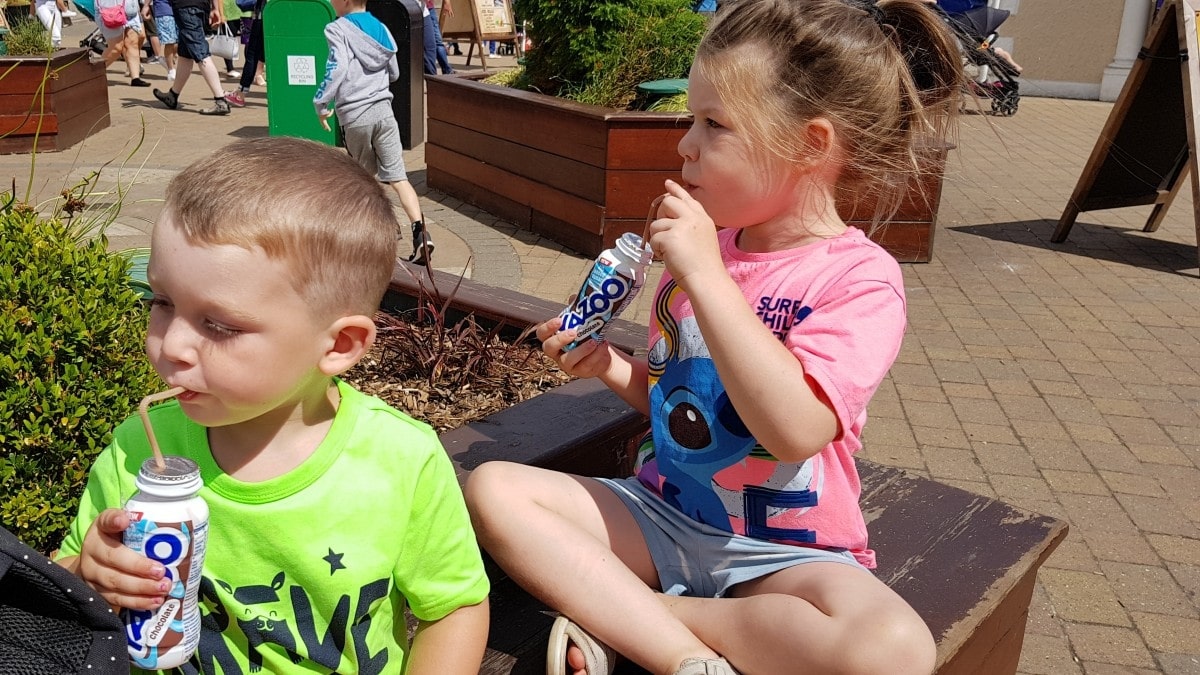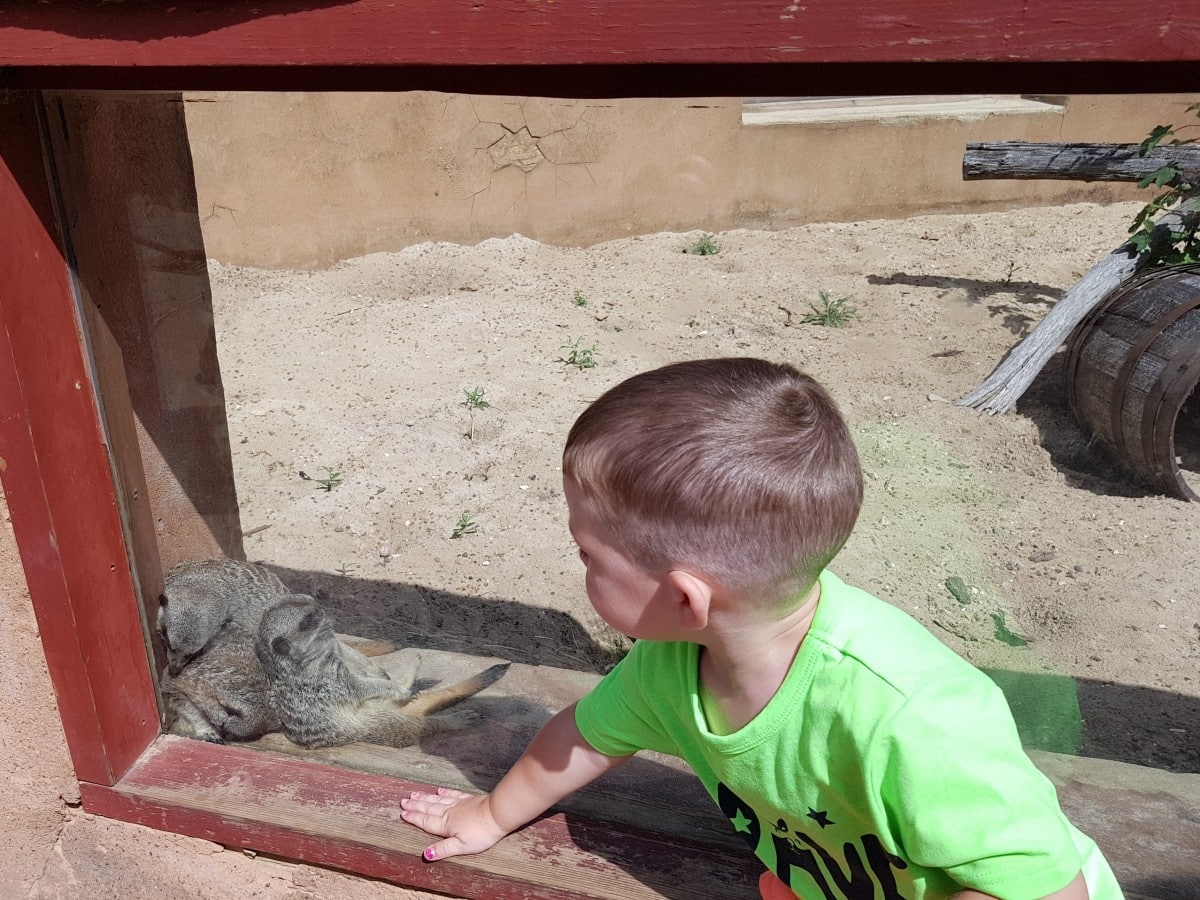 After lunch (which we took to eat on the grass as the restaurants were all packed!) we explored the Wanyama Reserve area, which was amazing and really quiet too. We spotted Ostriches, Zebras and Ankoles strolling around in the 'wilderness' and realised just how close one of the Chessington hotels is, the rooms literally overlook the wildlife- imaging waking up to that! There was also a Meerkat enclosure and I really love Meerkats, I think I could watch them all day, and they were so chilled just napping in the window so you could see them close up. Sam loved the skunks too, and they always remind me of Pepe le Pew but I think I am showing my age there! These are the only animals we managed to see on this trip as we didn't make it as far as the main zoo area or the Sealife centre, but they are pretty impressive (and unexpected!) animals to gaze at!
I'd never bothered with seeing the live shows on previous visits but we watched an afternoon show of the Gruffalo Groove, which was one for the whole family! Lots of singing and dancing to familiar tunes and some very quick costume changes by the performers! Athena was up and boogying along but Arlo sat quite sedately with his Yazoo to watch! After we'd seen the show we spotted on the app that the queue time for the Gruffalo River Ride was really short so headed off to do that, as when we were last there it was still Bubbleworks! Athena absolutely loved it and Arlo spent the whole ride with his arm over his face! Funny kid as it wasn't that scary and he knows the story and loves the book anyway! Either way it was really well put together and I look pretty happy/amazed in the photo don't I?
Athena thought the Gruffalo might want some Yazoo too! We took bottles of each of the three flavours with us, Strawberry, Banana and Chocolate and popped them into a little cool bag so they'd be refreshing to drink but you don't HAVE to serve them cool or even store them in the fridge, they're safe to drink at room temperature (and sometimes we warm them up for a milky pre-bedtime drink too!) Because there is no added sugar or sweetener and natural flavourings are used I really don't mind how many of these the kids go through a day either, because it's a great source of calcium for them. We also took lots on our weekend away at a festival last week, in fact our cool box was half Yazoo and they were so nice to guzzle in the piping hot weather!
We've teamed up with Yazoo No Added Sugar to give one lucky family a FRIDGE FULL OF YAZOO! That's 36 bottles, 12 of each flavour! But remember you can store these in a cupboard, they don't have use up all the space in your fridge! To win click the widget below and enter using as many of the ways as you fancy!
Giveaway ends 23rd August 2018. See full T&Cs within the entry widget.