If you follow me on instagram you might know I'm a big fan of babywearing and being a mum to two children close in age wouldn't be half as easy if I didn't carry Arlo so much. The newest carrier we've been using is the BabyBjörn One. Now the BabyBjörn name has been synonymous  with baby carriers for many years, in fact my is fairly certain that she had a 'Bjørn' when I was tiny in the mid 80's! For a long time BabyBjörn didn't make a carrier that was designed for use with a child on your back, then along came the 'One' that allows for safe back carries, has an ergonomic seat position, and has been acknowledged as a hip-healthy baby carrier by International Hip Dysplasia Institute. Never one to miss an opportunity to try out a new way of 'wearing' my baby we've been using the BabyBjörn One for about a month now so I can do a thorough review.
This carrier is put on over your head, a bit like a T shirt. Arms go through the straps and then the waist band is fastened. There are four buckles (well, click in locks really) that attach to the body of the carrier to keep your baby secure. Arlo is obviously bigger than a newborn so we went right to using it adapted for bigger babies but there is no need for extra inserts with the 'One' as it can be used from birth (3.5kgs) up to around 3 years (15kgs). For very small babies there are extra leg fastenings to secure the legs in and a separate zipped section to make the seat higher. Everything is easy to use, and I really like the fold out instructions label that is attached to the carrier, so whoever is using it (dad, gran, childminder etc) they have visual instructions to hand.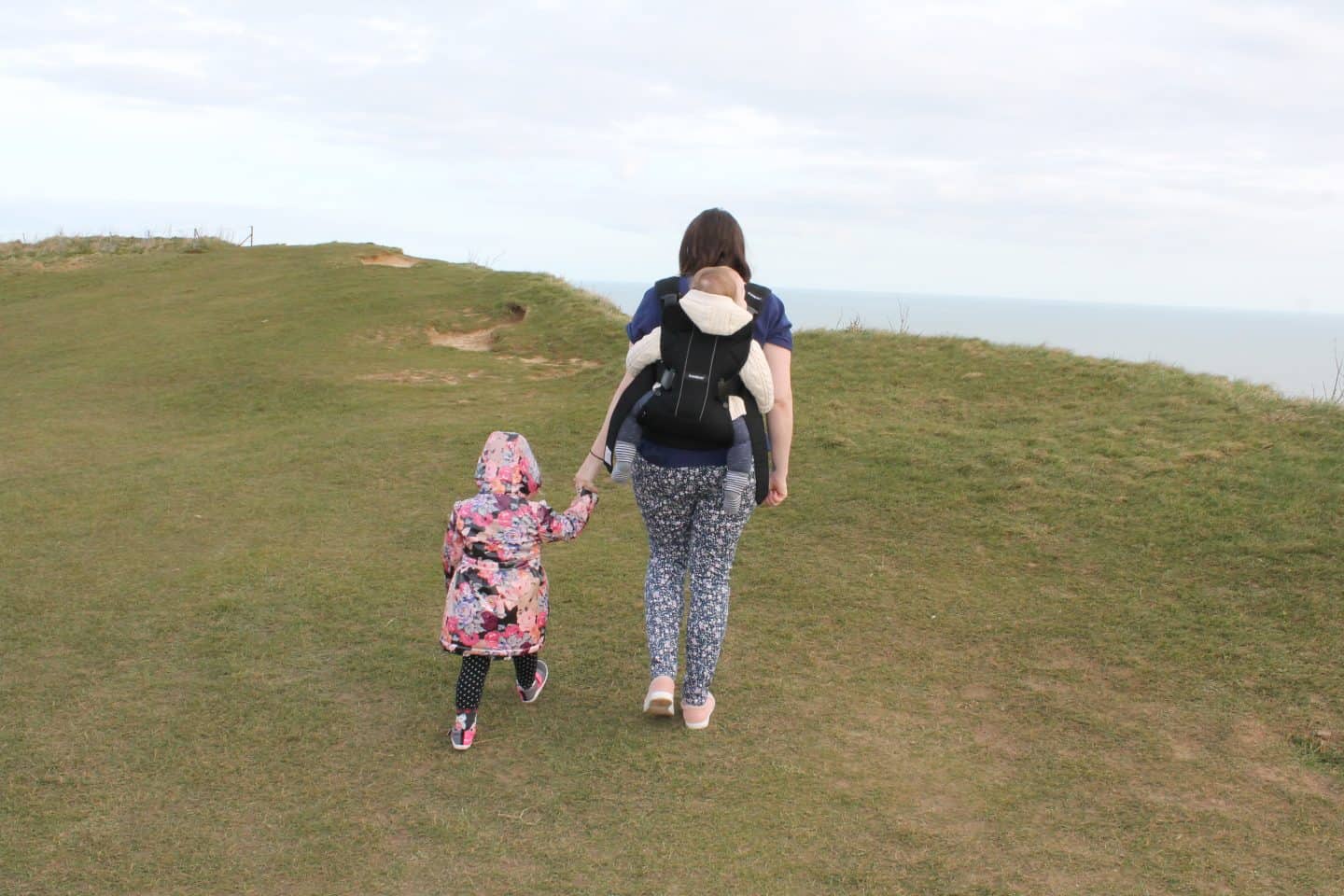 There is a mesh panel between you and your baby which felt a bit odd on the first go as normally Arlo and I are tummy to tummy, but this means that there is a little more air flowing actually! To put Arlo in the carrier I hold him against me, pull the panel up between his legs and buckle the side locks, and then the shoulder strap locks. He's at that in-between size where he could have his arms out or under the shoulder straps, either is perfectly safe, and under means he can pull my hair less!
The top of the back panel can be work up for extra head support for smaller babies (or wind/cold protection for bigger ones!) or flipped down, especially useful for forward facing.
Carrying positions: Front facing in (ergonomic hip position) and outwards, and a back carry (also ergonomic)
Comfort for the wearer: I find the padded straps really comfy, along with the padded waistband. The back yoke (that keeps the should straps from slipping off your shoulders) is adjusted by sliding it up or down the straps. It's fiddly to do on your own, but once you've got it in the right place you shouldn't need to move it. It did start to dig in on one very long trip (around 4 miles) so I had to get Sam to move it down for me slightly and then it was fine.
Comfort for Arlo: No complaints! He's happy to sleep in it and on the couple of occasions I've put him forward facing for a short while he's enjoyed himself and been smiling at people, birds and the odd lampost too. I'm wary of having him forward facing for too long in case he gets over stimulated but it is really good to have the option as he gets bigger and nosier.
What I love about the BabyBjorn One:
It's easy to adjust to any size/shape adult, my husband can wear it at 6'4 and a much bigger waist than me!
The variety of carrying positions
Instruction label included – user friendly for everyone
What I think could be improved:
It could have loops for the excess straps to be tucked away into, this is purely aesthetic though.
Sometimes the zips that open and close the leg openings start to unzip and need pulling shut again, although I have a baby who constantly jiggles his legs when he's awake so this probably exacerbates it a bit!
You can view full details for the One here, as well as the other carriers available from BabyBjörn. It's available in a few different colours and there is an 'air' version which is made entirely of mesh and would be perfect for the summer or holidays abroad.
I was provided with a Baby carrier One for the purpose of this review, all words and opinions are my own.