ad|Gifted tickets
We spent last weekend at our first festival since 2019, Black Deer Festival in Eridge Deer Park in Kent. It was a weekend full of fun, music, food and relaxing together outdoors. Here's a rundown of our weekend of festival fun!
The Music
We jumped around James and Jake Bugg; sang along  with Van Morrison & The Waterboys; laughed along with The Cuban Brothers and even worshipped with the Powerhouse Gospel choir on Sunday Morning.  There are several different stages, Main Stage, The Ridge (which is the circus looking tent), Haleys Bar & The Roadhouse and then in The Yard you have the Supajam stage. There's also a premium adults only area called Jackson Social that has a stage too.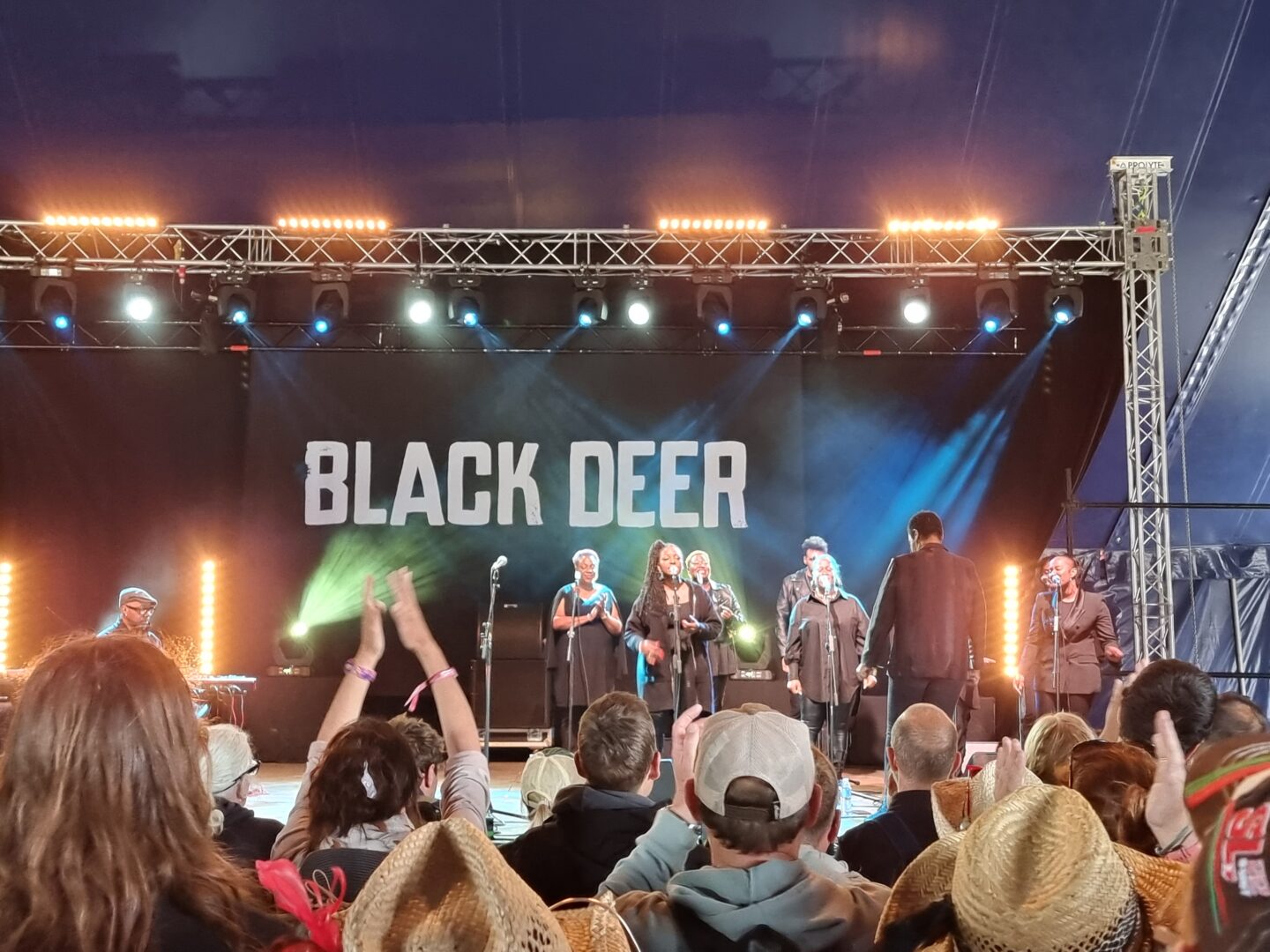 Some new noteworthy discoveries that will be firm fixtures on my Spotify liked list: Jinda Biant, Noble Jacks, Franky Perez & Police Dog Hogan.
The Culture
A way of life rooted in, and respectful of, the cultural heritage of America – a movement that's become known as 'Americana'.
Americana is a world that at times can be gritty and raw, with a rusty edge. Yet also effortlessly cool due to the passionate sub-cultures that exist. Most important of all, is that it's a world in which anything less than authentic isn't tolerated.
Black Deer was Americana through and through! Vintage American vehicles dotted about, Harley Davidson displaying current and vintage bikes, with a chance to ride one on a moving road, Visit Arkansas had a lovely area where we had a chat about 'The Natural State', watched footage of areas to visit and saw some great live acoustic singers over the weekend who had come over from Arkansas especially. The food, the stalls selling vintage Levis, plaid shirts and cowboy hats, the decor and so much more.
For the kids
The Young Folk area had so much to do, some needed to be booked in advance, and some things had an added charge. If you're there for the full weekend I suggest doing as much as possible on the Friday daytime when there are less kids about, as some of the activities booked up on the Saturday and Sunday.
We had harmonica and guitar lessons, played cowboy dress up, visited the slacklining area (many multiple times) sifted for 'gold', painted rocks, played giant jenga & ping pong, swung from trees, climbed up tress in harnesses and spent time build giant wooden carts in the amazing Woodland Tribe Area. Out of all this we only had to pay for the rope tree climbing!
Helpfully the Young Folk area is next to the main arena stage so you could listen to the main acts and watch your kids climbing trees at the same time, perfect!
The Food
Lots and lots of variety, definitely something to suit all tastes. We had pizza, hot dogs, loaded fries, pulled pork and lots more. We scoffed churros, mini pancakes and ice cream. Expect to spend around £10 per person on a meal, on average – our kids shared an adult portion. The food stalls were dotted about the arena, with some in the campsite too for a cooked breakfast or toasty, plus a proper coffee stand.
As well as all the awesome food to consume there were cooking masterclasses on the Live Fire stage, cooking classes available, plus hot dog & chilli eating contests, which were very entertaining!
The Campsite
There were various camping options available, from pre pitched tents, yurts and wooden caravans, the option to bring your own live in vehicle and also 'fancy camping' which was effectively a pop up hotel, with concierge, late night bar, pampering facilities and more. We however brought our own tent and were very comfortable in the general campsite. We arrived around 9.15 on Friday morning so there was plenty of choice as to where we pitched our tent on the sloping campsite. We were about 3 minutes walk to the toilets and showers and entrance to the festival arena. There was a specific area for BBQs but we had a little gas stove so could boil water and fry sausages at our tent.  The walk from the carpark to the entrance to the campsite was up and over a hill and took about 15 minutes each way – our trolley came in very very handy!
Facilities
Plenty of portable toilet areas are dotted about and easy to spot, and not once did I go in a portaloo that had no loo paper! They also had hand sanitiser too.
There were water points dotted about so filling up our water bottles was never a problem, apart from early on Saturday morning when the water apparently ran out – it wasn't out for long and Friday had been incredibly hot so I expect the uptake was more than expected.
There were clearly marked paths through the campsite and overhead lighting so even when it was dark we could find our way back to the tent
There were lockers and pay as you go phone charge points available
What we really loved
The variety of entertainment & food – definitely something for everyone, old or young!
The campsite food stalls for an early morning (or late night) cuppa or full English
The atmosphere. We didn't spot any raucous behaviour, everyone was friendly, people stopped to chat others, especially campsite neighbours.
Cashless payments via your wristband. Lots of people DIDN'T like this apparently, but we set ours up in advance and ticked 'auto top up' so we never had to manually add more money. I also had great phone signal all over the festival (with Vodafone) so I would have been able to do it online, and I could check my spending online too. If you hadn't set this up prior to arrival you had to visit one of the info booths to do this, but apparently at times due to no signal people were unable to do that and therefore couldn't spend money anywhere as all bars/food stands and general stalls had this system.
No rubbish in the arena at all, a great team kept on top of this throughout the weekend.
No long queues at the bars that we experienced
What could be Improved
Clearly marked and separated recycling bins around the festival site would have been great, there were bins specifically for the reusable plastic cups from the bar but that was it I think, hopefully recycling happened behind the scenes. The bin next to our tent wasn't emptied at all during the weekend so it was overflowing with bags of rubbish by Saturday night.
On Saturday night there was a big (and I mean BIG) storm which meant the sad decision had to be made to close the arena early during the last act on the main stage. We had kept an eye on the weather and headed back to our tent before the rain was due (as we could still hear the music from there anyway) but from chatting to people the next day it turned out that there were some delays of over an hour to empty the area of people as it was safer to be outside the music tents than in due to the lightning, then onto shuttle buses away from the festival. To be perfectly honest I'm not sure what the best solution could have been, and the weather forecast was correct, the storm came as promised so it really was up to each festival go-er to decide when to leave the site.
£2 'deposit' for a plastic cup. This would have made sense if it was a branded Black Deer cup as people were likely to keep them but they were just generic reusable cups. A few times the bar staff tried to add this charge on despite us giving them our old cup back. You also never get the £2 back anyway so it's more of a compulsory charge than a deposit like at other festivals (Where people keep the cups as a souvenir!)
We would definitely visit again, we all loved our time in the deer park and as festivals go it's really great one for families, of all ages! You can buy earlybird tickets for 2023 already, and sign up for updates at the Black Deer Festival website, as well as following them on Instagram