Our tickets for this event /experience were gifted, all words and images are my own and unbiased.
Last week we spent the day out at Roarr! Dinosaur Adventure in Norfolk as we were staying with family close by. It was definitely a really fun day out, despite it being the first time we had really been anywhere with lots of people in the same place  since before Lockdown.  I admit I was initially worried but was reassured by reading the current guidelines, and any fears disappeared when we got there as everything was clearly marked, hand sanitiser stations around the park and  lots of dinosaur footprints to help keep your distance.
Roarr! Dinosaur Adventure is  Norfolks biggest all inclusive attraction,  open all year round. You can expect lots of outdoor play equipment, walk-through trails where you can see dinosaurs (models of them, obviously!)  and learn about the various  prehistoric beasts. There is also a live show with Dippy the Dino, a high rope course, petting farm, crazy golf, Dippy's Raceway (electric buggies kids can drive themselves) and a splash pad . You can see a full list of attractions  and a map  on the website.
When we arrived   (in our allocated slot to  stagger foot traffic entering the park)   we followed the arrows and found ourselves in the main outdoor play area, where the kids immediately dashed off to play on the variety of outdoor play equipment. They were soon distracted by a live show with Dippy, the park mascot, which happen on the stage next to the play area. This was a short show with entertainment, singing and bubbles. In 'normal' times there are photo opportunities afterwards but at the moment you can get a socially distanced picture.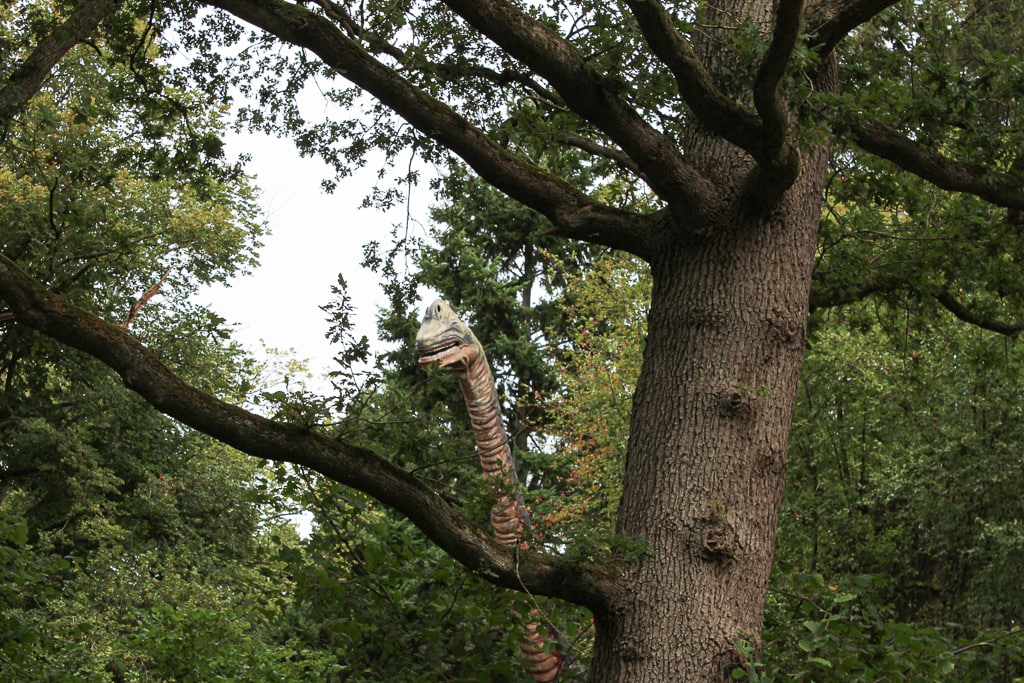 After we'd watched the show we headed off into  the Lost World A-Mazing adventure, exploring the pathways, over the wobbly bridge and a quick  check of where we were at the lookout tower, watch out for the cavemen! Then we joined a short queue for Dippy's Raceway which both kids loved!  You get to drive your very own (kid sized) car around the race track, with enough speed to be exciting but not enough to be dangerous in the case of any accidental bumps.  This was a lot of fun to watch and we were surprised at how well  Arlo steered his car- whizzing round and dodging the others on the track.
We then did the main Dinosaur Trail, which is  a nice  woodland trail that took us about 40 minutes – as we stopped to read about dinosaurs on the way. It is quite hilly and steep in a few places so if you do have very small kids be prepared to push/carry them – though this wasn't a problem for us. Listen out for dinosaur noises and don't forget to look up and around you as you walk!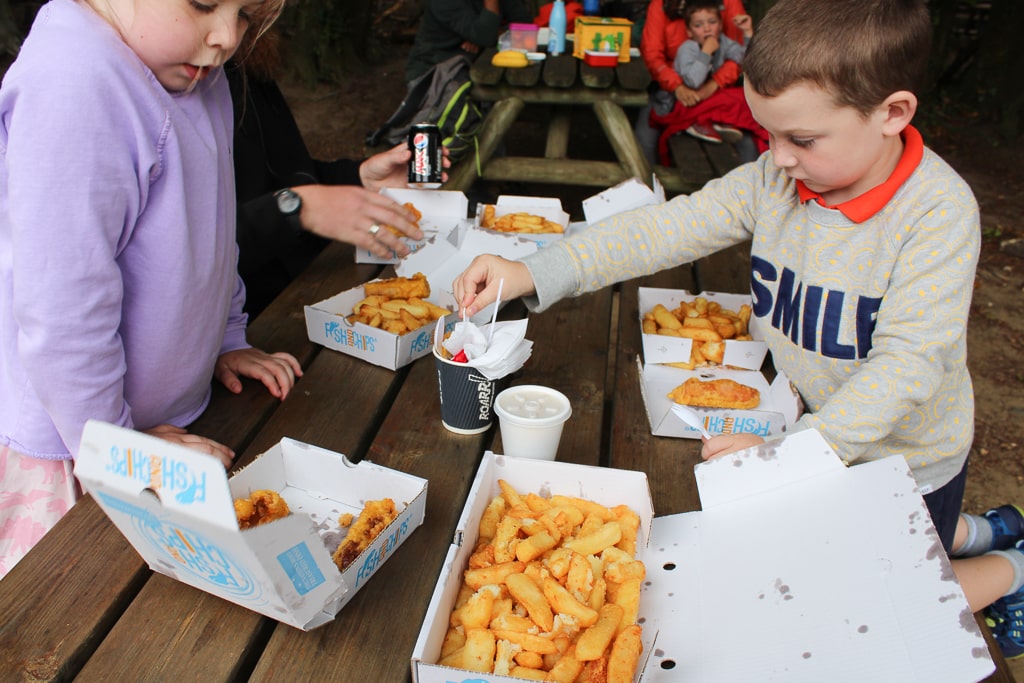 We found a picnic bench to enjoy our Fish and Chips at from the Nautilus  & Nice cafe, and I kid you not they were the best chips we have EVER had. Crispy on the outside but super fluffy on the inside, and I could get curry sauce to dip them in – worth a visit for the chips alone!  As we scoffed out super tasty chips we watched people making their way around the high ropes course which looked like loads of fun!  Athena is a bit of a wuss with heights and had originally said she didn't want to do it, then after watching people on it said she did but as we hadn't booked a slot earlier in the day they only had very late ones left – but we have promised her we will come back another  time and do it all together! The course is in a large frame, and you're attached to a harness all the way round, and then get a zip wire at the end – it's free to do too.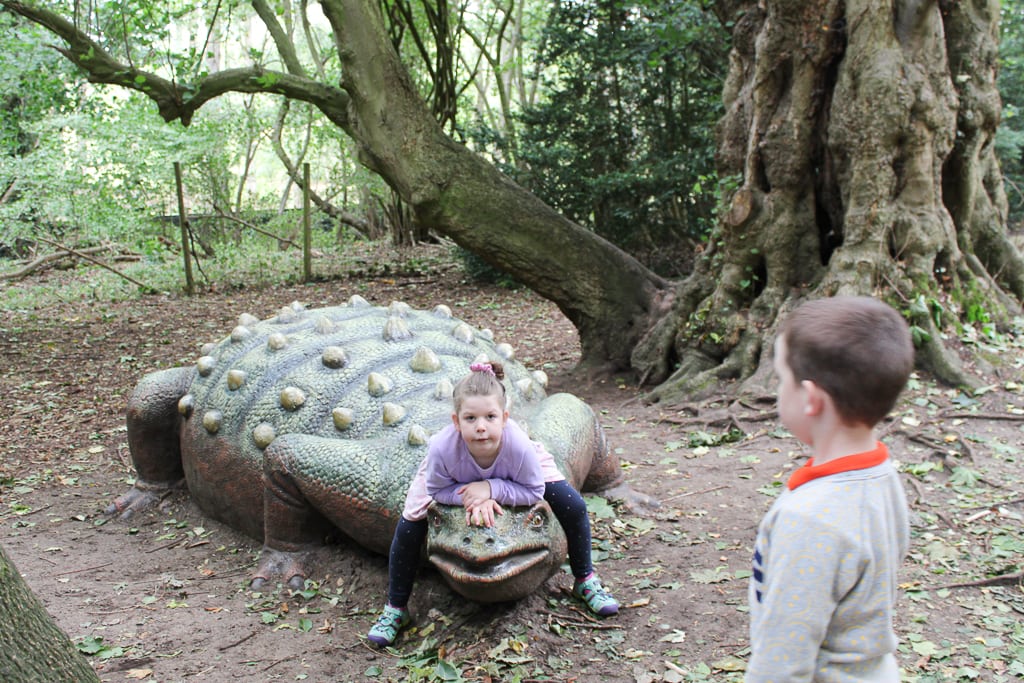 We finished off the day with some  Jurassic Putt crazy golf (watch out for the smoking volcano!)  after we spotted Woolly Mammoth's in the Neanderthal walk, the kids did a few goes round  on the Raptor Racers (which are manual trikes/bikes) and played in the treehouse for a bit. We then had an ice cream break  and spent the last hour or so in the play area again!
We didn't do the splash pad as it was a pretty overcast day, and also didn't visit the  animal areas of the park – but  there is a Waterside Garden, Animal  Encounters Barn, Donkeys and more.
What we thought could be better
All the signage that tells you about the dinosaurs/wildlife/cave men etc was really small and some of the signage was in a cursive script so harder for  our 5 and 7 year old to read. They had to get right up close to the info boards and were leaning over the little fences to read but still struggling. It would be great if these could be displayed more clearly and in a larger format. The information itself was perfect –  how to pronounce the names and what period they lived in etc.
We visited in the summer holidays, during a pandemic  and on an 'eat out to help out' day BUT queueing for 40 minutes for take away ice lollies and cans of soft drink seemed a bit excessive – hopefully this was a one off and we certainly didn't have to wait that long for our fish and chips to be cooked and served !
Useful Info
Roarr! Dinosaur Adventure park outside Lenwade, Norfolk and will take about 30 minutes to drive to from Norwich.
Entrance prices are £16.50 for anyone over 90cm, free for under 90cm  – but do check the website for up to date prices.
Really tiny tots may not get much out of it although there is a  big indoor soft play area (which is currently closed due to Covid19) but any kid from walking up I think would have a lot of fun!  As kids under 90cm are  free to enter the park you're not paying for something they won't enjoy.
You can take a picnic in to the Dinosaur Park, there are benches and plenty of green space for picnic blankets. There are also cafes and kiosks to get food and drink from too.
Don't forget towels and swimming costumes – you can go back to your car to leave wet things  should you need to and helpfully the splash pad is right next to the exit/entrance.
You need to book the High Ropes slots when you arrive to ensure you get the slot you want.
You can find out everything you need to know and book to visit Roarr! Dinosaur adventure on their website.