As the weather is finally getting brighter and warmer by the day I'm getting excited about spending time outdoors and planning activities and fun things for us to do during the Spring and Summer, and expect quite a few others will be too! One of the things that is on our agenda for the summer is bike riding, we're lucky to live a few minutes from the beach and also have the South Downs National Park on our doorstep too so there is plenty of outdoor space to explore locally… but the rest of the UK is also perfect for cycling holidays, and CycleFest have found three perfect locations in England, Wales and Scotland for families to get together and explore the great outdoors on their bikes. On each Bank Holiday you'll be able to take part one of three routes, an all-ages family friendly route or one of two more challenging routes perfect for more experienced cyclists.

First up on the 6th May, Kelso will be home to the first CycleFest of the year, with amazing routes around this market town in Scotland, with hundreds of square miles of forests and woodland, lochs and rivers and idyllic roads to explore. The next event is the last Bank Holiday in May and takes place in the 27th May in Yorkshire -alongside the National which is hosted by the Caravan and Motorhome Club. With routes branching out from Sledmore House in the Yorkshire Wolds – so perfect to travel to if you're not local. If you're not up for cycling then you could try a Segway ride or attend a garden party in celebration of the Royal Wedding! There is street food, entertainment and craft stalls, really something for everyone and you can just visit the National for the day too even if you don't fancy cycling!
Finally during the last summer Bank Holiday on August 26th CycleFest will be in the Wye Valley in Wales, which is an Area of Outstanding Natural Beauty so perfect for a Bank Holiday cycle, with riverside landscapes, ancient ruins and the town of Monmouth close by. Plus for every entry into any of the Cyclefest events (at any location) Belle France are giving away a family cycling holiday in the Loire region of France, which is worth a whopping £4,000! Including six nights half-board accommodation, the hire of your bikes, luggage transfers and lots of route help and plans. Entry is automatic with any purchase of a Sportive or Family Ride! Not only that but I have a family ticket to giveaway to either the National or the Welsh event too! For your chance to win just enter using the form below:
Win a Family ticket to CycleFest National or Welsh Wanderer

Experience Freedom who are running these great events also have a whole host of other offerings, from glamping in traditional yurts to motorhome hire so you can wander as far as you fancy but still have home comforts on tap!
These photos have brought back lovely memories from our first day out on the bikes with Athena, who was about 9 months old, and she and her friend were tucked safely into the bike-trailer as we rode the Monsal Trail in Derbyshire, which was once a rail track but now perfect for cyclists, a lovely level surface, with amazing views along the way over viaducts and a few tunnels too! Cycling really is a lovely way to 'switch off', get away from your phones and gadgets and spend some quality family time together, exploring the country and getting exercise at the same time!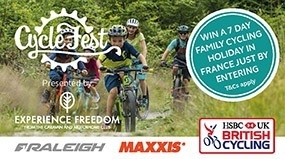 This is a collaborative post written in association with CycleFest.