Next up in my festive gift guide series is presents to suit ladies, be they mums, sisters, colleagues or friends… I know it's tempting to just attack the boots 3 for 2 offers and stock up but who really needs that many bath sets? Here are a few things that I am either giving or would like to get under the tree!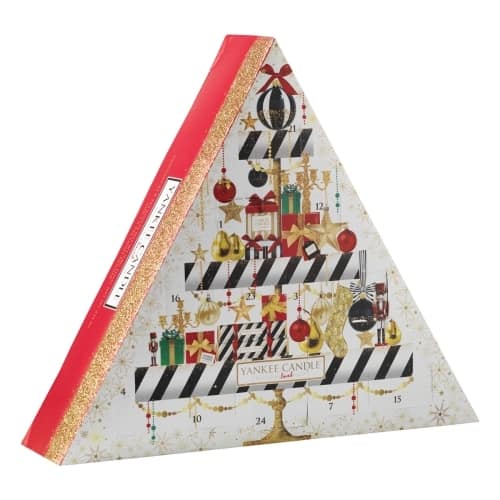 Candles! I think you'd be hard pressed to find a friend who doesn't like burning candles, and although people have personal preferences as to what scents they like unless you pick something really out of the ordinary I think you'll be okay. The
Yankee Candle Holiday Party
advent calendar is sure to have
something 
in there to suit all tastes, with four brand new scents this year. There is also a sweet range of candle holders too, I love the
gingerbread men
ones!
For someone really special, a luxury scented candle could be the way to go, the range from Voluspa is immense, and the candles are free from parabens and sulphates, and the gorgeous glass jars can be used afterwards! The scent is just right, not overpowering but the sandalwood and amber notes of this baltic amber scent give it a nice spiced festive scent… since taking this picture I decided to burn it after trying to keep it for Christmas and not only does it hardly make a dent (around 100 hours burn time) it's made my whole living room smell cosy!

Personally I think an Emma Bridgewater DAB radio would look good in any kitchen or bedroom, there are a lots of styles to choose from as well as some plainer colours. I love to have the radio on in the background when I'm baking or pottering around in the kitchen, and sometimes when I have a bath too! Most radios and stereos aren't particularly fun to look at but these are pretty even when they're not being used for their intended purpose!  
I think these are intended to contain a moscow mule cocktail (I don't even know what's in one!) but the copper trend isn't going anywhere fast, and these mugs (in a set of four) would be perfect for drinks, tiny little succulents or even as pen, pencil or makeup holders!

If you know someone who really isn't a morning person then a Lumie BodyClock would be perfect for them, it wakes them up gradually using a 'sunrise' effect, which gradually brightens until the time they'd normally set their alarm for. It can also have a regular alarm or the radio too. and has a white noise function as well as a few others. I've been using this for a few weeks now and although the times that it has woken me up before the baby are few and far between it has been lovely to be woken up without the jarring alarm blaring in my ear! The clock display is handy too as it means I don't have to fumble about to look at my phone for the time during the night. Waking up to a natural light every day resets the sleep/wake cycle too, boosting productivity and energy levels.
Backpacks seem to be more fashionable than ever, though really it should be about about comfort than fashion but either way a good backpack would be a good buy for someone who has to cart stuff about on a daily basis. Fjallraven Kanken backpacks are on trend, and really well designed, plus you can get handy inserts for them for things like cameras and laptops! They come in different sizes and colours too! My chum Carrie has written about hers here.

So this one is for any strong mama you know, (that's all mums btw!) the Motherhood T is from Three Bears Threads, and not only is it super comfy it comes gorgeously wrapped so you could send it direct to your chum without worrying about wrapping! Three Bears Threads have so many nice designs for kids and adult clothes (here is Arlo in their stag leggings) that it was hard to pick, but eventually I settled on this one, my second favorite was the 'tired is the new black' slogan tee!

Finally you can't go wrong with jewellery for any gift, not just at Christmas! Make it personalised and you're onto a real winner. Scarlett Jewellery is a local-to-me business and I love to support locally when I can so I was really happy when they offered me a £50 voucher to give away to someone! Their jewellery range is delicate, unique and  I think there would be something suitable for everyone. The Twilight collection features dainty stars and moons, the Touch collection is more organic looking, and the Mojo collection features charms with positive messages, There are pieces in silver, gold and rose gold (always a winner with me) and many items can be personalised too! So if you want to treat someone, or even yourself then get entering!
Competition ends: 27/11/16 at midnight
Winner will be sent a code to use online to receive £50 off their order. There is no cash alternative, and the discount code can be used once only.
Prize supplied by Scarlett Jewellery.
UK address only. Entrants must be over 18.
Winner chosen at random via rafflecopter from all correct entries.
Some links are affiliate links, and I received some of these products to feature in this gift guide. As ever all words and opinions are my own.