Frozen 2 is about to hit cinema screens around the world and along with the release of the sequel to everyone's favourite snowy animated film come toys, clothes and everything else Frozen 2 related! To celebrate the launch  of Frozen 2 we were sent two of the toys that are sure to be a hit with any  Elsa & Sven enthusiasts and will be very popular on the present wishlists this Christmas!
Disney Frozen 2 Elsa Singing Doll 
This is definitely a hit with Athena, and she has put it on her Christmas list (toys we are sent to review aren't always kept – we donate many of them or they are given at Christmas/Birthdays if they really really want them). Elsa comes with a gorgeous flowing purple dress, and a built in skirt with lights up. She also has a button to press on her chest which triggers her songs and music. She also has removable shoes, posable arms and her signature long blonde plait which can be taken out and played with or brushed. 
She comes with 3xAAA batteries so she's ready to play with as soon as you've snipped the bands keeping her securely in her box. Once she's out and you've switched to the right play mode she will cycle through fourteen phrases from the film, including asking questions. She also belts out a line from the song 'Into the Unknown' which is the big hit of the film. 
As you can see her skirt lights up and creates beautiful patterns on her dress, which Athena was amazed by.  Elsa is available here at smyths and here on (affiliate) Amazon.
Disney Frozen 2 Playdate Sven
Next in the new Frozen 2 toys is a rather large Sven. This reindeer stands 3 feet tall and is designed to be 'ridden' by kids, though note that he does not actually walk. He does however nod his head and say phrases and sounds from the film depending on how he is played with.
As you can imagine Sven arrived in a pretty big box! He has a super soft furry mane, an on/off switch under his belly and attached reins. He also comes with a carrot attached for feeding. 
Both kids absolutely loved him, taking turns to feed him his carrot on demand (which I think has a magnet in it as when you put it to his mouth he makes a munching noise). Sven needs 2xAA batteries, which come included. When you tug his reins he makes a variety of sounds and phrases, 20 to be precise.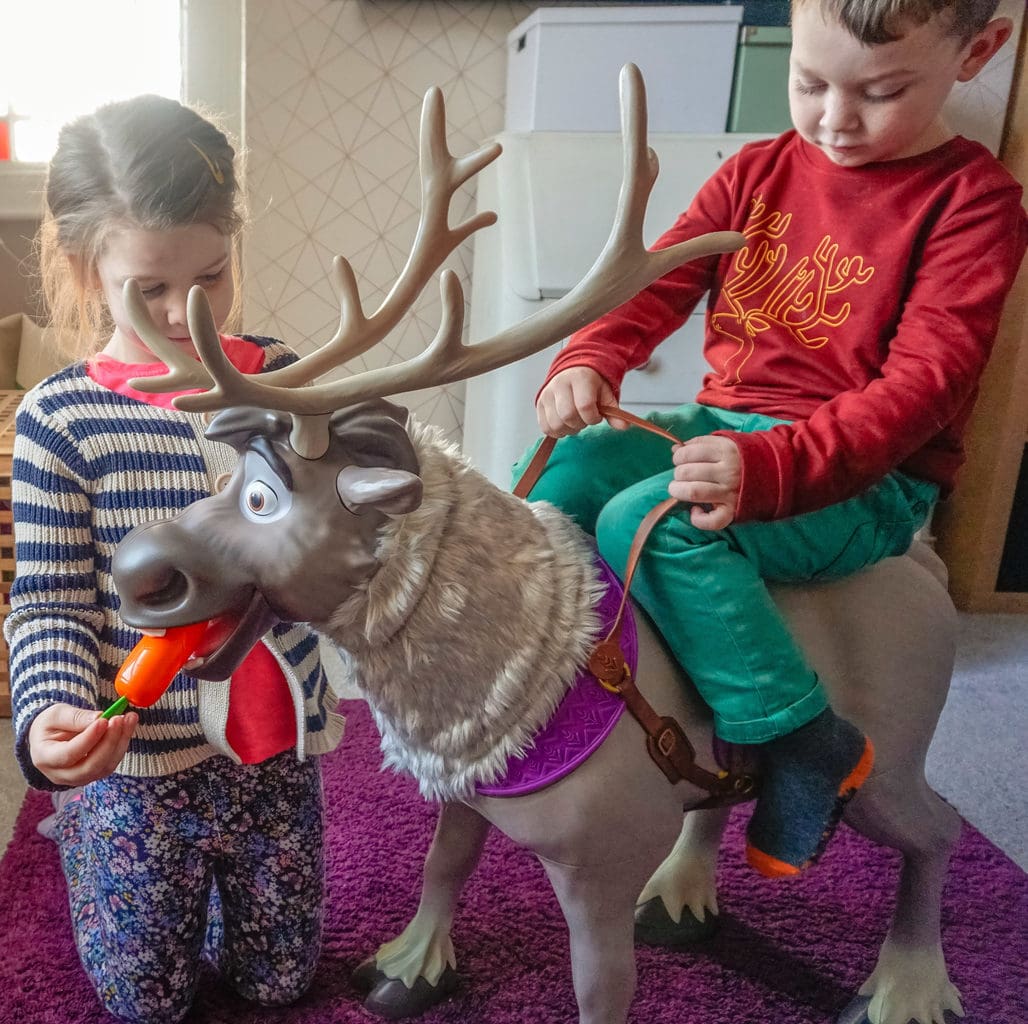 The issue we had with our Sven is that once the reindeer antlers are pushed into place from their flat position the instructions make clear that they should not be pulled back down. However when you have antlers right in the eyeline and grabbing position of the rider this is almost impossible to ensure – as kids will automatically reach out for them and tug on them. Our antlers are now in a lowered position – which actually doesn't affect how they play with Sven but he doesn't look quite as majestic as he did!
Sven is available here at smyths and here on (affiliate) Amazon.
Are your kids Frozen fans?