On Saturday we spent the afternoon at Kidzania [via gifted press tickets] which is a city run by kids located in Westfield shopping centre in London. Confused? So were we until we arrived and experienced it for ourselves! Basically kids from 4-14 can try their hand and loads of different jobs by role-playing, earning money as they go which can then be exchanged for experiences or in the shop for actual goods at the end of the day. Each session lasts for four hours – which may seem like a long time but it flew by once the kids got going with all the different jobs, and there are 75,000 square feet to enjoy, spread over two levels.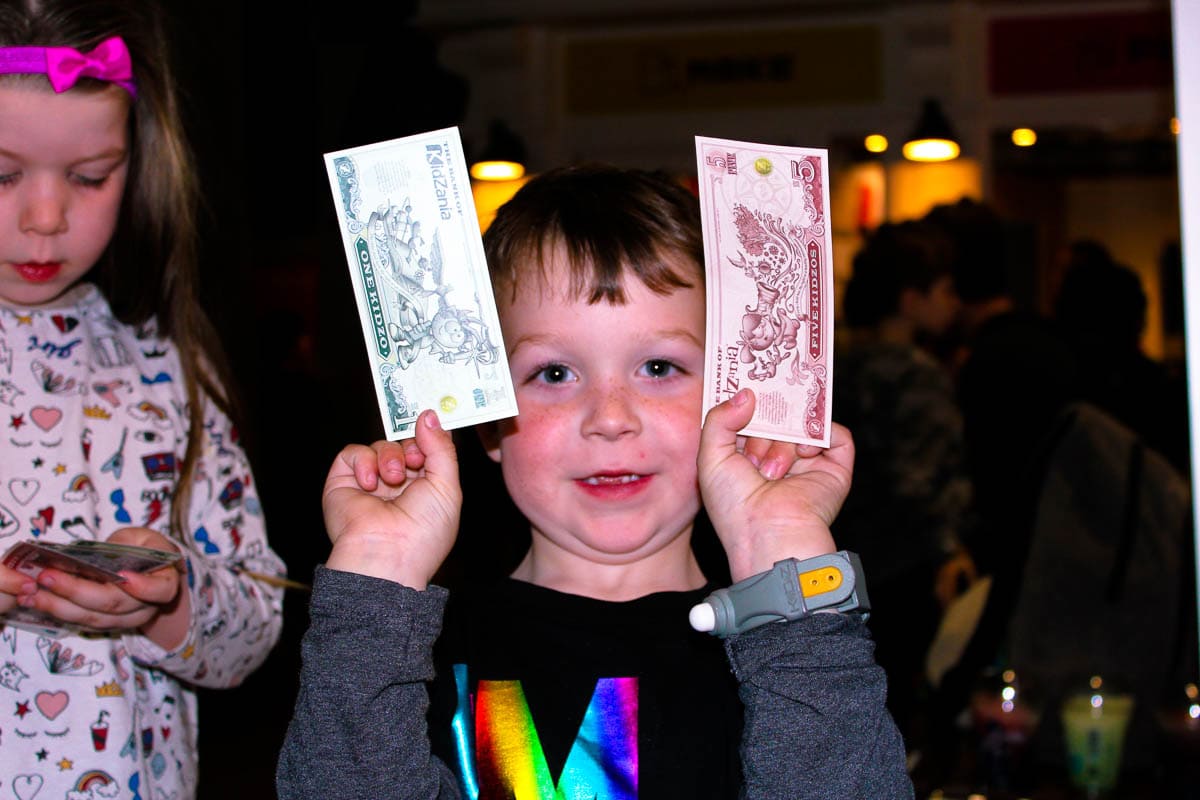 The check in process is the same as for a flight, you queue up, check in at the desk and each member of your party gets given electronic wrist bands – which group you together and mean that kids can't leave without the adults they came with. The kids were also given their 'Kidzos' which are the currency of Kidzania. Once you go through into Kidzania you can leave bags in the locker area which starts at £3 – we had a backpack each and filled a medium sized locker which cost £4.
What is there to do at Kidzania?
Then with the aid of the map we started to explore. At first we were a bit confused as to how everything worked but outside each activity is a sign which states the maximum number of participants, the minimum age, duration and whether you have to pay to do it or if you earn Kidzos for doing it! There were so many different activities available and in the space of four hours the kids tried their hand at:
Being a librarian
Being a Vet (on a very large stuffed dog with intestines and all sorts!)
Being a hotel room cleaner
Working in a supermarket
Delivering and collecting 'cash' from businesses and taking it back to the bank
Being journalists and printing a newspaper
Being Air Conditioning repair-people
Being Surgeons
Other things they could have tried were being police, ambulance or fire fighters, working in a radio station, piloting a plane or being cabin-crew and SO much more! It would be impossible to do every task in a four hour session, and if your kids were really keen on doing some specific tasks then it would be work planning your visit round those as a priority. You can save all your Kidzos up, either depositing them in a 'bank account' or spending them on the more popular experiences. There were photographers snapping away at many of the experiences, and you could then view these photos and purchase them in various formats after your visit.
Special Activities at Kidzania London
As well as the regular activities there are often special events and fixtures, this Easter there is Yoshi's Easter Egg Hunt in the school holidays (8th April – 14th April) to celebrate the launch of Yoshi's Crafted World on Nintendo Switch. Kids can go on the hunt for Yoshi's eggs and once completed they get 10 Kidzos plus a chance to win Nintendo prizes, including a Switch or a 12 month family membership to Kidzania London.
Nike's Department of the Unimaginable have also set up shop and will be at Kidzania until the 5th May. The Nike DOU Agents have set up a lab to help gather ideas from kids who want to help shape the future of Nike Air! Kids aged 8+ can learn about how Nike invented and designs Air Max, which the chance to win a trip to Nike HQ in the USA buy submitting their own designs!
WWE WrestleMania 35! From 30th March – 22 April Kidzania is encouraging performers to create their own Wrestlemania Superstar post in the WWE Academy ring, journalists are reporting on the event, radio presents are shouting about it too! In the KidZania theatre, WWE fans will have the opportunity to create a live show, experimenting with lighting, sound, costume and performances.
Work with real cars as an energy champion at the Shell Forecourt, learning about both petrol and electric fuels, and can mix their own fuel to poser race cars around the track.
Things to think about before you visit Kidzania London
Children under 8 must be accompanied by an adult, but children between 8 and 14 can explore Kidzania London on their own as long as an adult checks them in at the start of their visit.
Children 0-3 are welcome but there are very limited activities for them to participate in
As adults aren't allowed in the activity areas there are plenty of seats outside on the 'pavement' for them to sit at to observe, as well as cafes, restaurants and an adults only chill out zone upstairs. They can also participate as audience members at the Theatre and Dance club, for example.
It's pretty hectic and can be quite loud – this didn't phase my kids at all but might be a bit harder for kids with sensory issues to cope with. We were there from 2-6pm and it was much quieter for the last two hours.
Some activities are really popular so the kids will have to wait outside at the queue point for them – it might be worth explaining this to your kids in advance so they're prepared for a bit of a queue
There are coffee shops and restaurants but the prices are a bit higher than they would be in the 'real world' – but this is in line with other attractions, but something to be aware of.
Could anything be improved at Kidzania?
We could have made better use of the information desk as it was out first visit, so we knew what to do right from the start instead of strolling around working it out for ourselves, but this was our fault rather than Kidzania's! There were tears on the way out as the selection of items that you can buy with Kidzos is pretty small compared to the gift shop selection and your Kidzos don't really go that far much to Arlo's dismay… I think stocks may have been running low. As far as I could see you could only buy an iron in Kidzania patch, and some other unbranded items. It would have been great if things like pencils, rulers, fridge magnets etc could be exchanged for Kidzos rather than just in the gift shop for actual money.
Kids obviously need to understand the value of money, but it seemed a pretty harsh lesson to learn in that they had only made enough to buy a couple aeroplanes made out of foam at the Kidzos shop! Looking at the map I think there is a store inside Kidzania that we missed – and they might have had a better selection. Either way we still have some Kidzos left for next time!
It's also pretty dark in Kidzania, with no natural light – so you kind of lose track of the time with no windows to look out of, of course this didn't phase the kids one bit.
Would we go to Kidzania again?
Yes, definitely! It was an experience like no other that we've come across, really cleverly designed and it gave the kids so much to see, do and experience in a relatively short amount of time – definitely worth a visit! Athena got more out of it in understanding than Arlo, but then she is closer to six and he's only just turned four. It was great seeing them work together on things though, and it started a lot of different conversations about jobs, making money and budgeting! It will be even great once they're both over 8 and we can sign them in and then go and do a bit of kid-free shopping too…
You can find out everything you need to know and book tickets on the Kidzania website, as well as find out about seasonal events. They also sell annual passes and gift vouchers, and they make a great experience gift for kids if you wanted to avoid buying them more toys!