I am always amazed when kids use their imagination, it's just so special to see. They're like sponges soaking things up and regurgitating them in play. Ever since Athena was really small she'd pretend she was an ice cream seller underneath the climbing frame at the local park where there's a little ledge. She'd bellow "Ice creammmmmmm anyoney want some ice cream'… I loved how she couldn't say anybody! A while ago we got a wooden shop to play with at home, and both she and Arlo love to play with it, I've been 'sold' all manner of things from plastic vegetables to my own jewellery! Poor Arlo is always the customer, he never gets to be the seller! Earlier this week the Leapfrog Count Along Till arrived and it's a big hit!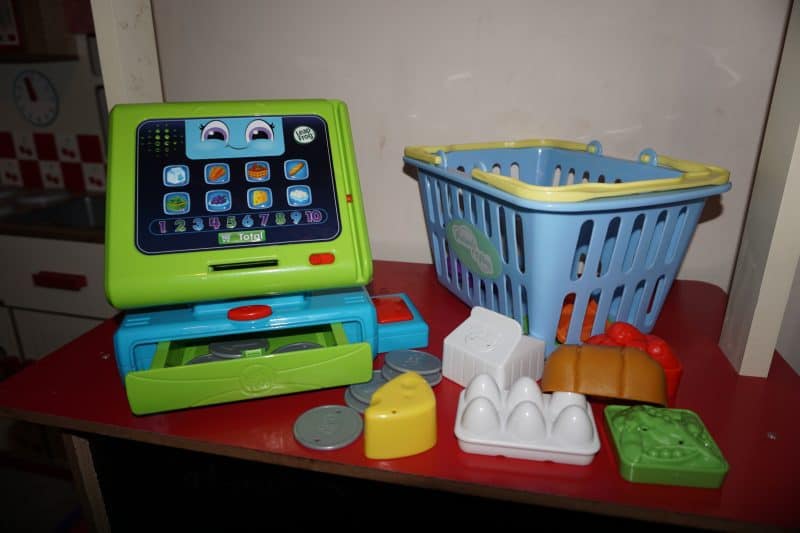 The Leapfrog Count Along Till comes with a set of plastic food, some coins and a loyalty card to swipe, and the buttons when pressed talk about the colour of the items as well as helping to learn numbers and counting. When you have 'scanned' all the items the till tells you how many coins the total is, which can then be inserted into the slot, and then released with the till; meaning it cam be used as a self service till as well as a customer/shopkeeper scenario.
Along the side of the screen you can swipe the reward card, or it could also be used as a credit card, though to be honest I doubt my kids have ever seen a card being swiped through the till, they just see me wave my card at the chip and pin machine and stick the shopping in my bag! The till has two volume settings (the loudest one is pretty loud) and takes 3 aaa batteries which are already included.
Both the kids absolutely love it, Arlo is often strutting around picking up the coins and shouting "MONEY!" and taking turns has been something I've had to remind them of several times recently as they both want to be in charge of the money going in and out! I think 'playing shop' will be be a firm favourite for a long while yet!
The rrp is £19.99 but it's currently available on amazon for a bargain £13.32!
We were sent this item to include in this blogpost, all words and opinions are my own.