January started off dragging its heels a little, then quickly picked up pace and hurtled towards February at quite a lick. I think it is because we didn't really get back into a routine till the second week once the kids were back into preschool and the child minders.
After that we quickly settled back into things, hibernating when possible with the heating turned up! I celebrated my 33rd birthday on the 24th and spent a couple of days up in London, treating myself to a hotel room and a luxurious bed all to myself with no horrifically early morning child related wake up calls! It was just what I needed! I've also been reading a lot more and am ahead of target for my reading challenge this year, I wonder how long that will last! So far I've only worked one day at the hotel, as I had a load of holiday days owed, though I am back this week doing one day a week. I haven't really missed it but I know if I stopped completely I would miss the wage!
Sam started a new job on the 2nd which is keeping him busy and meaning he's out of the house more as he has a longer commute to and from work, which in turn means I am on my own more with the kids, which can sometimes mean the days often seem endless, especially when it is dark and gloomy outside! He's enjoying the new challenges though!
Athena has a nasty trip at the end of the month and smashed her lip really badly, meaning she had her first ever day off childcare apart from missing a day due to having chicken pox at her old nursery! She made a miraculous recovery and thankfully the wobbly tooth doesn't look like it will fall out, I couldn't bear having two toothless kids! She is definitely starting to test limits more these days too, becoming a petulant little madam at times! The very vast majority of the time she's delightful though so I can't complain too much!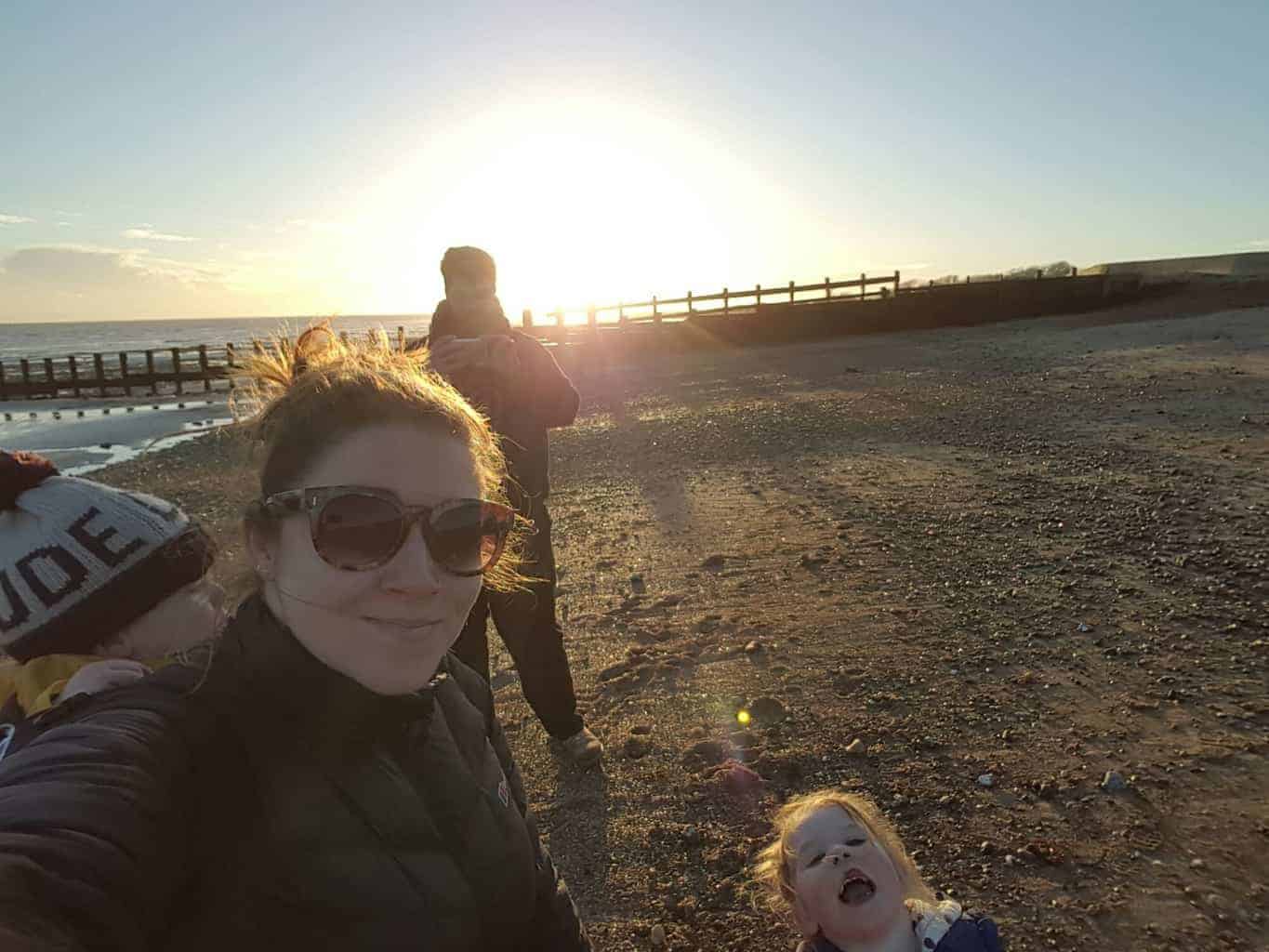 Arlo definitely is at the testing boundaries at the other end of the scale, more so than not in fact! It takes hours to get him to go to sleep these days, two hours on Sunday night! He just kept asking for Daddy over and over, and when it's daddy doing bedtime he asks for me. On top of that he flings himself on the floor at regular intervals to express his annoyance, or throws things or pushes back from the table when he doesn't like the look of dinner! Such a little rascal and really very infuriating at times! He is however sleeping through on and off which does make a big difference! Thankfully he's loving going to his childminder these days, so at least two mornings a week he's happy to hurtle along the road to her house!
We've decided to try and take all our Me & Mine photos outside this year, I hope we manage it! This months photos were taken on a chilly Saturday afternoon walk to the beach with friends, on my phone because I forgot to put a memory card in my camera (story of my bloody life, that is!) but actually the gorgeous golden hour light made them pretty sweet pictures! That last one is all of us, it doesn't look it but Arlo is on my back… you can see a yellow welly if you look closely!