Just when you thought you knew all about the ways to use tech to keep your kids entertained (including asking Alexa to make fart noises) you find something that blows everything else out of the water. It's not only fun, but also educational enough to count as learning, which during these strange covid19 infused times is more important than ever!
Osmo is a super clever device that turns your tablet (iPad or Amazon Fire tablet) into a hands on, tangible interactive experience. To get started all you  need is a base and a red Osmo reflector that is positioned over your tablet's camera, reflecting the space in front of it. If you download the Osmo Games app from your app store you can not only link it to the parent app on your phone so you can keep an eye on what the kids have been doing, but you can then see all the different games available, as well as which (if any) game pieces are needed. Currently there is a spring sale on best selling Osmo kits on Amazon.  Included are the Little Genius (ages 3-5) and Genius (ages 6-10) starter kits – which we have been testing out, frequently due to the children being at home all day, every day!
How to Set Up Osmo on Amazon Fire tablets
Search for the Osmo Games app, download it and follow the on screen instructions. It's genuinely so easy with on screen prompts that my 6 year old daughter managed it on her own. You also get the opportunity to scan a QR code from the parent app once you've downloaded that to your phone.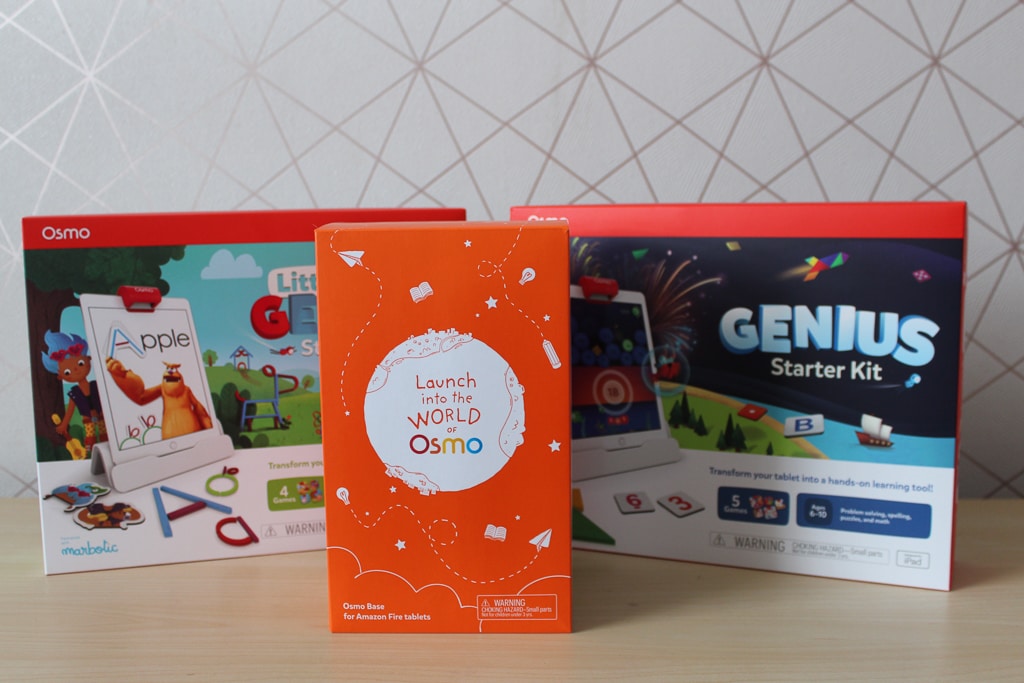 How to play with Osmo on Amazon Fire tablets
Once you've downloaded the apps to match the game pieces you've got it's just a case of deciding which one to do first. The instructions are all really clear, often given by a cute fluffy monster Mo, verbally so that it doesn't matter if your child cannot yet read.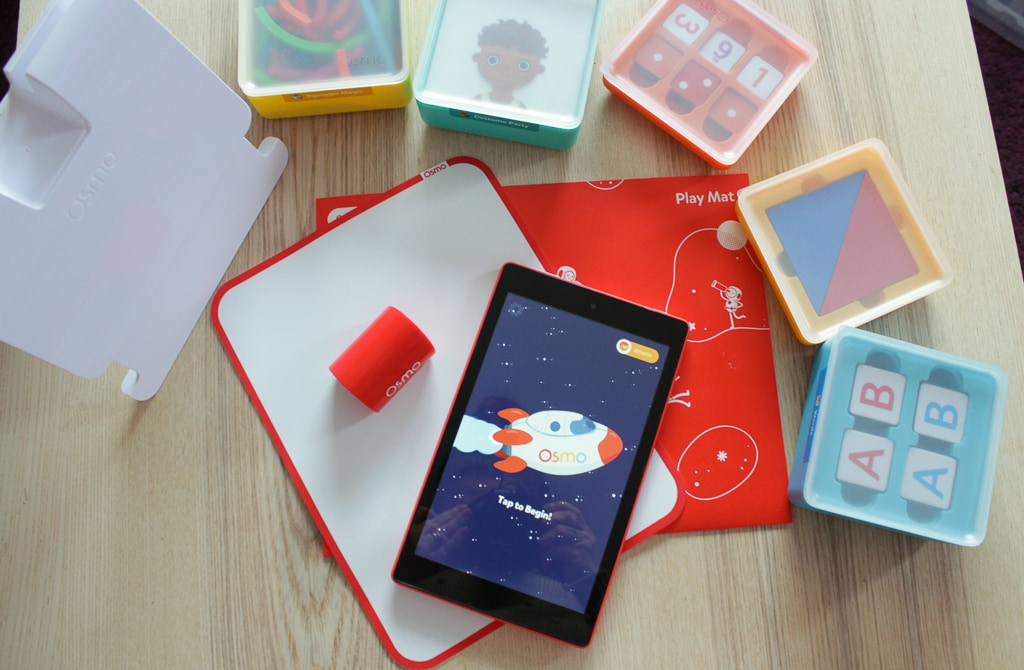 Little Genius Starter Kit
This kit has two boxes of game pieces and will let you play four different games:
ABC's – use silicone shapes to form letters, including 300 words
Squiggle Magic – using the shapes to create and watch them move right on screen
Costume Party – using the outfit pieces to make costumes and then change the colours on screen
Stories – using the outfit pieces to create characters in an interactive story. Give them roller skates and they skate on screen!
Genius Starter Kit
This kit has 3 boxes of hands -on game pieces, letters (capital and lower case) , numbers and a set of multicoloured shapes, and a white playmat. Among the games you can play are:
Words – play alone or against family members, matching what you see on screen and trying to spell it
Tangram – with different difficulty levels this is a game of challenge and problem solving
Numbers – save the fish by adding, subtracting and multiplying.
Masterpiece – learn to draw from the library of images, or take a photo and learn to draw that (using your own paper and pens, nothing else needed!)
Newton – Osmo sees and interacts with anything you draw, or put in front of it! You can use an Osmo whiteboard and pens for this, or pens and paper!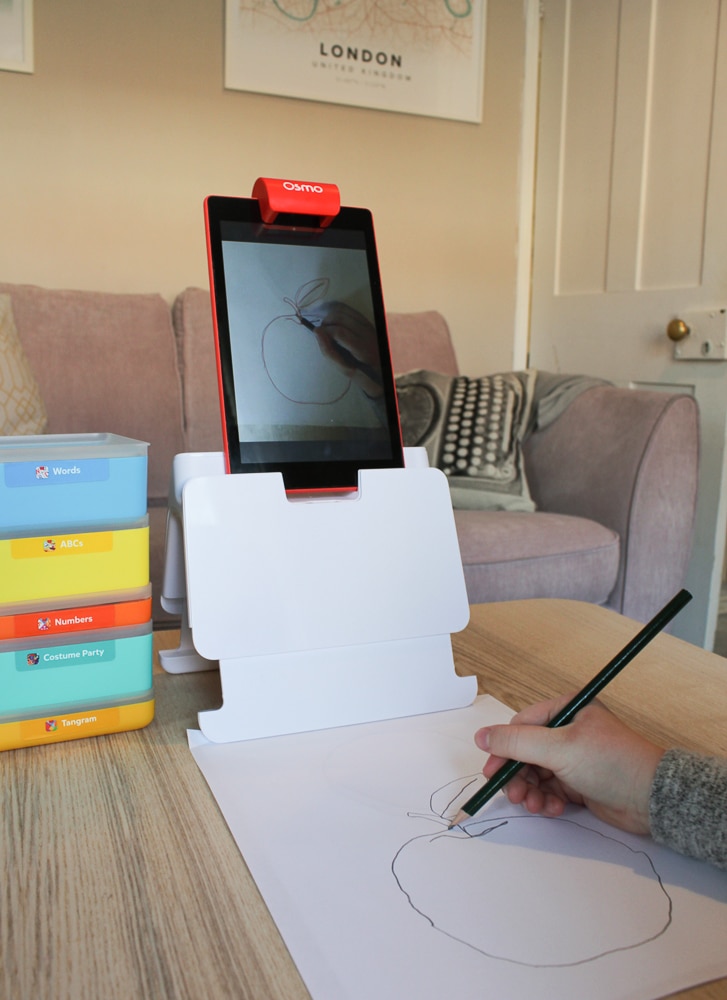 There is also a new app, Kaleidoscope that lets you create fun patterns with anything you can lay your hands on at home, and then you can save them.
Osmo Parent App
All images that are created in the Osmo apps are easy to find in the Osmo parent app, which is lovely as you can see drawings after they've been rubbed out if you were using the whiteboard. More importantly though you can see your child's progress on each of the apps, and stats are broken down into Creativity, spelling, math, problem solving etc and by day, week and month etc.
There are lots more kits available, from creative art kits to Hot Wheels Mindracers, which Arlo is very keen to try out as he's a car enthusiast. Athena has spotted the Detective agency pack too and said that looks really fun. Also in the range are 3 coding apps, which will give kids a fun way to start understanding coding in a really interactive and hands-on way. I really advise taking a look round their website to see the range and find out more about how it works.
Osmo are also running an Easter giveaway, ending on April 16th, and the 3 winners can hop into the basics of coding and win their own Osmo Coding Awbie, Coding Jam, an Osmo Genius Starter Kit for iPad (or Fire tablet), and some fun Osmo merchandise!
This is one of the cleverest 'toys' I've come across and it's no wonder that Osmo is used in over 30,000 classrooms in over 42 countries the world over – how amazing is it that kids at school and at home can have so much fun learning & playing? Click the image below to visit the amazon store.