The one room that we really haven't much to since we moved in is our bedroom.  This is for a few reasons and the first is that I just can't decide what to do décor wise! The second is that we're using the room to store various other bits and bobs that don't have a home yet so it isn't quite clear of 'stuff'. But I know I want to make it into a relaxing haven, because our last bedroom was so small that it was anything but relaxing!
In the meantime we knew we wanted to make our bed somewhere we could collapse into at the end of a day of unpacking/decorating/dealing with life in general. I picked a really simple bed frame with no headboard as the bed will always be facing the window so we can use the wall for reading in bed. It's a Platform Bed from Wayfair (this one) which is perfect, and it only took half an hour to put together too. If we change our minds later we can get a headboard that attaches to the wall rather than the bed. The bed frame is nice and high with over 30cm clearance so we can use boxes underneath to keep spare linen, handbags, shoes and other things we don't need immediate access to – though with an open frame we can grab a box with ease should we need to
Right before we moved The Fine Bedding Company asked if we'd like to review one of their duvets and after a perusal of the range we chose the nicest duvet I have ever slept under! The Night Owl is a coverless duvet, in a grey 100% cotton waffle fabric on one side. It is GLORIOUS, I really wasn't sure about the concept of a coverless duvet but now we've been using it for almost a month I'm all for it!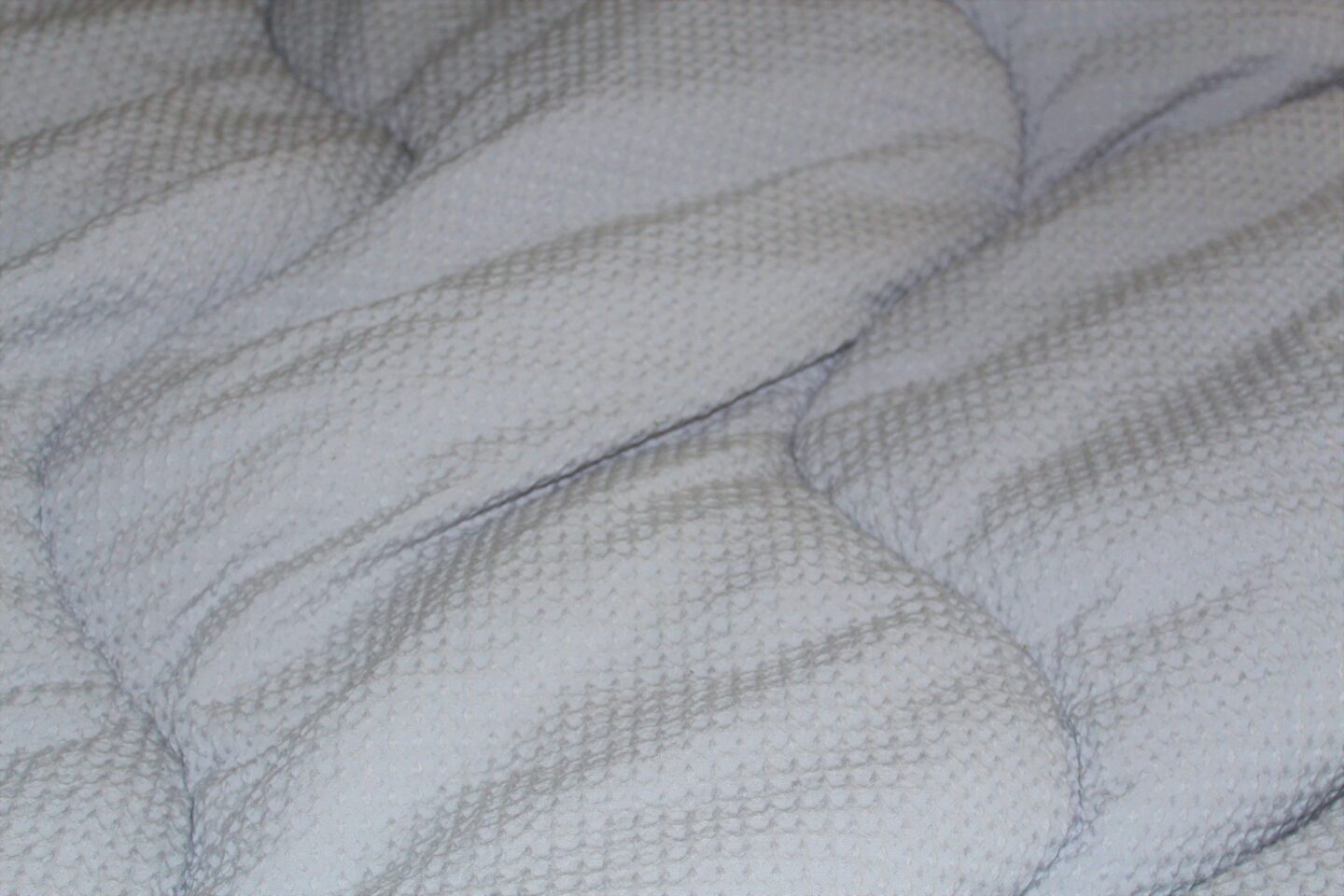 The Night Owl Duvet is a 10.5 tog and the filling is 100% Smartfil® Microfibre which is made from recycled PET bottles – how awesome is that!? It's stitched together in a wave pattern which not only looks ace but stops the filling from moving around the duvet so it stays plump all over. One of my bug bears with feather & down duvets is that the filling migrates around and doesn't stay even for long. So, problem one solved. The next problem is that I absolutely HATE putting duvet covers on, and hate it when the duvet moves about inside. I used to 'fix' this issue by wrapping a hair tie around each corner to hold the duvet inside the cover but that doesn't look good and isn't comfy when you accidentally sleep on it. This fix is a permanent one – no duvet cover needed AT ALL! I'm all for it to be honest, it's like a dream.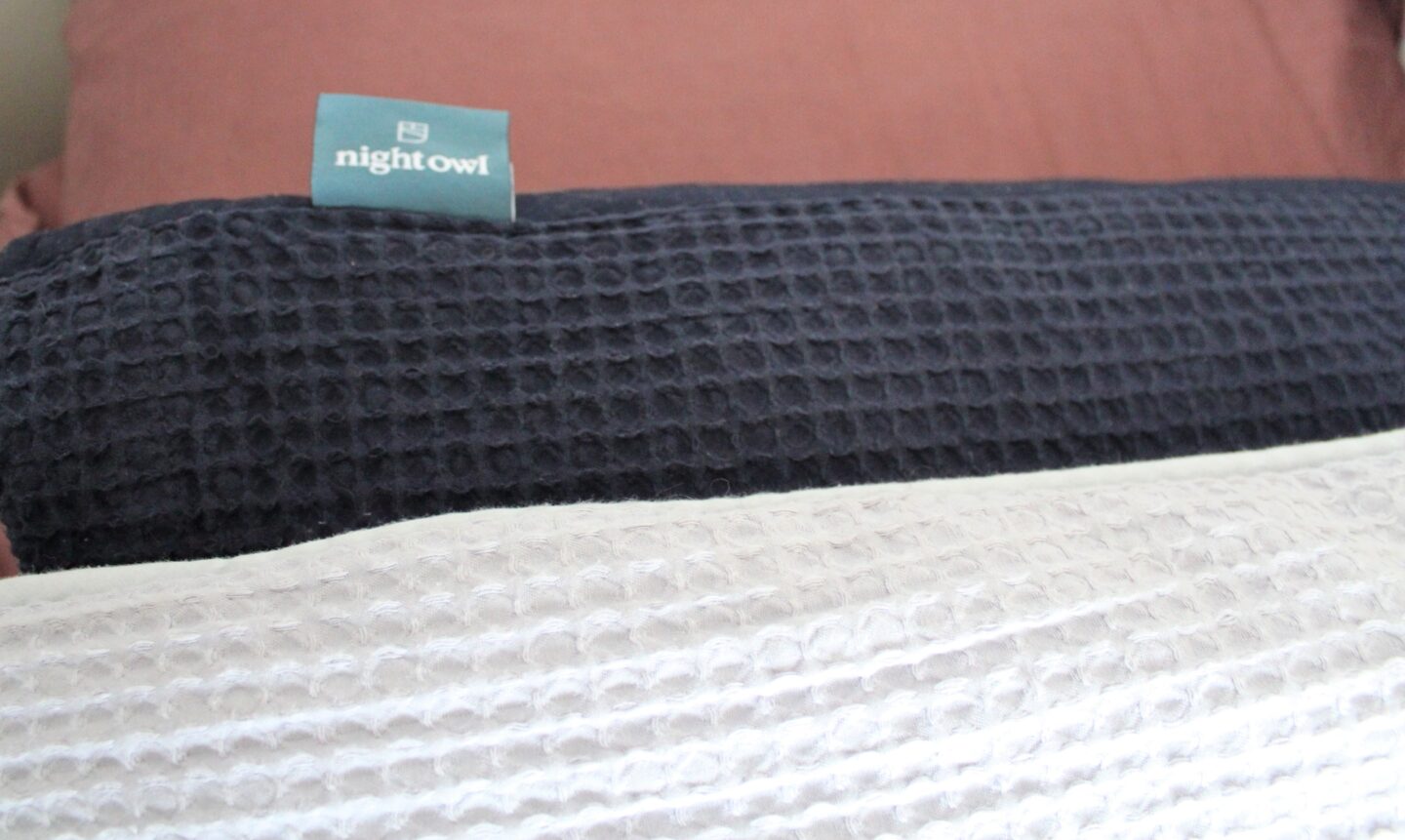 Now when I shared this new duvet on Instagram stories the week I got it I had SO many messages asking 'but how do you wash it?' – Easy! In the washing machine. We have a washer/drier and our King size Night Owl fits fine, I washed on a 40 degree wash and then tumble dried it and it and in a total of 3.5 hours it was ready to be put back on the bed, and it felt and looked as good as it did when it arrived. A tip on the website is to sleep with a top sheet between you and the duvet to extend the length of time between washes, which is a great idea.
The waffle style is available in grey and navy at the moment, but the herringbone and original options have more colours to choose from. I plan to expand our collection with a herringbone in dusky pink this winter, with a view to eradicate duvet covers all together one day – Even folding them up to store them is annoying! If however you don't think you're quite ready to give up the duvet cover life you can of course put your favourite cover on a 'coverless' duvet, or use one for your guest linen so once your guests have gone you've got less to sort out and wash. Each duvet comes in a drawstring storage bag so you can store it without it spilling out into the airing cupboard, and of course you can order matching pillow cases and sheets too. I went for a mix n match, and picked navy pillow cases – and as we wash these more frequently I was pleased that they dried super fast, I thought the waffle material may take longer but it doesn't seem to at all.
I'm really impressed with the quality, and the eco-friendly credentials of The Fine Bedding Co and look forward to seeing what else they will launch in the future!