Athena is definitely a stereotypical 'girly girl' and although she loves to play trains and cars with her brother and will climb on any tree or wall she sees, she really really loves the colour pink, wants to wear makeup and loves a frilly dress. It was for that reason that knew she would love the Kekilou range of toys, and when a box full of them arrived and her little face broke into the biggest smile I knew I was right! In fact Arlo also got involved, has claimed a few dolls for himself and has loved 'applying' (in the loosest sense of the word!) the makeup too.
These collectable dolls are all inspired by magical transformations, fashion and surprises – so right up most little girls' street! There are a few different options you can get to build up a collection, and I'm giving one away at the bottom of the post to get you started!
Mini Bag Assortment Dolls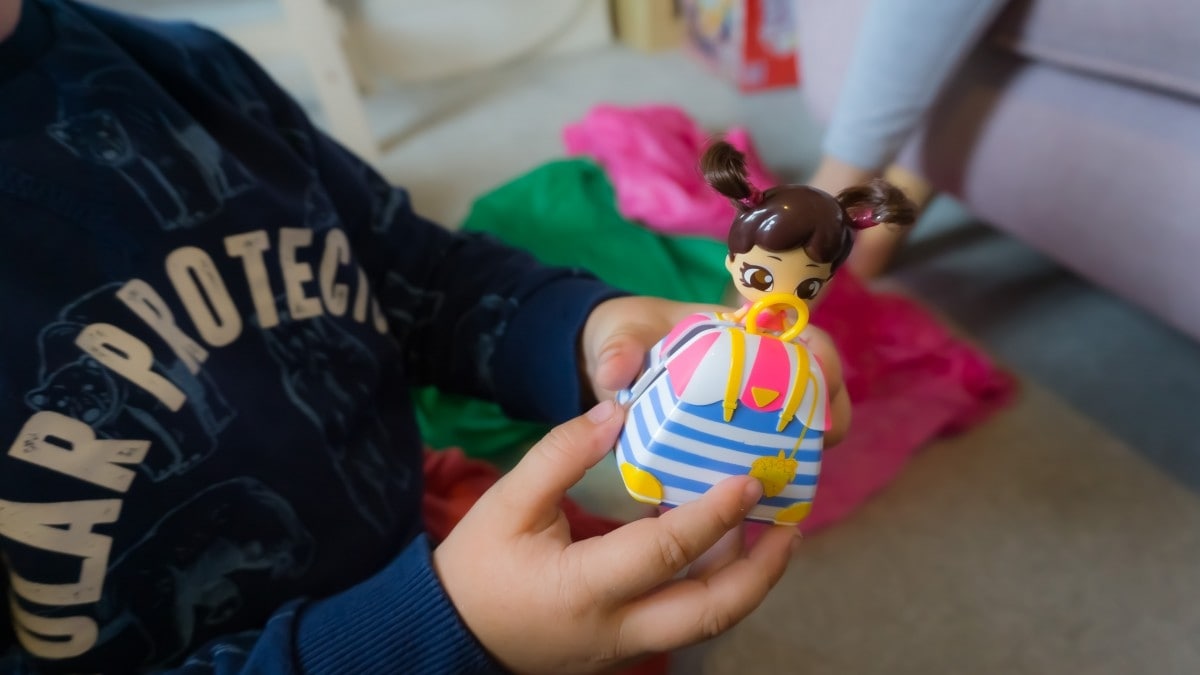 There are two ranges of 12 dolls, K-Cutie & K-Cutie2, and each doll transforms from a handbag with a tiny handle to a doll with a hidden makeup surprise tucked away up her skirt! The whole range is colourful and fun, with a lot of pink and a lot of sparkle too. The dolls have little hair styles, bunches and plaits etc tied with teeny tiny hair bands, each has its own name and the K-Cutie2 sets come with a miniscule comb too! When you open each hand bag with a little clasp on the side the dolls head and legs can be popped out, and the handle folded in, then the feet of the dolls are used to make things move in the playsets. Under each skirt, once you slid the front up is a small container of child-friendly makeup – glitter, lipgloss or eyeshadow surprise. It comes out of carpets and upholstery very easily by the way and is fairly subtle – if you can call yellow eye shadow subtle that is!
Mini Vanity Playsets
These sets contain a doll AND a beauty case, which opens at the sides to reveal makeup applicators and makeup. When you push the doll into the centre of the makeup case the mirror lights up! There are four of these sets to collect in different designs.
Kekilou Party Bag Playset
This is the largest playset, consisting of a bigger bag with a a handle, with a little sliding clip that once opened turns the bag into a beauty salon/party area. You can use the pictures to create walls to set the scene, the stickers to decorate the outside of the bag and then unpack all the items inside to create some great imaginative play scenarios! There is a little cupboard with tiny hair straightners, nail varnish and perfume bottles, as well as a basin. If you add warm water to the basin (very carefully – it's not large!) you can change the included dolls hair from pink to white!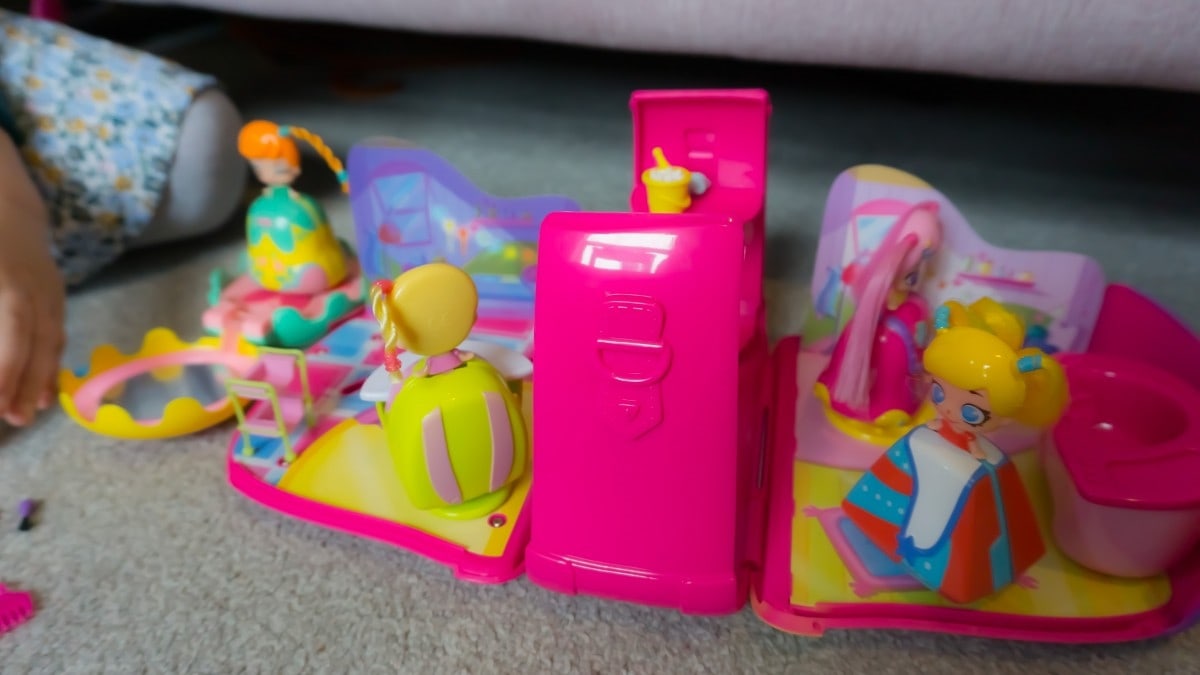 As with the vanity playset the dolls feet trigger different things, so you can make them dance in the salon. The wall designs can be slotted into the back of the bag for storage, and you can fit one or two dolls inside the bag when it's closed.
Athena has already said "I'm definitely taking this into school for our next toy-reward day" which is when they get to bring in something from home to play with with their friends for an hour when they reach their class reward target, and I can almost guarantee that there will be some Kekilou dolls appearing on her classmates Christmas lists!
The makeup is very non-offensive, I was a bit worried it would be very in your face but it's all basically lip gloss consistency with some glitter added in, so I'm not worried about Athena or her brother applying it to themselves (which they have done, with great enthusiasm!) Also although this is a fairly girly range Arlo has loved learning how to open the dolls up, and then the trickier task of folding down the handles and working out how to fit the dolls back in the bags so he can access the makeup – so some added hand-eye coordination and problem solving skills are being tested too!
We had a lovely morning playing with these at the weekend, we were sent some chocolate, nail varnish and a face mask (Which I am selfishly saving for myself after my kids slathered 'make up' all over my face for me! It was lovely to have a couple of hours of screen-free time concentrating on something new and watching the kids line up their dolls, work out which dolls had which sort of makeup under their skirts (ooh er!) and generally play really nicely together! I was shocked at the amount of plastic packaging though, and would have preferred the smaller dolls at least to have come in 'blind bag' style packaging to save on plastic waste – hopefully this can be considered in the next run!
You can see the full range, and pick the designs your kid might prefer at Amazon and all good toy retailers.
You can win your own Kekilou Party Bag Playset worth £24.99 too: