AD| Items featured in this post are gifted in exchange for an honest review. Links marked with an * may be affiliate links where I earn a small percentage of the sale if you choose to purchase.
Despite loving board games as a family, we're still very enthusiastic about computer games too, and are firm believers of 'everything in moderation'. Sam and the kids are more enthusiastic about video games than I am, but even I can be persuaded to join in when someone needs an opponent or help with achieving a mission! What I love about video games is despite ultimately playing for fun and amusment they're also teaching your kids some valuable skills, patience and perseverance being two key ones!
We've been sent some pretty fun games to try out that have been released in 2022 so if you're looking for some new video games to keep the family happy and entertained – look no further!
JoJo Siwa: Worldwide Party
Explore JoJo's world and dance along to ten of her top tracks. The aim of the game is to match her rhythm and tackle obstacles in your path. You need to collect items as you go (including glitter, and bows of course!) and unlock some cool vehicles, like a roller coaster car! There are ten lands to explore, with lots of outfit changes too.
Athena found it quite tricky to get the hang of the game at first, as you need to tap the right buttons on beat to slide, jump etc but after a bit of practise she was off dancing through the levels. I had a go too and it's actually quite addictive. The check points are really frequent so if you do get stuck on a tricky bit you don't have to re do much of the level if you run out of juice!
Available on Xbox, Playstation, PC & Nintendo. Pegi rating 3+ Get it on Amazon*
DreamWorks Dragons: Legends of The Nine Realms
As a big fan of the How to Train your Dragon films, Arlo was naturally a fan of the spin off TV series Legends of the Nine Realms – so of course the game was top of his wishlist. It's a single player game that lets you explore five different realms, as one of four dragons who are on a quest to save ones family. Each of the dragons have their own special powers to help them to beat the bosses, whilst collecting crystals along the way.
As you progress through the game it starts to get trickier, which Arlo loves – if a game is too easy throughout he gets bored easily. His favourite dragon to play as is Feathers at the moment. The controls are easy to learn, with on screen prompts as you begin the game – and the graphics are really decent, for a 'kids' game!  Arlo isn't even half way through yet, so lots of longevity too. I really enjoy watching the kids play this one!
Available on Xbox, Playstation, PC & Nintendo. Pegi rating 7. Buy it here*
Star trek Prodigy: Supernova
Sam and Arlo have been playing this cooperatively as Dal and Gwyn, though you can play as either character in solo play too of course. You've got the voices of the actors from the show helping you get into character, and you're exploring the alien worlds, interacting with the inhabitants and trying to survive some very hostile environments!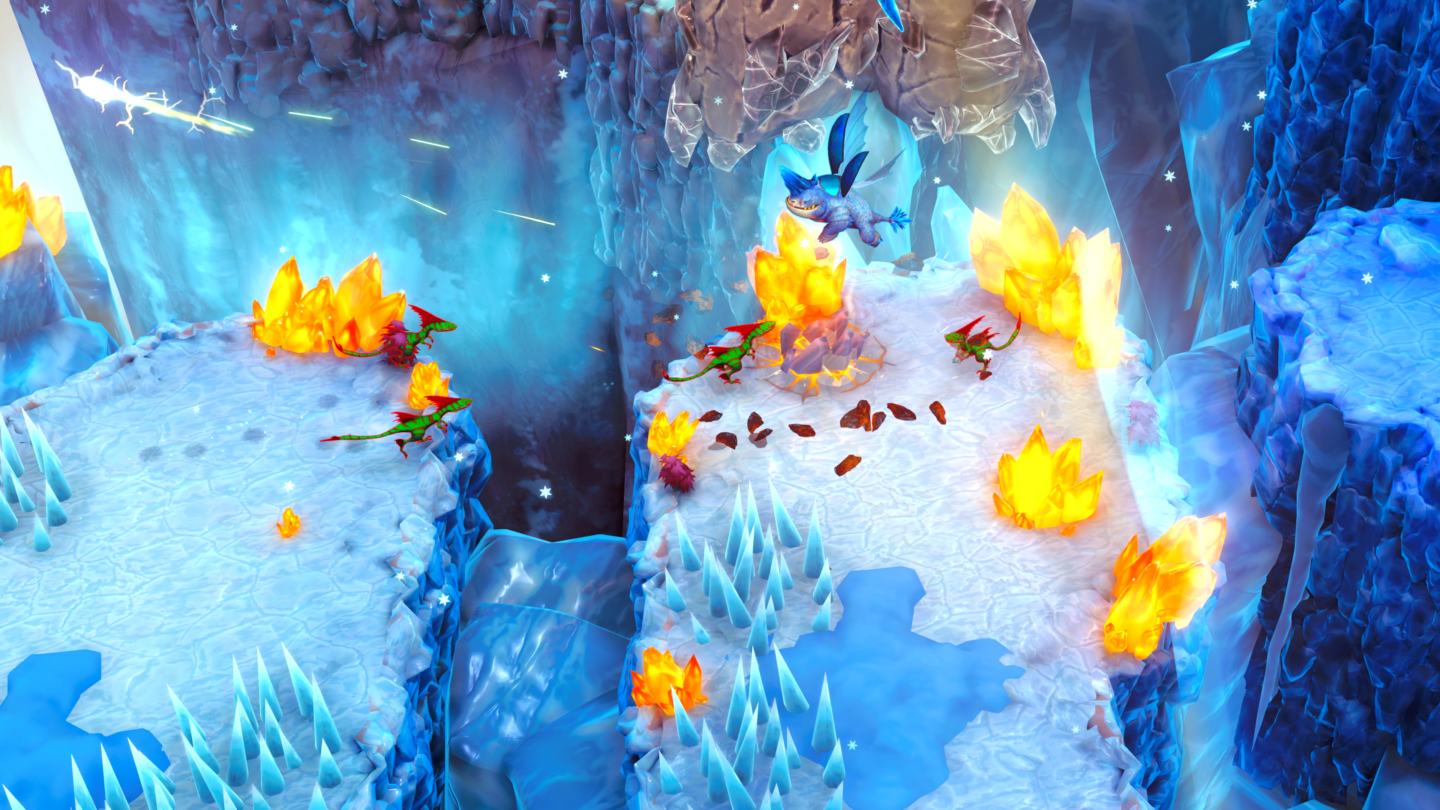 There are lots of puzzles to solve, which can be a little tricky and take some trial and error, but a big sense of satisfaction once you get them! The battles can be intense, and get progressively trickier as the game develops. Despite having a few weapons on offer you don't necessarily need to keep swapping between them, Sam tends to whereas Arlo prefers to stick to one he knows. Running about exploring the worlds is lots of fun, and the graphics are smooth and impressive too. The loading times are really swift too which is a welcome surprise. As a long-time fan of Star Trek since he was a kid himself, Sam is loving playing as Dal and is enjoying the storyline as much as the action parts of the game. Big thumbs up from him (As an adult player!) as well as the kids.
Available on Xbox, Playstation and Nintendo. Pegi 7. Available on Amazon*
DC League of Super-Pets: The Adventures of Krypto and Ace
Krypto and Ace take on Lex Luthor, who has captured all the stray pets in Metropolis and put them in his Zoo. At the end of each stage there is a bot to tackle to get a pet back (these pets are cute) as well as gaining new abilities for your character. These abilities help you in future missions, like extra speed or a protective shield.
Game play is fairly linear and easy for the most part (for my 7 and 9 year olds) bar tackling the bots. However there are some multiple choice puzzles and side quests to keep kids interested, as well as the ability to choose new owners for the stray pets once you've captured them. This is a fun game with lots to keep kids busy and invested.
Available on Xbox, Playstation, PC and Nintendo. Pegi 7. Available on Amazon
If you keep an eye out during the Black Friday sale period you'll probably be able to pick up one (or more!) of these games with a discount, so you can be prepared for the dreary weekends ahead, and grab some time whilst your kids are occupied to maybe wrap some Christmas presents… sssh! Id love to know what games your kids are enjoying right now too.