During our term with Waterbabies we did a few activities that involved the use of toys. Using these toys and props helps to make things more exciting for the little students, and for the parents or carers who accompany them in the lessons! Many of the items used in the classes are available in the Waterbabies Shop so I wanted to highlight some below. Of course all the toys can be used at home in the bath, as well as at public pools, or even on holiday if you're lucky enough to go to a holiday villa or hotel with a nice warm outdoor pool!
Playing games and having fun in the pool will really help children to gain in confidence in and around water, providing they are supervised at all times!
Fish
These were the first toys that we were introduced to. We used these to help the babies focus, and towards the end of the term to start to reach out and grab them too! They're funky and bright and come in a pack of four! They also squirt water, fun for everyone!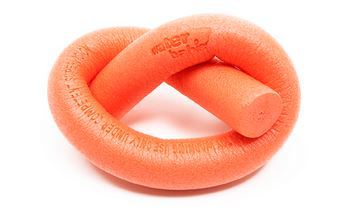 Woggle
A slightly shorter version of a pool noodle. Made of very lightweight foam these are both bendy and supportive and can be used in lots of ways! We used them during the first term as supports to help us float backwards on supporting our babies for a chill out time at the ends of lessons!
Seal Flips
These weren't used in the lessons for small babies but are introduced a little further on in the swimming lessons journey. They're double sided seals that help teach children breathing techniques perfect for swimming, if you blow at them just right they'll flip over!
You can read about our  lessons with Waterbabies and definitely don't miss Arlo Underwater!