When I asked Sam where in the UK he'd like to spend a weekend, courtesy of Travelodge I was a bit disappointed with his answer of 'Milton Keynes please'. But seeing as I'd just left him to look after Athena for five days so I could swan off to Marrakesh with friends I couldn't really complain, so he picked me up from the airport on Friday evening and off we went to Milton Keynes!
His reasons for wanting to visit were twofold, firstly he's off on a snowboarding holiday in January so needs to get some practise in at the indoor snow-dome in MK, and secondly he wanted to visit Bletchley and Bletchley Park (the code breaker place!) as it's where his grandparents lived so it has a lot of happy memories for him. We arrived at the hotel at about ten thirty at night and were met with a smiling receptionist, and a free car park space right behind the hotel in their private car park, which is unusual for a city centre location I think!
Our room was more spacious than I'd expected even with a double bed, two single beds and a travel cot. Although we didn't actually need the two single beds they were nice to use as a sofa and to get Athena changed on etc. The heating was on low when we arrived so the room wasn't too nippy and the travel cot had a sheet and a blanket with it which I didn't expect. Our bed was really comfy as it was of one of the new 'Dreamer' beds and it was much more comfortable than our bust up mattress at home! Above the bed was a generic hotel room sort of picture, but as Athena reached up to touch bang on it I realised it had plastic instead of a glass front, which was well thought out by someone!
There were plenty of bath and hand towels in the bathroom, which was spotless apart from some dust on the loo roll holder! I was expecting a few dots of mould or damp but couldn't find any at all! The bath ran really quickly, with a mixer tap and had a shower too. The extractor fan didn't do a brilliant job of clearing the steam quickly from the huge mirror, but seeing as there was no mould it was definitely doing something!
The room had a spacious wardrobe area with shelves and a hanging rail, along with a desk and two bedside tables. The desk had a kettle with various tea and coffee bits and a small flat screen TV. If I'm being picky I would have preferred a larger TV as it was hard to see it from some parts of the room, but it had a great selection of Freeview channels and they all had good reception, and of course with a toddler Cbeebies is a must and that was definitely present!
We headed out for the day to visit Bletchley Park to learn all about the code breakers and see where all the hard work that supposedly helped to know 2 years off WWII! After that we had lunch at a gorgeous little canal side pub and had a little stroll along the canal afterwards for a pose on one of the locks!
After our first night the room was serviced and we were left dry towels and clean mugs, and the beds neatly made. I was lucky in that Athena was tired enough to drop right off in her cot on the Saturday night, so I had a bath and then crept back in to the room to read whilst Sam was out hurtling down the ski slopes on his snowboard. Clearly some noise was to be expected in a city centre hotel on a Saturday night, and at one point I did check through the peephole to see if a herd of elephants was in the corridor but it was just a group of people getting ready to head out for the night in super high heels and high spirits! Amazingly Athena snoozed till 8am the next morning, and after a leisurely cuppa in bed we got ready to head to the shopping centre to explore Mothercare and John Lewis pram departments!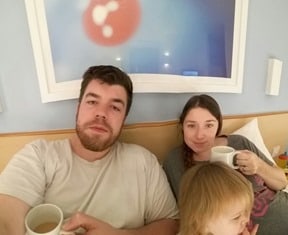 A Sunday Morning family selfie! The picture frame isn't actually bent, it's Sam's fancy phone that has a 'selfie mode' that lets you pan the camera to get everyone in… swish.
Travelodge are currently selling rooms from December to March from just £25, perfect for visiting family or a little post Christmas getaway! You can also read about their family rooms here.
Thank you heaps to Travelodge for hosting us for 2 nights for the purpose of this review, which is as ever with my reviews  unbiased and formed of my own opinions.