Family time is so important to us, we don't get to spend as much time together as the average family due to shift work so when we get the chance to have uninterrupted family time we grab it with both hands! When it's somewhere like Bluestone Wales that is completely geared towards families then even better! We just spent four days at Bluestone and as I write this on the way home in the car I already can't wait to go back. As we packed up the car and left the kids were shouting 'Bye Bye holiday house, bye bye golf buggy, bye bye swimming pool…' and clearly didn't want to leave! I don't blame them either.
At Bluestone you live in a lodge surrounded by nature, with rolling mountains on your doorstep, forests and woods to walk through, wildlife to see and fairy doors to knock on. There is a lake for sunset walks, a kids park, a huge indoor activity centre, a pool with waves, a lazy river and flumes. There is so much to do, and every day seems to last longer than our normal days, the sun seems to set later and the kids are more exhausted; dropping off instantly each night and sleeping solidly!
What's the Bluestone accommodation like?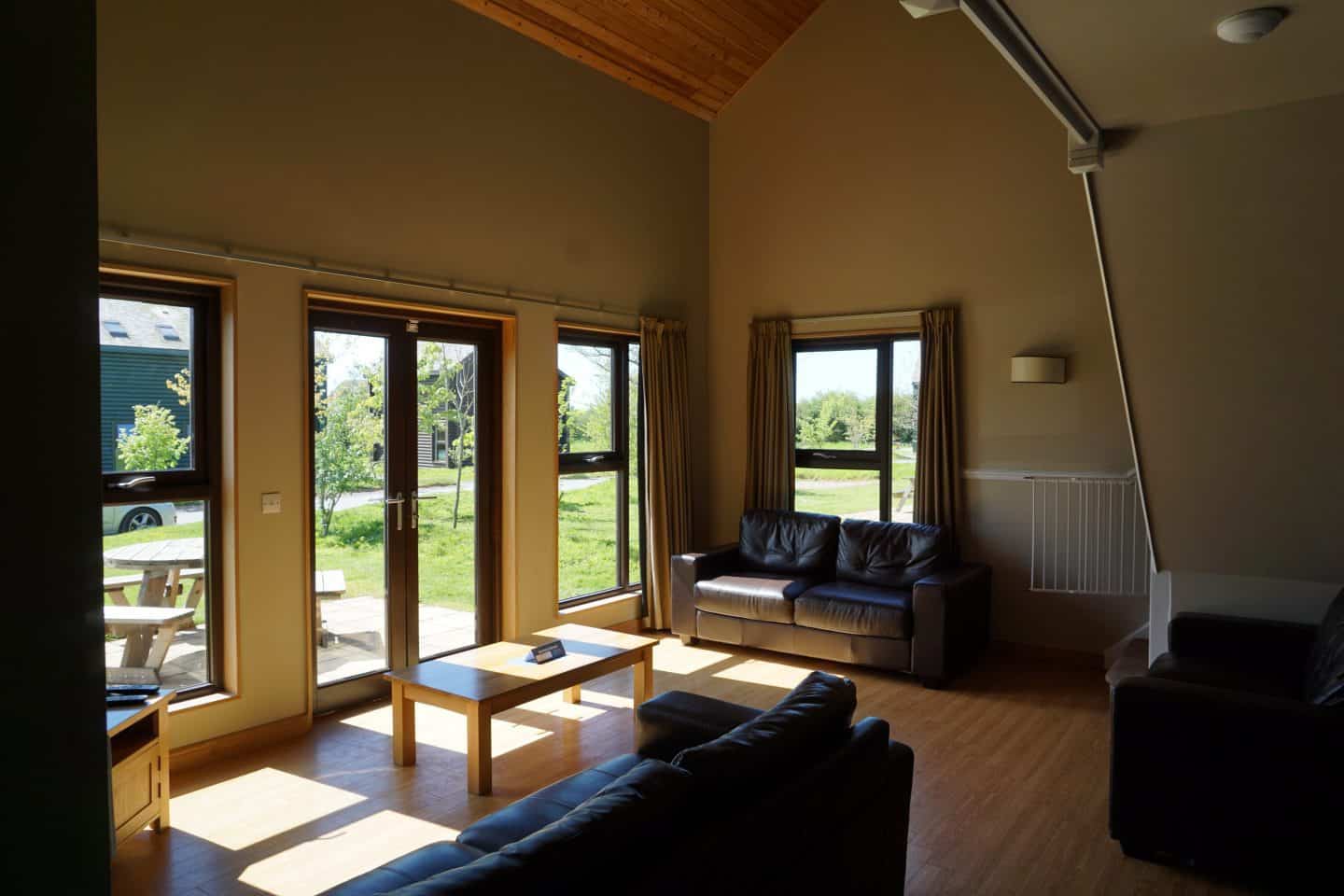 We stayed in a Grassholm lodge, sharing it with our friends who we'd invited along with us. In total we were four adults, two 3 year olds, a 2 year old and a 1 year old. And despite there being eight people living together there was still plenty of space and we didn't feel crowded at all! The layout of the lodge is a semi open plan kitchen and living room, so you can see the dining table from the living area but the kitchen is tucked behind a wall. There are three sofas, a coffee tablet & TV and patio doors to the garden at the front of the lodge. Downstairs there was a cloak room inside the front door, so if it rained you could chuck your wellies a coats in their on the way in. There was also one of the four bedrooms and a large bathroom with a bath and a shower. The living areas are laminated so no need to worry about things being dropped or wet feet as everything can be easily wiped or swept (broom and dustpan included!)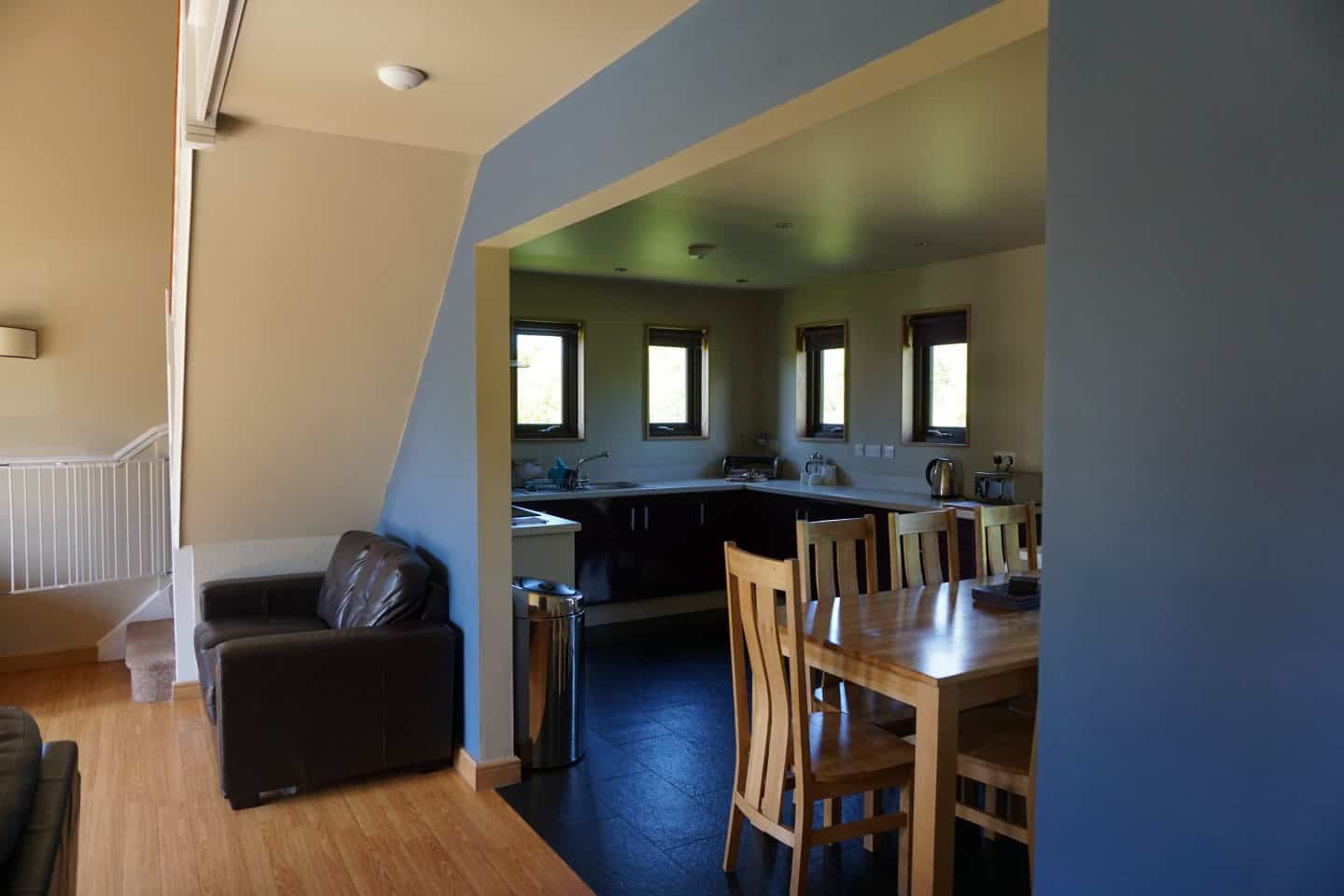 Each bedroom was a really decent size, with either twin beds or a double, one or two sets of drawers and a wardrobe, which also had drawers in as well as plenty of hangers. A couple of rooms also had a dressing table and stool. If you were staying for a week or more you'd still have plenty of space! The room we stayed in upstairs had an en-suite shower room so in total there were three bathrooms, so waiting for a shower or to use the loo was never an issue! Each lodge comes with a travel cot and a highchair as standard and you can request more or bed guards if you need them. Towels and all bedding are included, even snuggly blankets for wrapping up warm to enjoy a drink outside at night!
Getting around at Bluestone
We hired a golf buggy for the duration of our stay, which was about £90 with a small discount for booking in advance. That might seem like a lot but we made full use of it, meaning that we could be at the pool from our lodge in five minutes, nip to the village for provisions whenever we needed to and take the kids on early evening strolls through the woods without them getting tired before we'd even got there! They're super simple to use though anyone who drives will need to show a driving license when you collect the buggy.
There is also the option to hire bicycles or use your own. It is of course entirely possible to walk around the site but it is quite hilly so those with toddlers or low-stamina kids might struggle, depending on where your lodge is and where you're likely to go! For example the Activity centre and swimming pool are right at the top of the complex. There is also a free bus (though it was a Landrover with a trailer when we were there) that does a run from the village to the top about twice an hour.
Eating at Bluestone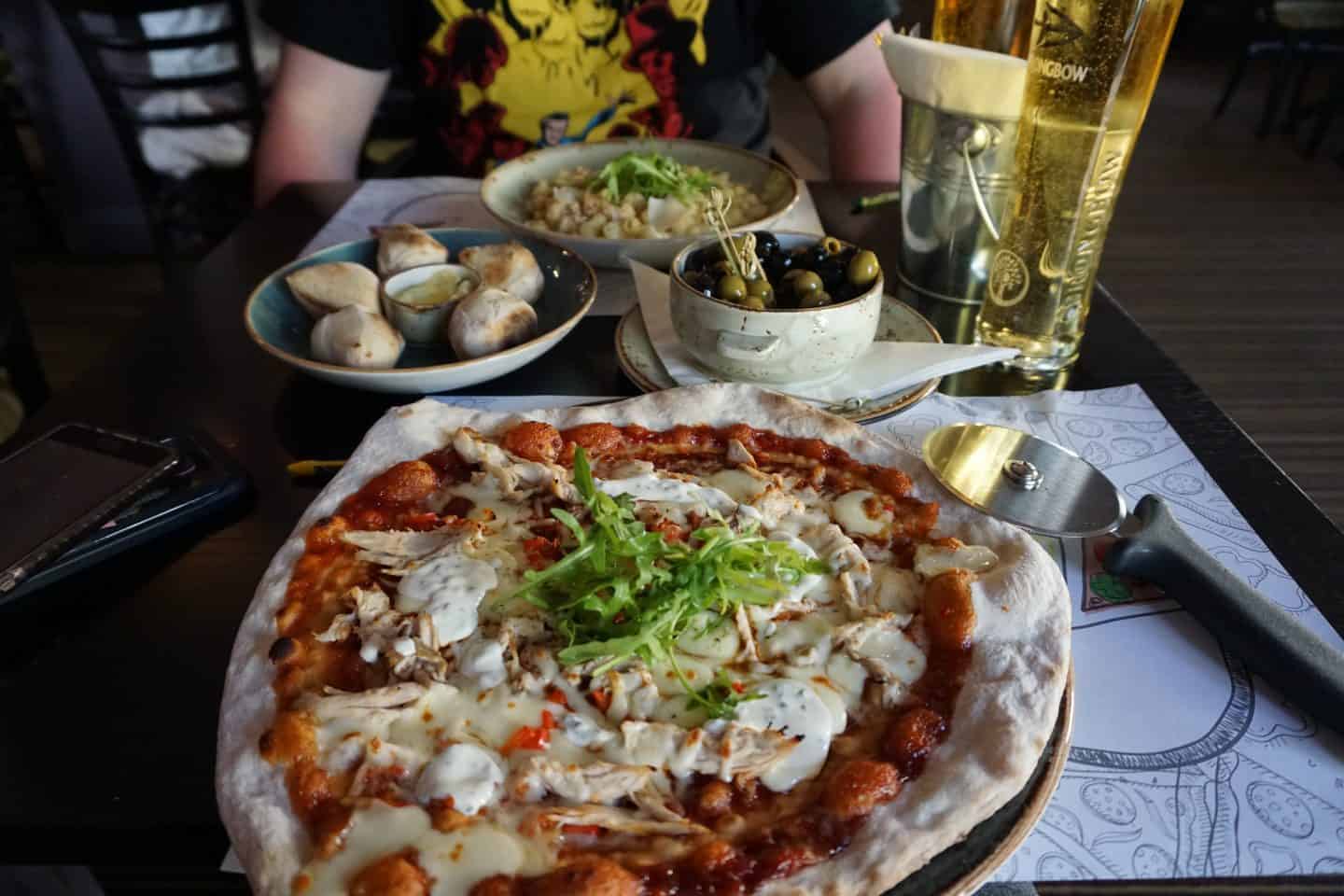 With a full kitchen you don't have to eat out at all, we collected a 'click and collect' from Tesco at Haverfordwest just before we arrived for the essentials and most of our meals, though each couple had a night out. Amy & Chris at at the Knights Tavern, and had a laid back and enjoyable meal. Sam and I ate at the Oakhouse Grill the next night, and scoffed our way through a Mac n Cheese and a pizza, with the worlds biggest portion of olives as a side! They delivery pizzas on a Monday & Friday too! There is also a new Fish n Chip van, the coffee shop and the Market Grill in the village, plus Camp Smoky and the Wildwood Cafe.
We booked lunch at Camp Smokey, and it was delicious! The menu isn't big but there would be something to suit most people, all smoked and sizzled ready to enjoy, plus toasting S'mores and scoffing marshmallows over the open fire is always a treat. The atmosphere at Camp Smokey is just amazing, you're surrounded by trees that seem a mile high, a water wheel gently turns and all you can see is greenery! We'd definitely recommend it, you can pay a £5 deposit per person to secure a table.
Activities at Bluestone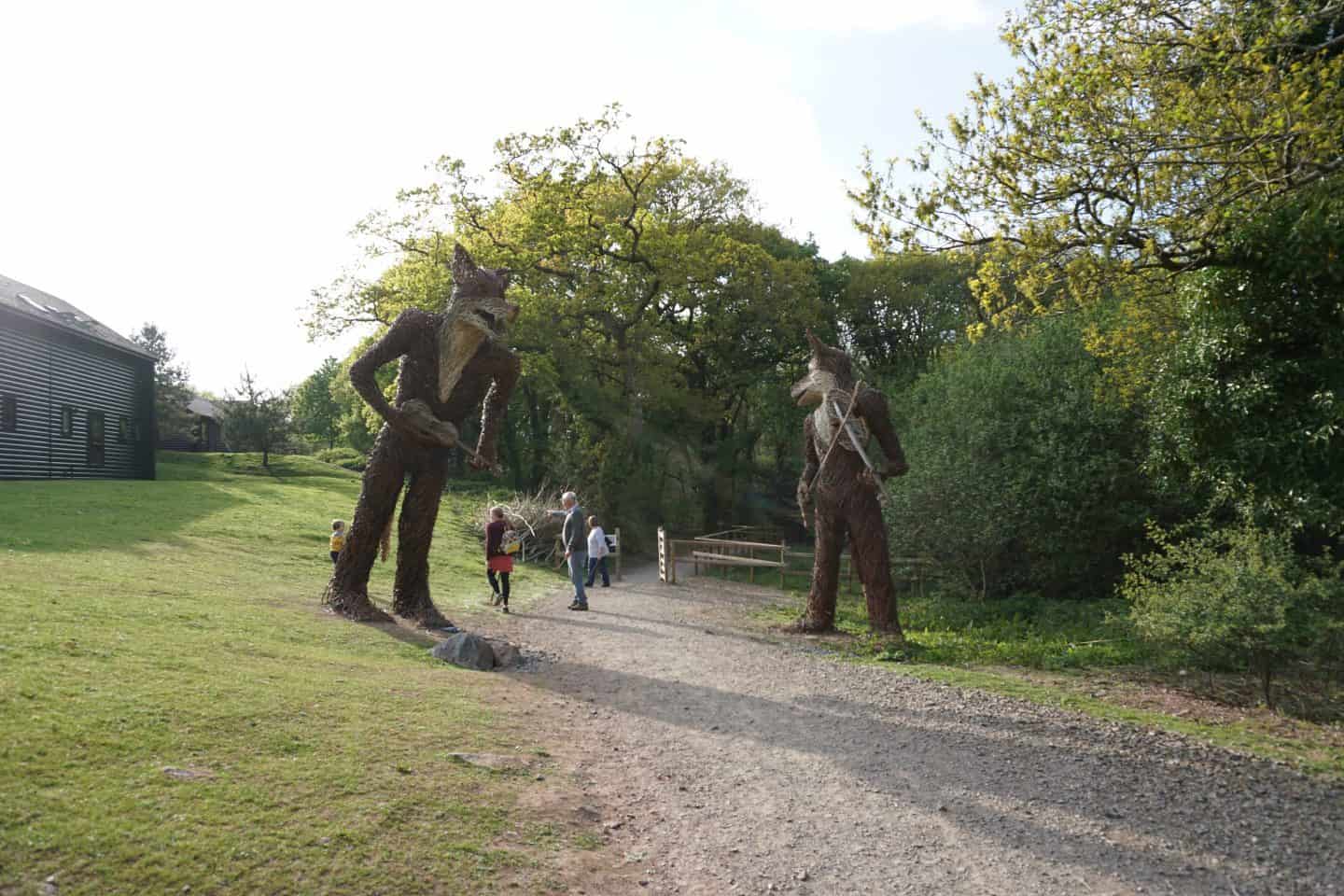 There is so much to do on site without having to pay for a thing. We'd been before so knew what to expect and how things worked but Amy (she and her family came to stay with us) hadn't been before and this is what she said: Without sounding tight, it's lovely to be able to spend quality time together as a family without breaking the bank on expensive add-on activities! We went swimming, then for a play on the village green, then back to the lodge for lunch, then out to the adventure centre for mini golf, soft play, the tower play area and a few arcade games- then home, fed the ducks and bed! A completely free day but full of amazing family memories.
Of course if you do want to pay for more experiences the options are varied! On top of what we did there are encounters with various characters throughout the week, we saw a dolphin at the pool one day, as well as paying for the kids to go to the Woody Wild Show, which was a really well executed show, full of audience participation – in fact the audience was the show! It was a great sensory experience and we loved watching the kids get involved! We also put all the kids in the creche for a three hour session, they did imagination play, drew and coloured and did lots more, including having lunch! For older kids there are sessions outdoors, including the Secret Village. We saw a group doing this one day and they were heading off into a super special part of the woods with fairy dusty and hobbits! I think Athena would have loved it but Arlo wouldn't have had the patience but hopefully next time!
All guests at Bluestone can have access to the Blue Lagoon for free at any time during their stay, even on the day they check out. It is a 'residents only' swim from 9-12 each day so generally quieter as the pool is open to the public from midday. Even on the day we went in the afternoon it wasn't crowded though. There are two smaller sections for kids to play in, one for toddlers with a gate so they can't make a dash for it, though quite often parents left this open so do keep an eye out. There were balls and hoops to play with as well as some water squirters and a little rock pool to play in. The other side area is a lot wetter but all our kids enjoyed that too, it has a raised platform and some waterfall type bits. The centre pool has waves that happen every half an hour, and the pool is graduated from shallow to deep like a normal beach. The lazy river was the best part for us, as both kids were happy to float around in it (Arlo in a float suit and Athena in arm bands) as they got taken along by the gentle current. There is a whirlpool outside to relax in, as well as various water jets to splash in (or avoid!) Unlike our last visit where I was 5 weeks post-C section I could try out the water flumes this visit, and they're so much fun! My favourite is the one where you can go down together and it has two little side pools you can chill out in that are outdoors, blissful on a warm day like we had!
Whats the service like at Bluestone Wales
The only explanation for the incessantly happy and helpful staff is that they have been somehow brainwashed! I jest, but they were all just so lovely! We didn't meet an unhelpful or mopey looking team member anywhere! Both Sam and I have worked for years in hospitality management and it is rare for a place so big and employing so many team members to not have at least a couple of grumpsters on the team. Service is also something we pay a lot of attention to whenever we go somewhere… but from the lovely woman who cooked our meal at Camp Smoky to the receptionist on the desk at the activity centre everyone was smiling, happy to help and genuinely looked like they were having a lovely time at work. It didn't seem put on or faked and it wasn't because they knew we were there to review, as it's not like we went throwing our lodge number around as we didn't bill anything back to the lodge (though this is an option) Special thanks to Dan who was working in Camp Smokey on Tuesday lunch time, not only did he move a load of heavy tables and chairs around so we could accommodate the kids out of the sun but he had a chat with us about what else to do in the area amongst other things and was just lovely. Even the ladies working in the shop (always busy, btw!) were chatty and upbeat and always made time to talk to the kids too.
What else was great at Bluestone?
Local produce available to buy in the village shop and to eat in the restaurants – local cheese and welsh brewed gin all went down a treat!
Family sized changing rooms and coin free lockers at the Blue Lagoon
The 'green' ethos – recycling is encouraged and applauded and Bluestone are clearly hot on this! Our lodge had mixed recycling and a glass bin.
The variety of activities (see this page on their website) plus seasonal activities
The amazing milkshakes in the village coffee shop
The woodland walks – as well as exploring with the kids Sam and I went on a sunset hike around the longer paths to burn off dinner, it was so serene!
The fact that it is not frowned upon to take a pint of cider (plastic glasses provided) into the brand new kids play area on the village green. Cheers!
The fact that you can be as sociable or as retiring as you like, stay in your lodge or go and have a drink and some dinner in the village – it really feels like a proper little village and you'll start to be on 'smile and nod' terms if not more with the fellow guests
The kids can run free without fear of being knocked over – and our kids made the most of it
There are real fairies living in the trees in the woods behind tiny fairy sized doors. True story, just head past the twenty foot high foxes!
What could be improved at Bluestone Wales?
Honestly? Not a great deal! In our lodge the dishwasher trays slid out past the stoppers, so we had to be careful when loading and unloading it to make sure we didn't have a dish smashing session inadvertently. It would be lovely to have a hairdryer in the lodge though this is noted as not included in the FAQs and I think you can hire them. I also think the lighting in the lodge could be improved, as the ceilings were so high I see why they've not added a ceiling light but the dim glow of the wall lights wasn't quite bright enough for me, though I know this is personal preference!
The Blue Lagoon waterpark is also looking a little tired since our last visit two years ago, some of the paint is peeling and the there are a couple of tiles missing here and there. Also the toilet area needs improving or a good scrub, though each changing cubicle we used was neat and tidy and in good condition.
I've put together a short vlog of our stay, with some favourite snippets, the kids knocking on the fairy doors is enough to melt even the coldest of hearts!
Amy and Christopher who have stayed at the other well known holiday resorts starting with C and ending in parc have said they're converted! They both loved how much space there was around each lodge at Bluestone Wales, with your own garden space, and how much there was to fill your day for free! We were already converts from our last stay, and it was so great to come back and see what had changed, like the addition of the Village Hall, the fairy garden and the new kids play area – and lots more which I am probably forgetting! I found it so hard to know when to stop writing this review up in all honesty as there is so much more I could share from our visit! But most of all we got to spend a great week, with great friends having a proper break from the realities of every day life!
Our lodge in the same week we stayed would have cost £459 if booked in February, which is when we booked, so around three months ahead of arrival in term time. Split between two families that's not very much at all!
Bluestone Wales are on twitter, facebook and instagram and their website is here, with a newsletter you can sign up to for special offers.