Last weekend we spent three days away in the New Forest in Hampshire and although we were only away for a short time I've definitely got the post holiday blues as we had the nicest time! We camped at a campsite outside Lymington with friends so the kids were busy from dawn till dusk; on their bikes, playing games, kicking a ball about…  and we got to relax with good friends knowing the kids were safe and happy. During our weekend away we visited lots of places in the New Forest, and filled our days with fun and relaxing in equal measures.
On Saturday morning we had a stroll around Lymington town, which has a market every Saturday. We strolled the high street, watched the boats in the harbour and treated the kids to a couple of toys from the shop for the promise of good behaviour for the rest of the day! Then picked up some food for a picnic and drove into the forest to find a picnic spot. We found the perfect place on a grassy bank overlooking a stream, and started snacking away. The kids kept themselves entertained whilst we finished our lunch after that we headed off to look for some deer at the Deer lookout point at Bolderwood.  The heat was clearly getting to the deers too because they were all chilling out lying down in the field! We decided to go for a stroll in the forest where it was a bit cooler under the shade of all the huge trees, the kids busy themselves finding sticks, stones and pretty leaves and flowers to collect. Arlo kept annoying us all by telling me that there was 'something spiky' (aka bits of dirt) in his sandals approximately every 12 steps… note to self don't take Arlo into the forest in sandals again!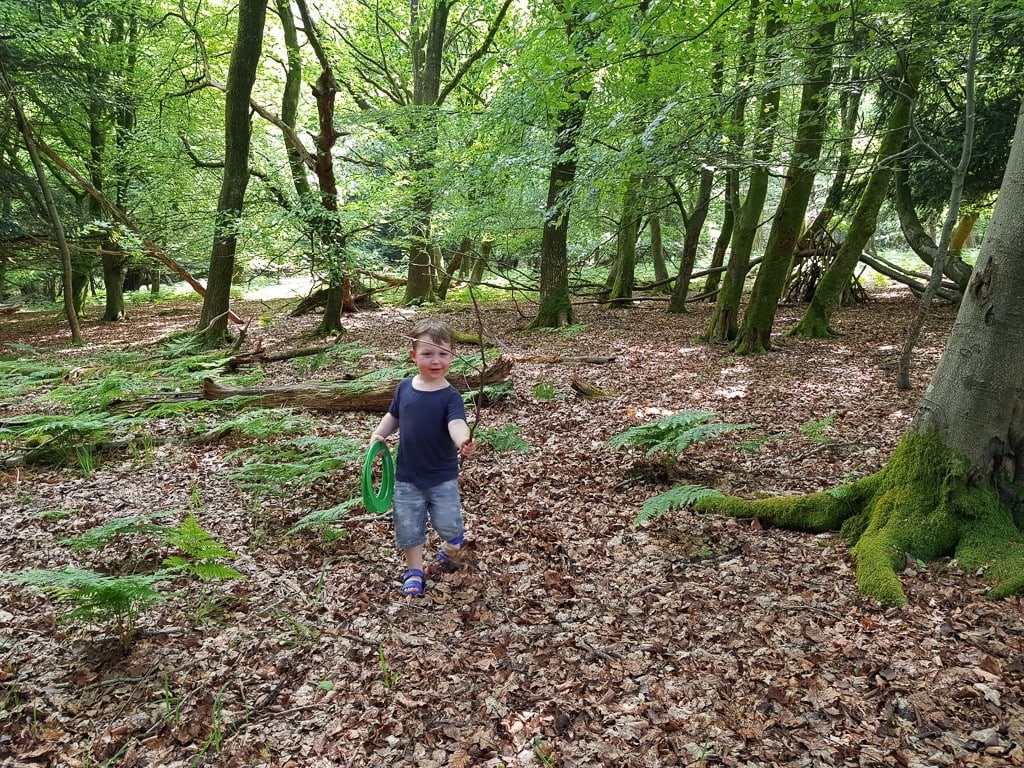 We were hoping for a nap on the way home from the kids as we drove back towards the campsite but sadly it was not to be! When we got there they mostly kept them selves busy playing in the camping field with the few toys they'd bought till the Dads got back from their sailing trip. We had a barbecue dinner, which is of course the staple diet of campers all across the land! This year we're working with Yazoo No Added Sugar as #ShakeTesters and they sent us a lots of delicious bottles to take on our trip with us. As expected the kids love them because they taste like milkshakes in their favourite flavours, and I love them because all the sugars in them are naturally found in the milk so they're a much healthier option, and there are no sweeteners added either! Plus they don't need to kept refrigerated before opening so they're perfect for days out when you're not near a fridge! With a choice of Strawberry, Banana or Chocolate there's a flavour for everyone. Both Athena, Arlo and their friend loved trying out all the flavours over the weekend and the adults joined in and enjoyed them too!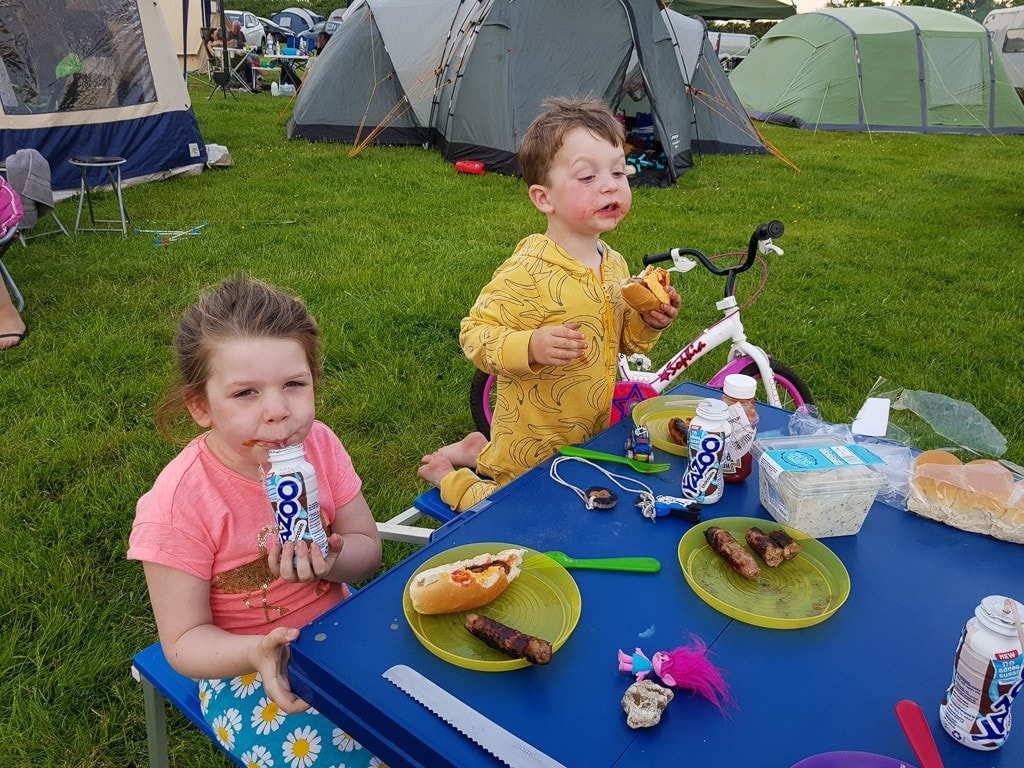 We tried to get the kids the bed at a sensible-ish time as we knew they'd be up at the crack of dawn the next morning, but that night just after I'd fallen asleep we were woken up by the most epic storm. With ground shaking rumbles and cracks of thunder and lightning that lit up the whole sky as far as the eye could see! We were nice and cosy in our tent despite thinking that it might blow away briefly, miraculously the kids slept right through it and didn't even remember it happened the next morning! On the next evening we were lucky enough to see a huge storm in the distance with lightning flashes amongst the clouds, but we stayed warm and dry sat next to our campfire!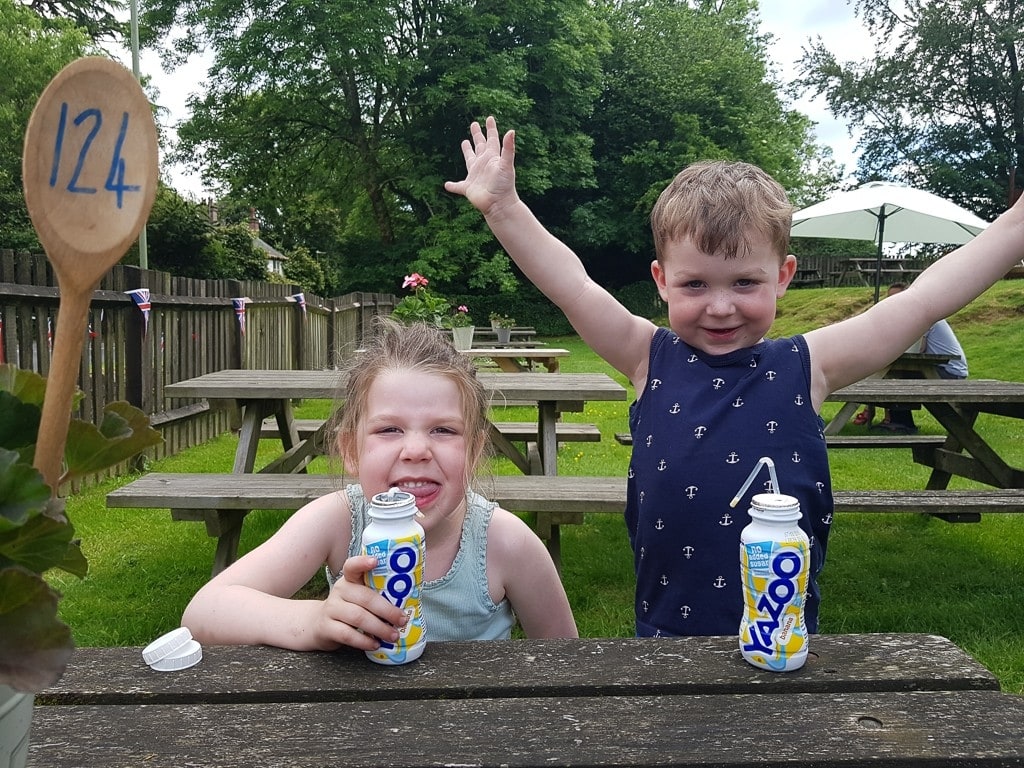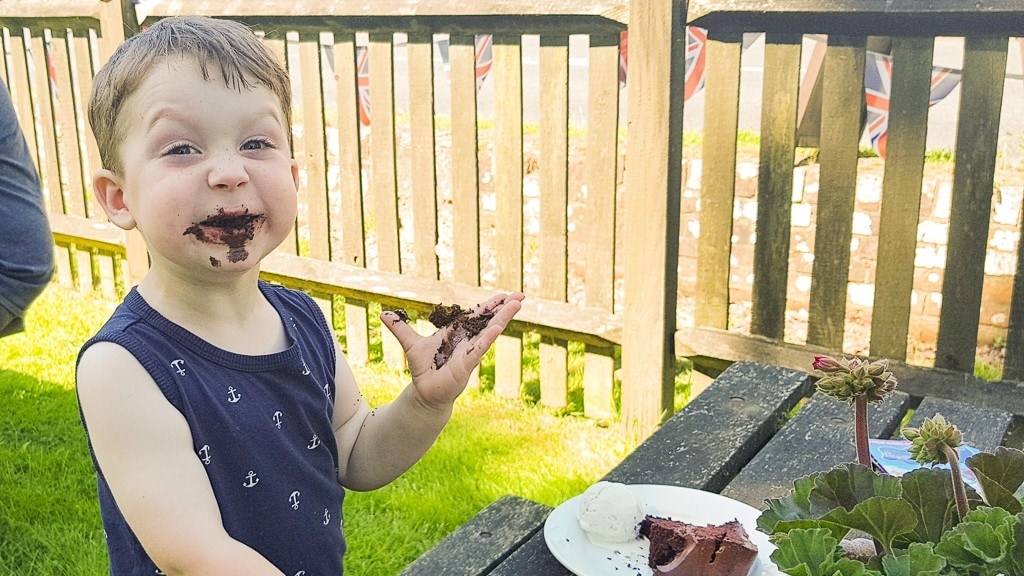 Whilst we were away we also explored the cute village of Burley where Athena found a fairy door, we bought some fudge from the sweet shop then thought (very briefly) about hiring bikes but we decided to put that off till next time and instead we spent an absolutely lovely afternoon in a pub garden. The kids played in the sun and we got to chill out with a cool cider, a proper roast dinner and the most amazing Toblerone tart for pudding. As you can see Arlo enjoyed his fudge cake too! That evening we took the kids on their bikes down to Keyhaven Harbour which is a lovely walk down from our campsite through a nature reserve, so it's completely safe to walk or cycle down with lots to see on the way including some gorgeous fluffy calves with their mums as well as lots of different birds. As the path comes to the end the harbour appears full of tiny fishing boats, so we stopped for a rest and a Yazoo break before cycling back home and to bed!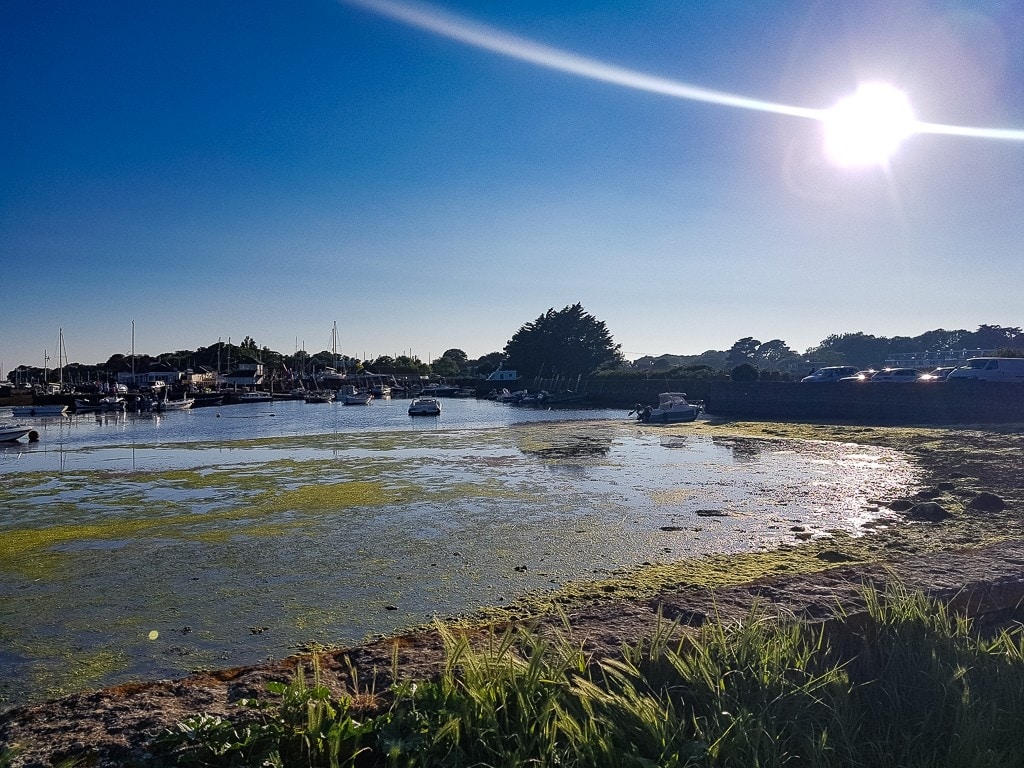 We've been to the New Forest several times before, and I know we'll be back again before too long. It's only a couple of hours drive from us, so we can get there without too much of a journey and there is so much to do and almost all of it is free! You can just drive or cycle around and be face to face with the New Forest Ponies, or herds of highland cattle taking a dip in a pond. Forest trails, beaches, harbours and heathland – plenty of out door fun for people of every age!