Relaxing is a funny thing, I am never sure if I am ever actually properly relaxed. But switching off and relaxing is actually something that I think everyone should take more time to do. We all lead busy lives and sometimes just a few hours of down time, time not attached to your phone (or your kids) is just the thing you need to re-energise and reinvigorate yourself. On Tuesday I spent a whole day relaxing, and it was just what I needed!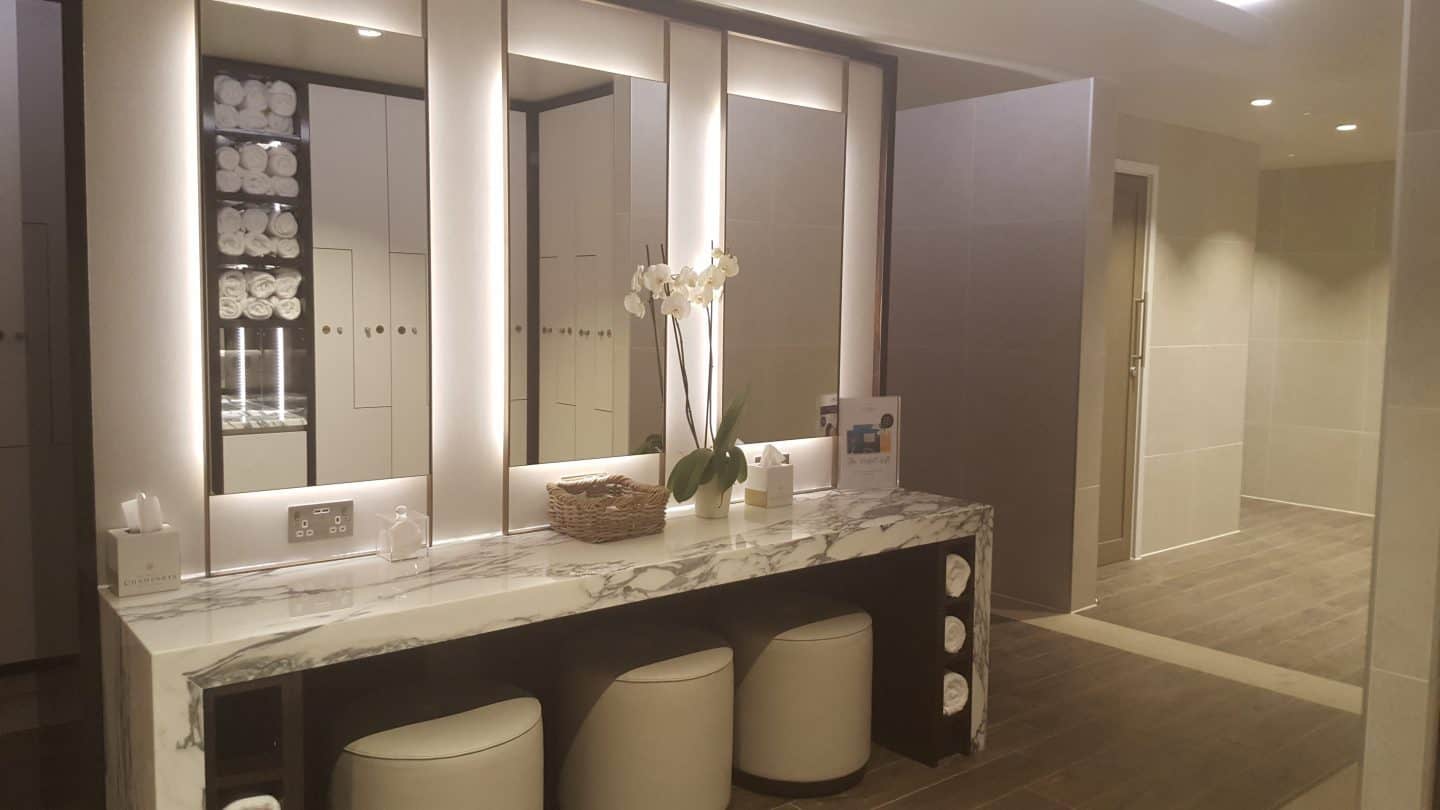 Champneys have just taken over the gorgeous Eastwell Manor hotel in Kent, upgraded their spa there and are working on the amazing looking gothic hotel too. Donna and I spent the day in the spa, starting with breakfast and finishing with body scrubs and massages, with lots more in between! Day guests at the spa are able to choose from a selection of tea, fruit and topped bagels plus fresh juice for a quick bite before the relaxation really starts. When we were ready we were given a bag with a pair of Champneys flip-flops and a fluffy dressing gown in and shown to the changing rooms to get ready. The wrist bands that act as locker keys are all done electronically from inside the band, so nothing dangling or getting in the way and no coins needed. There are individual changing cubicles, plus several areas for getting ready in with mirrors, tissues, cotton wool and GHD straighteners & hair dryers. There are also individual shower cubicles too, with Champneys shower gel & shampoo. Once we'd safely stowed our clothes and changed into swimming costumes we headed off to explore.
Around the pool there are pairs of padded loungers, as well as some double sized ones for a bit of joint relaxing! We chose a pair to get settled on later, then headed to the xxxx pool. With buttons to turn on the various jets and bubbles this was a lovely pool to lounge in. There is a Jacuzzi pool in the same area too. Around the edges of this end of the spa there is an rainfall shower (with hot and cold options) as well as a normal shower to use before either the sauna or the steam room. We spent our morning hopping between the sauna, steam room and the pools, and a few periods on the loungers before lunch.
Lunch was served in the light and airy restaurant, and as it was a warm day the french doors had been opened letting some fresh air and meaning that we could see out across all the fields that surround Eastwell Manor. The menu was pretty varied but all healthy, with the nutritional values of the dished listed too. Everything was delicious, although there was a bit of a wait between our order being taken and each course arriving. However we were enjoying a nice chat, sat in our gowns so it wasn't a major issue for us, though if we'd have had a treatment booked for just after lunch we would have been in more of a hurry. I had Falafel for a starter and a really delicious Thai chicken curry for my main. It was really filling and the portion sizes were larger than expected. Donna had a pea and ham risotto which looked amazing too. For pudding I had an Avocado & Chocolate mousse, purely because it sounded like the most unhealthy thing on the menu, but in fact I think it was pretty good for me, arriving topped with fresh fruit and a pineapple chutney!
Once we'd let lunch settle we headed back to the pool, I read some of my book then did a solid 15 minutes of swimming lengths. I have no idea what got into me but the pool was pretty much empty so I wanted to make the most of it! We also spent a bit of time in the smaller relaxation pool and the sauna and steam room before drying off and heading upstairs to the relaxation room. This is a room full of comfy chairs, fresh fruit infused water coolers and magazines, will dimmed lighting and a gorgeous triangular window letting the afternoon sun stream through. At 4 we were shown introduced to our massage therapists and taken into the treatment area.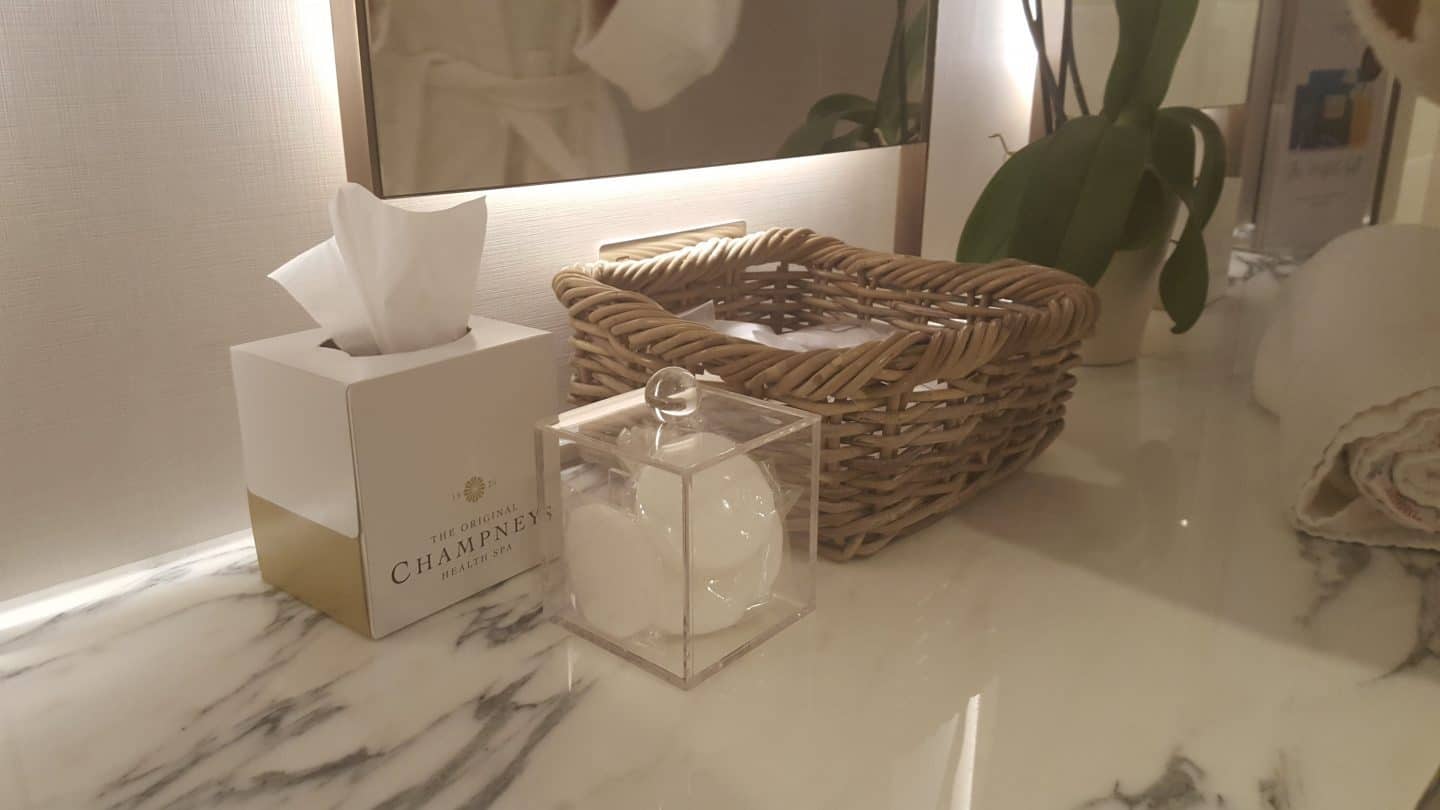 Opting for the Body Radiance treatment I was given a run down of the treatment; a full body scrub with Champneys products, after which I would shower off the scrub and then have a full body massage, all using the same range of products. After choosing the scent that most appealed to me (which was Summer Dream) I undressed and got comfy on the heated massage table. My therapist scrubbed my limbs, back and shoulders with the scrub to help exfoliate and get the blood going and then I showered it off, there was a shower in the room tucked away so whilst I showered off the scrub the therapist relaid the massage table and once I was done I hopped back on and covered up with the towels again. I was then given a really amazing massage, I'd said that my shoulders and neck were a bit knotty, and I wasn't wrong! She spent some time un-knotting some kinks which really helped! The massage ended with a light head massage and I was left feeling super relaxed and very zen like! Camille from the Float Spa says as well as helping you to relax, massages also help you relieve stress and reduce pain and muscle tension. There is a huge range of treatments available, take a look at the website for all the information, not just massages but beauty treatments, and cocoons and wraps too, and some for men! I could have happily had a snooze after being so relaxed but sadly it was time for me to head home, so Donna and I retreated back to the changing rooms, making use of the swimming costume spinner and the GHD hair driers!
Our day was so peaceful, with everything geared towards making your day as enjoyable as possible, fresh water on tap, as many towels as you need and a well looked after and well presented environment to relax in. My only niggle would be that it would be nice to have some hooks around the hydrotherapy pool and sauna so you can leave your robes hanging up whilst you're in there, instead of having to drip all the way back to a lounger along side the pool.
There is an outdoor pool (which we didn't visit!) and a 9 hole golf course on site, as well as the stunning grounds of the hotel that you can stroll around in, as well as croquet and a tennis court. The hotel itself is just beautiful too, you can stay in the main building or in a range of cottages on the estate. Here's their facebook page to keep up to date with special offers and news.