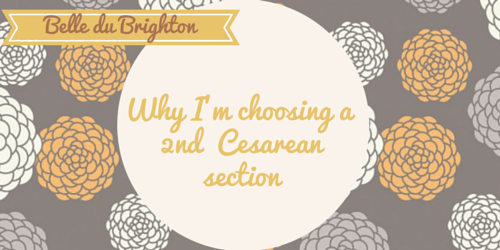 Athena was born via an elective C section (you can read her birth story here) because of 'maternal anxiety' according to my hospital notes. In brief, my husband was a big baby (11'7lbs) and was born via an eventual C section, I was a very small baby 5'11lbs but my mum had a difficult labour and birth and required an operation after I arrived. Sam's brother was also born with a brain that hadn't formed properly during pregnancy, and although he lived till he was 18 he needed constant care and had the mental ability of a six month old. All these factors combined meant that I was worried about the actual process of giving birth, and eventually my very supportive GP referred me for counselling to discuss my worries. Sadly the service seems to have been pretty overloaded, and with no appointment booked as the waiting list was so long my midwife referred me to see a consultant at the hospital to discuss my worries. He basically brushed me off with 'first time mum worries' and I left upset and annoyed. My sleep got worse as I was having nightmares and not being able to get to stay asleep, so my midwife referred me to a second consultant,and finally at 37 weeks I was told I could have a C section! Those last three weeks were wonderful as I could finally relax and look forward to welcoming a baby. Because of all the worrying I did about actually delivering the baby into the world I did very little in the way of actually thinking about what life would be like with a baby once it had arrived!
I think that this was actually a little bit of a bonus, as I was so overjoyed when she arrived healthily that I was nice and relaxed, not horrifically tired after a long labour and able to leave hospital the next day. Lots of people have said to me after seeing how I parent (I am loathe to classify myself as a 'type' but if I had to I would say I am an 'attachment parent') that they never would have guessed I wanted a C section. My parenting style (breastfeeding on demand, a baby led routine, ignoring parenting books and often co sleeping and baby wearing) apparently means that people assume I want a lovely natural birth. Nope, I didn't and with baby number two I want another Cesarean.
I have no regrets about my birth choice, we were able to have skin to skin contact very soon after the birth, and breastfeeding was established easily too. Sam still got to cut the cord, and as we didn't know the gender the surgeon held her up so we could see for ourselves without being told. It also gave a few medical students to chance to watch a C section in a calm and non emergency environment, which I was more than happy with as everybody needs to learn! You can see half the people in the room in the photo below, there were more out of shot!
This time round it was very easy to have the surgery agreed, as although the NHS are more than happy (and do encourage) people to have a 'VBAC' or Vaginal birth after Cesarean if you have had a C section before you are able to choose to have another with very little argument. 25% of VBACs end in a C section, and from a bit of internet digging, that number isn't vastly lower for non VBACS anyway. I will be given a date in early march, at around 36/37 weeks and at the moment I am not sure whether it will be performed before or on my due date.
I am often asked if I am sad or upset that I missed out on the 'joy' of a natural birth. I'm not, I think deep down I am still worried about the factors mentioned above, even though Athena was a normal 7'14lbs. In all honesty the idea of just waiting for my body to decide to have a baby is off-putting. I like to be organised and know when things will happen. On the day I had Athena (at 40+1weeks, so the day after her due date) the doctor doing the C section had a feel of the bump so he knew where baby was positioned and noted that she wasn't engaged… so for all I know I could have gone overdue, been induced, had a nasty labour and ended up having a C section anyway.
Plus, having a toddler to care and plan for means that knowing when this baby will arrive enables us to plan the better. My mum can have Athena for the day, Sam will be back with her in the evening to put her to bed and she can meet her little brother the next day, when hopefully we will bring him home! Yes, that's not the 'magic' of a natural labour and birth, the whole not knowing when it will happen but that's fine by me! It's also fine by Sam too, he runs a busy hotel and it will be a lot easier for him to get his whole 2 weeks of paternity leave if he can plan it in advance, which will be very helpful as I won't be able to lift Athena in and out of her cot/high chair etc for a week or so.
For more information on C sections you can visit the NHS info, and the NICE guidelines. I also read a few different books from the library on the subject too which gave me a good overview of the risks and recovery too.
I'd be interested to know your thoughts on elective C sections, and if you've had a VBAC?