Coding sounds scary, when I first heard that it would be included in the curriculum for kids I had visions of kids sat working out tricky lines of computer code. It's actually very different to that and now I get to see it first hand with the Osmo Coding Kit. If you're not sure what Osmo is then read our review of the Osmo Starter Kit here, but in brief it's a clever bit of equipment that turns your iPad or Kindle Fire into a hands on, interactive, tangible, educational activity – with the addition of a stand and game pieces.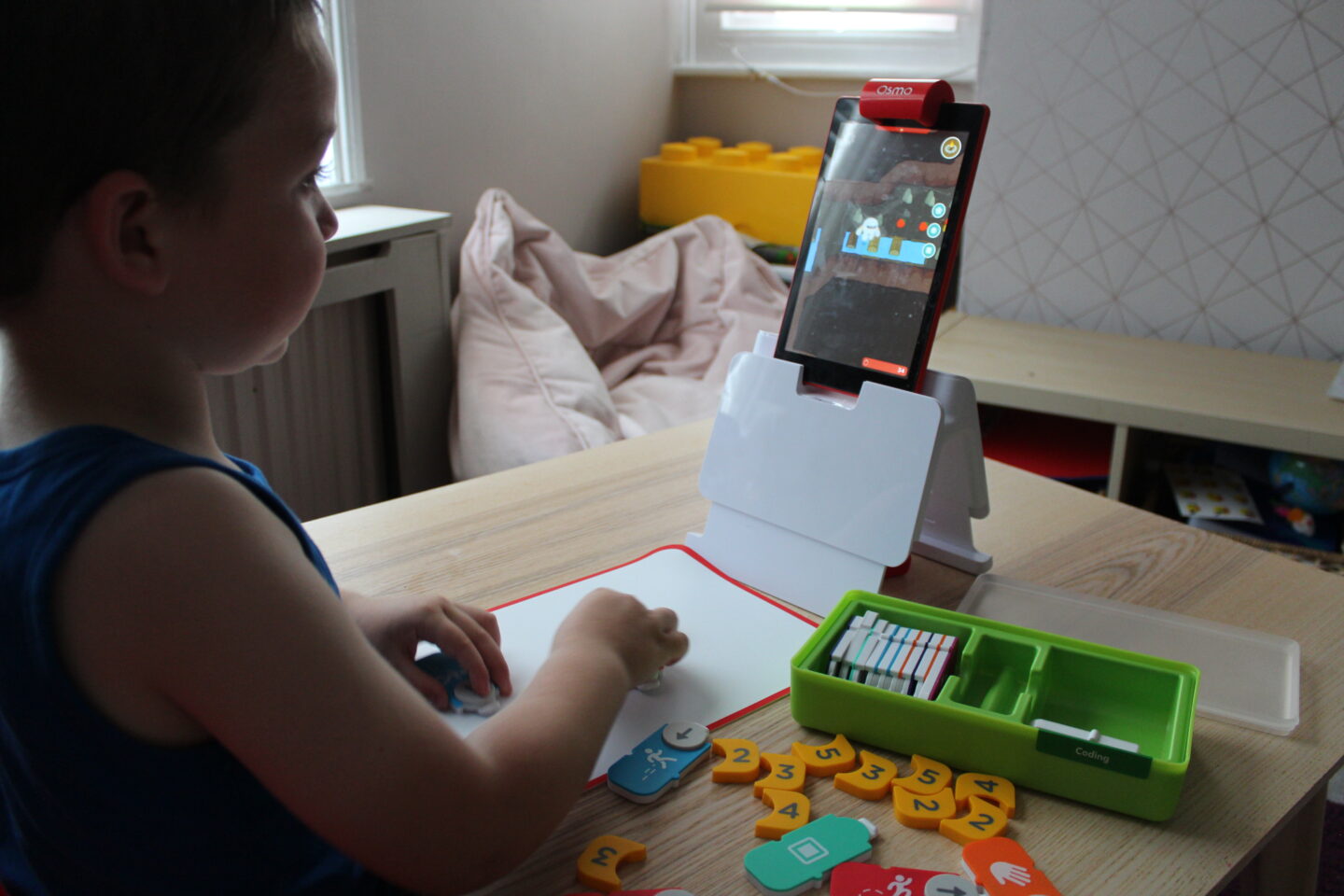 Now we're flying through Coding with the three Osmo Coding games, and what's even better is that the kids have no idea they're learning as they think it's just a fun game.
With one box of  pieces you can get characters to do all sorts of things, by simply creating strings of commands with the pieces,   rotating the arrows to different directions and adding in a number  of times to do the action.   Once you've set up the pieces on  the table in front of your tablet you  tap the screen   and  moves that mirror what you've laid out below are carried out on the screen.  This is because the camera and mirrored top section of the Osmo capture  what it can see – it really is clever!
The 'game play' is full of colour and sound, and hints pop up  when needed to nudge you in the right direction. Games save as you move through the levels automatically and if you keep your eye on the screen you can  pop Osmo bubbles for points too. Here's the rundown on the three apps, which are free to download.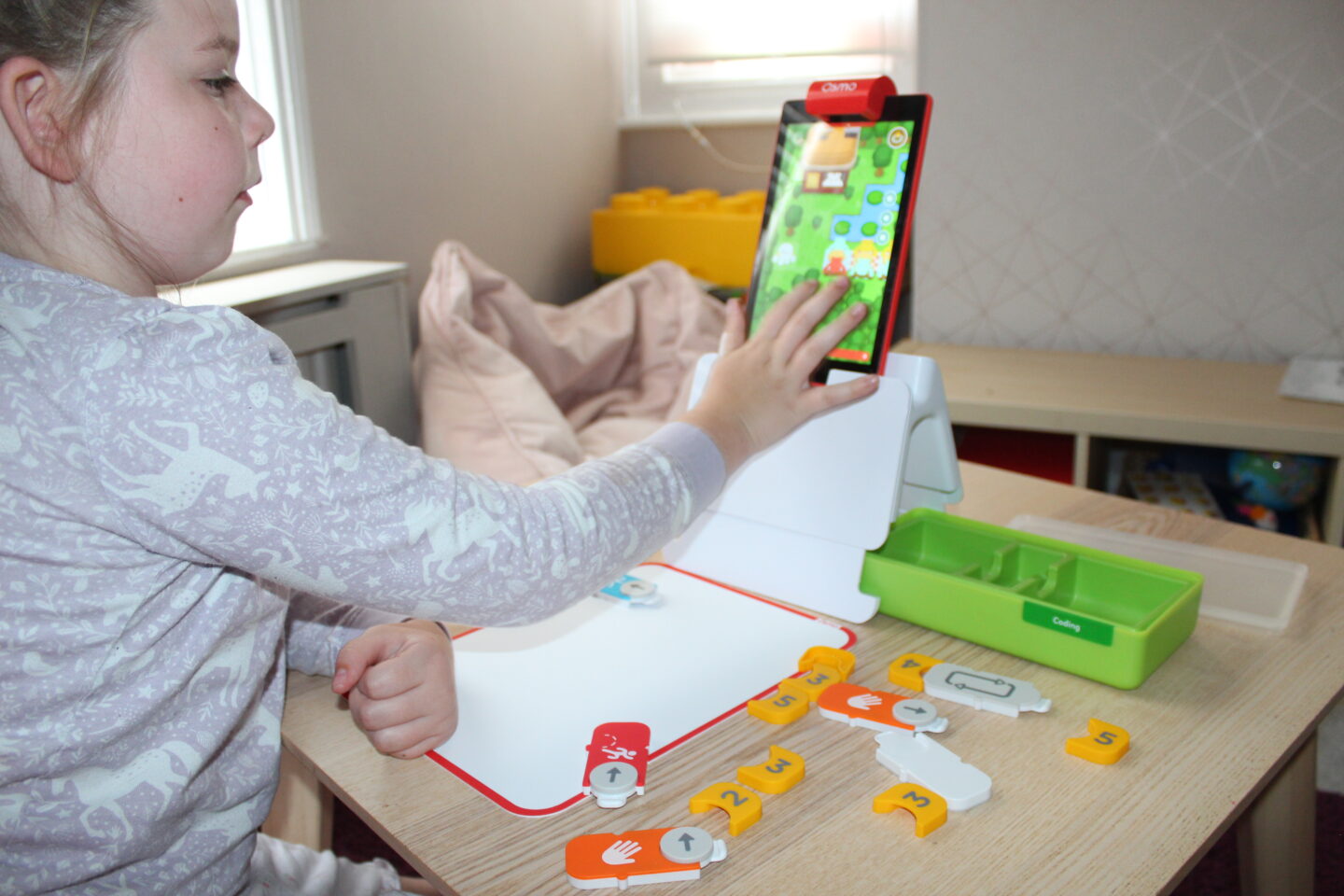 Coding Awbie
This is the most basic of the three coding apps, and gives a great  introduction to  the set and how to string commands together. The aim of the game is to   get a cute little monster called Awbie around the map, with each level getting slightly harder to navigate – therefore requiring more thought into the commands. You start off with simple one game-piece commands and then  build up to longer sequences, all to help Awbie munch some strawberries and see how many you can collect! So problem solving and  logic skills get used and developed without your kids even realising it.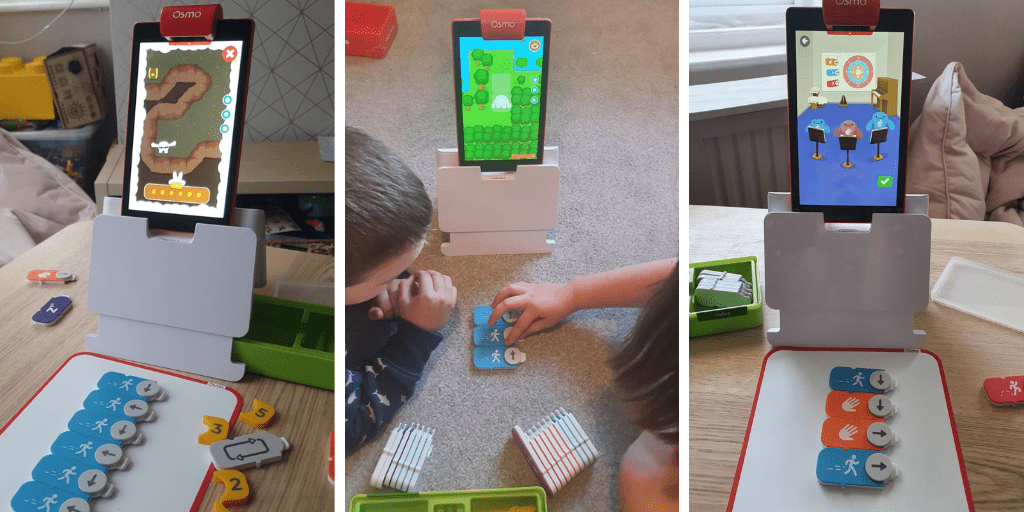 Coding Jam
A really fun  musical game  to   let you create your own tunes, which you can share on the Jam community and to friends and family.  This one was a bit trickier and needed a little more input from me to begin with,  but Arlo is just 5.5 so this was to be expected.  You use the pieces to form  musical patterns and  can repeat and loop them and add in all sorts of different sounds along the way. With 24 different characters and 300 sounds the possibilities are pretty endless!
Coding Duo
An advanced game that requires collaboration , logical thinking, strategy planning and one that can be played in a pair  too – though this isn't compulsory. In this game Awbie is joined by  Mo and they have a series of challenges to complete to  go up through the levels. Arlo has found this one pretty tricky so we've parked it for now, though Athena (who turned 7 a couple of months ago) finds it fun!
The below chart shows which skills are developed with each app – but you can play all three with the one set of coding pieces,  so can move on to trickier apps as confidence and skills grow!
This is such a good way to while away a post-school afternoon and is far better than  plonking the kids in front of the TV or just gawping at Minecraft, plus they tend to play together which is really lovely and quite rare when it comes to tech things – but this keeps them  both interested!
This Osmo Kit and so many others are available on the Osmo Store on Amazon, and on the Osmo website – where you can find out about all the other apps and ways to play Osmo!