So the next little gift guide in my festive series is all about presents for foodies, although to be fair most of these gifts would go down well many a grown up sort of person! (Apart from the last thing that kids would love too!) There are a couple of discount codes included too! [You can see my last gift guide for toddlers and preschoolers here]

Everyone loves tea (well, if they don't they should!) and a new-to-me brand called O-Teas not only sell a really wide variety but also have a range of gift packs featuring their delicious blends, fruit teas, green teas and black teas all feature in the line up and they also sell really modern glass teapots too, with integrated diffusers which i've never seen before, and for the real tea connoisseur there is a teapot warmer that you pop a tealight in the bottom of to keep it warm!
Cookery books are generally always a good bet for someone who you know is a bit of a foodie, here are some of my current faves:
 Leon 'Family & Friends'
recipe book / Great British Bake Off '
Big Book of Baking
' /  Deliciously Ella '
Every Day
' cookbook / Thug Life 101: Fast as F*ck Cook Book

Spiralizers are the in thing, it seems, they reached top of the kitchen accessory list last christmas and don't seem to have dropped at all! I think it would be a great way to make kids like healthier foods, and fun for adults to use and eat too
 A Soda Stream has been on Sams 'want' list for absolutely ages now, and I am at the stage where I might just cave in and buy one for him.  I'm sure almost everyone know what a
Soda Stream
is but for the uninitiated it makes fizzy drinks at home He drinks a medium sized bottle of diet coke every day so if I can wean him off that habit and onto something a little healthier I'll be happy! You can get all sorts of
flavoured drink mixes, including zero calorie
ones.
 Miniamo Multicoloured
Measuring spoons
/
8 in 1 kitchen utensil
(Funnel, Juicer Lemon squeezer, Spice grater, Egg masher, Cheese grater, Egg separator, Measuring cup, Can opener)  / Matroyshka
Measuring cups
Everyone needs a teatowel or two, and fun tea towels make the arduous job of drying up that little bit more fun! These three tea towels are from Dotcomgiftshop, and I especially love the tea one!
A food hamper is such a typically festive Christmas gift that I couldn't not include one, the one above is just one of the huge range of Devon Hampers, which includes Ale, Cider and Cream Tea hampers (so good for any time of year actually!) as well as more traditional ones like this one! They sent me one to try out and I really wanted to keep it to Christmas, but since I took these pictures the lure of maple and bacon popcorn was too much so that got scoffed! They're also giving away a free bag of Christmas pudding flavoured Devonshire fudge (who knew?!) with any hamper purchased using the code CHRISTMASFUDGE. (valid until 25.12.16).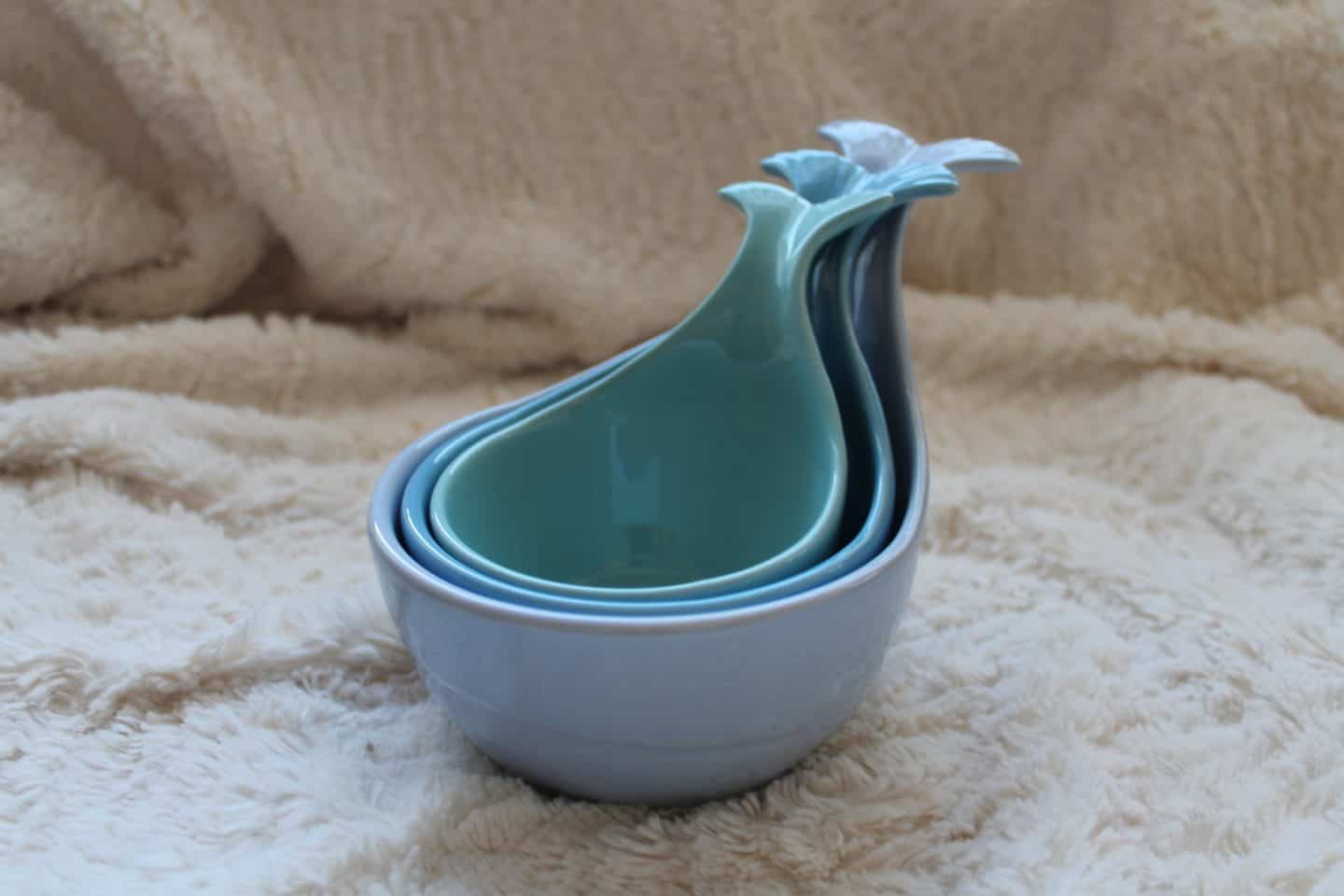 These pastel coloured whale serving bowls are perfect for party nibbles, olives, nuts  or other crudites would be perfect, although I am actually contemplating using them as hair band and jewellery containers as they're pretty enough to be on display all the time! The sit inside each other for easy storage too.
And finally something for those with a sweet tooth, Mr Stanleys are offering my readers 15% off (use code BelleduBrighton) their range of divine traditional sweets, including a range of fudge, lots of different Christmas sweets (think candycanes!) boiled sweets, biscuits and so much more! I've had a box of the salted caramel fudge hidden away since July and ate the last one yesterday, it really is delicious!