Christmas is just around the corner and we're all thinking about presents for our loved ones and friends, so I've put together a few gift guides this year to give you some inspiration and this one is all about gifts perfect for the ladies in your life! Be they mum-friends, sisters, daughters, though I should add that the men in your life might be interested in a few of these, you never know!
First up is the 'Your Own Life Organised' (or YOLO) planner. Everyone starts off being organised at the start of the year, but unless you'e got a planner that makes it easy to carry on being organised it's quite often by around mid february that people have given up! But with this planner it's made as easy as possible, with a few clever additions on top of a normal diary to make it be as helpful as possible. It contains a Diary, Meal Planner, To-do lists and tear out shopping lists all in one place. At the start of each month there is planning space, pre-printed with important dates like Father's Day/Easter plans plus areas for finances, renewals, days & nights out. Add a pen holder, two storage pockets, plus a pull out slim-line address book it's basically a PA in paper form! The range of designs are awesome too, and there is  more to the range with new items being added soon.
The 'fad' for onesies seems to be sticking around, and this year I've joined in! I asked a few mums in the playground and friends online and the vast majority of them all had and loved a onesie – who knew! This one is especially cute, but there are some plainer styles available from the selection at Hunkemoller too, but a soft as clouds, hooded onesie with pockets and a hood is actually a pretty comfy way to relax at home on a winters evening, I am definitely a convert! After a few washes it's still perfectly soft and I look forward to climbing in and zipping it up! Plus if whoever you're buying it for has a younger daughter you can get them matching ones!
I can't think of one female I know who wouldn't appreciate an amazing smelling candle, and the selection from Best Kept Secrets Christmas Elegance collection are not only amazing to smell but look super sparkly and perfect for a gift! Pretty tins, festive scents and a layer of sparkles on top! With amazing scents like 'Gold, Frankincense and Myrrh' 'Christmas Cookies' and 'Hot Cinnamon' there's a scent to suit everyone. They also make candles for other special occasions, as well as a range of soaps – all from their family owned business in Northumberland!
For someone who loves to write notes, lists, ideas, travel plans, dreams or even sketch then the Portobello Parker Jotter & Pen set from the selection at Pen Heaven is perfect! A gorgeous leather cover with a leather cord to close it, with 128 pages of high quality cream paper to doodle or write on, plus a traditional Parker pen in a matching colour (and guaranteed for two years!) This is ideal for popping into a handbag as it's between an A5 and A6 size. You can choose it in a few different colours and add embossing and even gift wrapping so you don't have to do it yourself!
Who doesn't love an Afternoon Tea? Even better when it's a gift from a good friend, and hopefully you'll even get invited along! Red Letter Days have endless options for days out and experiences to give as a gift, but their Afternoon Tea options are vast and feature locations all over the country, 405 in fact! With the option to add champagne, scoff your scones on an Edinburgh tour bus or even in a Welsh Castle, there are so many experiences to choose from!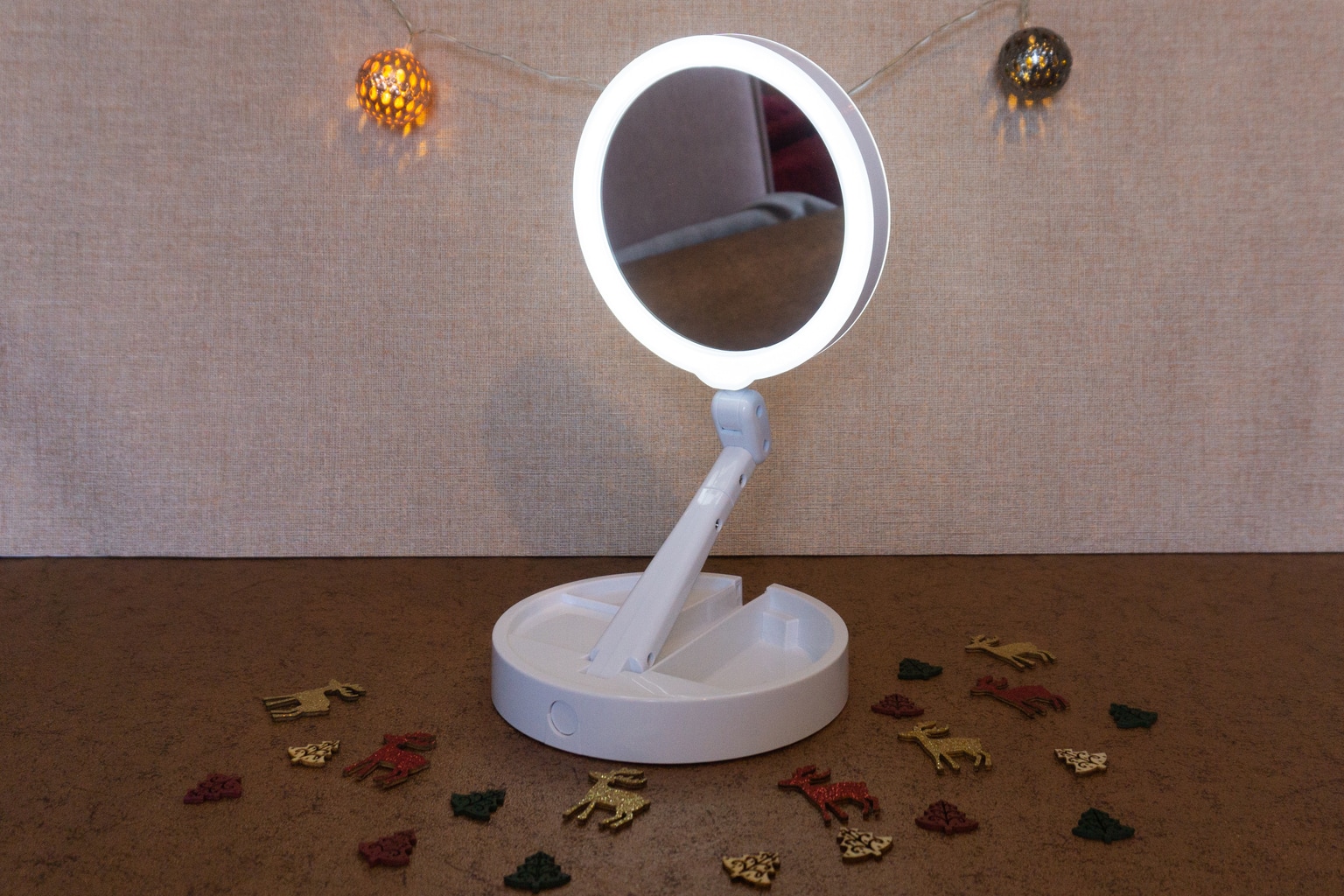 Darker mornings and gloomy afternoons means it's trickier than ever to perfect your makeup, or to tweeze the perfect brows but this Folding Mirror from JML Direct not only lights up, but it has two mirrors, one that will show you every pore! It folds into itself for easy transport and won't take up much room in your overnight bag at all! Plus it has handy sections for jewellery, cotton buds or any other little bits you need to take with you too!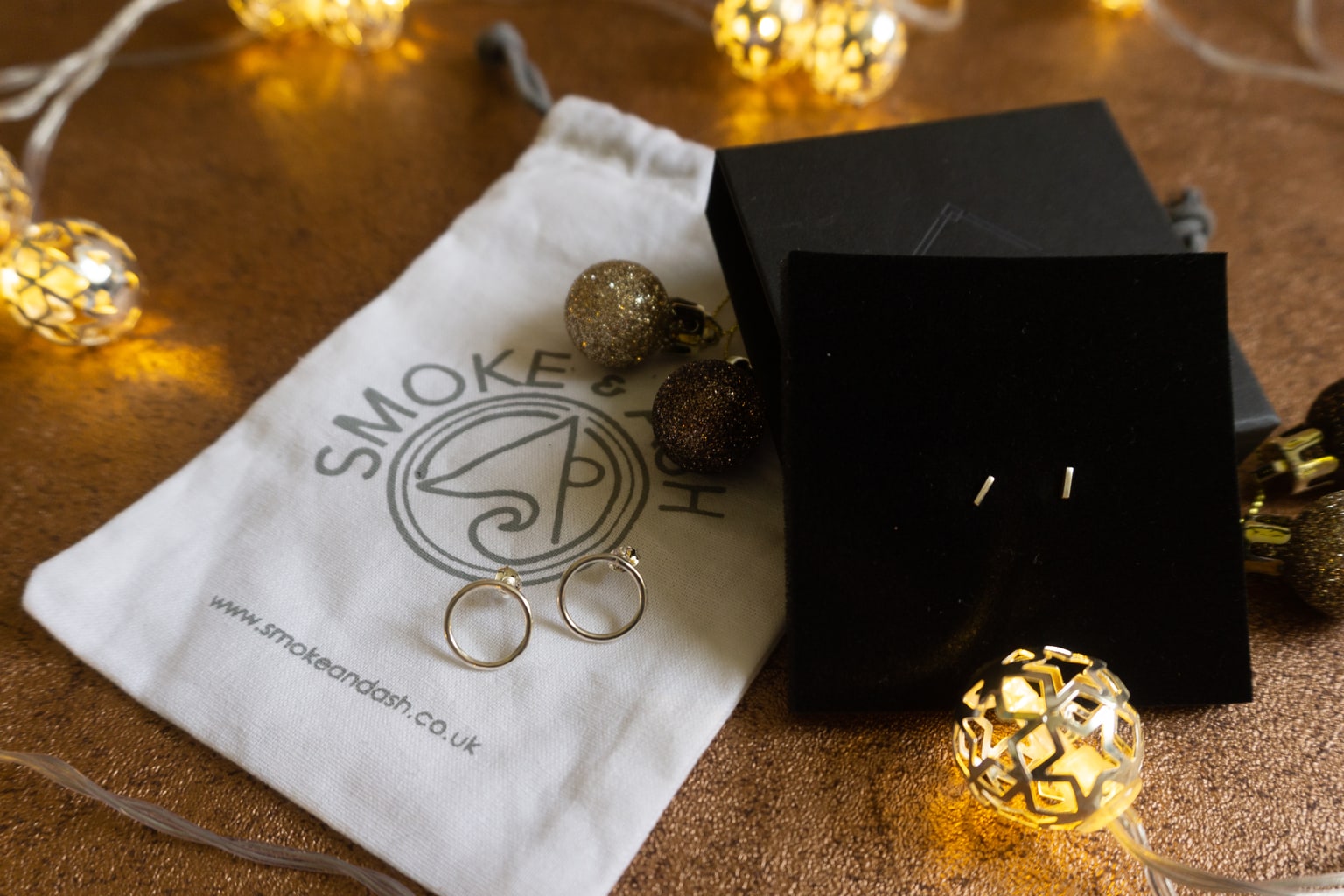 You can't go wrong with jewellery, especially with simple but beautiful pieces that the wearer can match with what they already own. The selection at WEARTH London is not only beautiful but also ethically sourced from independent UK jewellery makers using eco-friendly recycled silver and ethically sourced gemstones. I think the geo style is here to stay and these tiny bar studs and simple hoop studs pair beautifully together, even though they are made by different jewellers. They arrived beautifully packaged and well presented too, which means you can send them directly to your recipient cutting down on the packaging and carbon footprint of adding another delivery in the middle!  WEARTH is actually full of eco-friendly, thoughtful and sustainable gifts, including beauty, homewares, and zero waste products, at decent prices too!
And of course if you're getting someone jewellery, or know they have a growing collection then a pretty trinket box is an ideal gift, and even better if you can personalise it like this rose gold beauty from Personally Presented! It was hard to take a photo of empty but the bottom is mirrored for extra sparkle, and the rose gold edging would work well on any dressing table, personalised either with a favourite phrase or the giftees name etched on the top, which can be left as is or filled with rose gold as above. Personally Presented have also come up with a clever way to help you discover gifts ideas and set reminders, you can see it here https://m.me/ppresented. And for those of you buying for small people then there is a lovely free personalised Santa letter available, it takes about 10 seconds and you can print them for your kids, such a lovely idea!
Adult colouring books are still really popular, as are midnfullness journals and simply drawing for fun and relaxation. Stabilo is one of the most well known brands and they're always coming up with fun things to keep stationery creative, and the new Stabilo 68 Metallic pens are so much fun! They're thicker than their traditional yellow fineliners but will write on so many surfaces in gorgeous metallic colours and look amazing on dark backgrounds but would be fun simply for writing out your Christmas gift tags and signing your cards! They come in a tin too which is always a bit more special than a regular retail pack I think! For colouring fans then the Watercolour pencils in a tin would be perfect, high quality, bright colours and lots of ways to use them!
So I really hope these ideas have given you some inspiration for your Christmas gift giving, or maybe you'll treat yourself to something – nothing wrong with that at all!
You can see my other gift guides here too, for a bit more inspiration!