These items were provided for the purpose of this review.
Geomags are new to us, though when the kids were younger they loved the preschool version, Geomag magicubes. These two sets are the more advanced style the original Geomag and are for ages 5+. We got to build a NASA Rocket and Rover set. I was surprised there was no instruction sheet in the box at first but a quick look at the back made it clear it really is a case of looking, learning and doing and the instructions weren't really needed at all!
The Rover was easier to build and I'm glad we tried that one first as it meant the kids got to work out how the pieces fit together (Spoiler: with magnets!) and got to make wheels and make sure the design matched the box.
The Rocket was trickier to make, because you had to get the angles of the feet jus right so they would support the rest of the structure. Even I found this a bit tricky but then we were doing it on thick pile carpet which made the job even harder! We did get them built though and had fun doing it. It's worth noting that in our rocket set we had a different amount of each colour rods to what was shown on the back of the box – so our model didn't look exactly the same colourwise.
What I hadn't anticipated was that Arlo would become completely obsessed with Geomag pieces and make all sorts of different creations since we built the rocket. The great thing is that all the pieces from different sets are interchangeable so you can add to your collection and make bigger and better structures! You can get all different coloured sets, including glittery ones!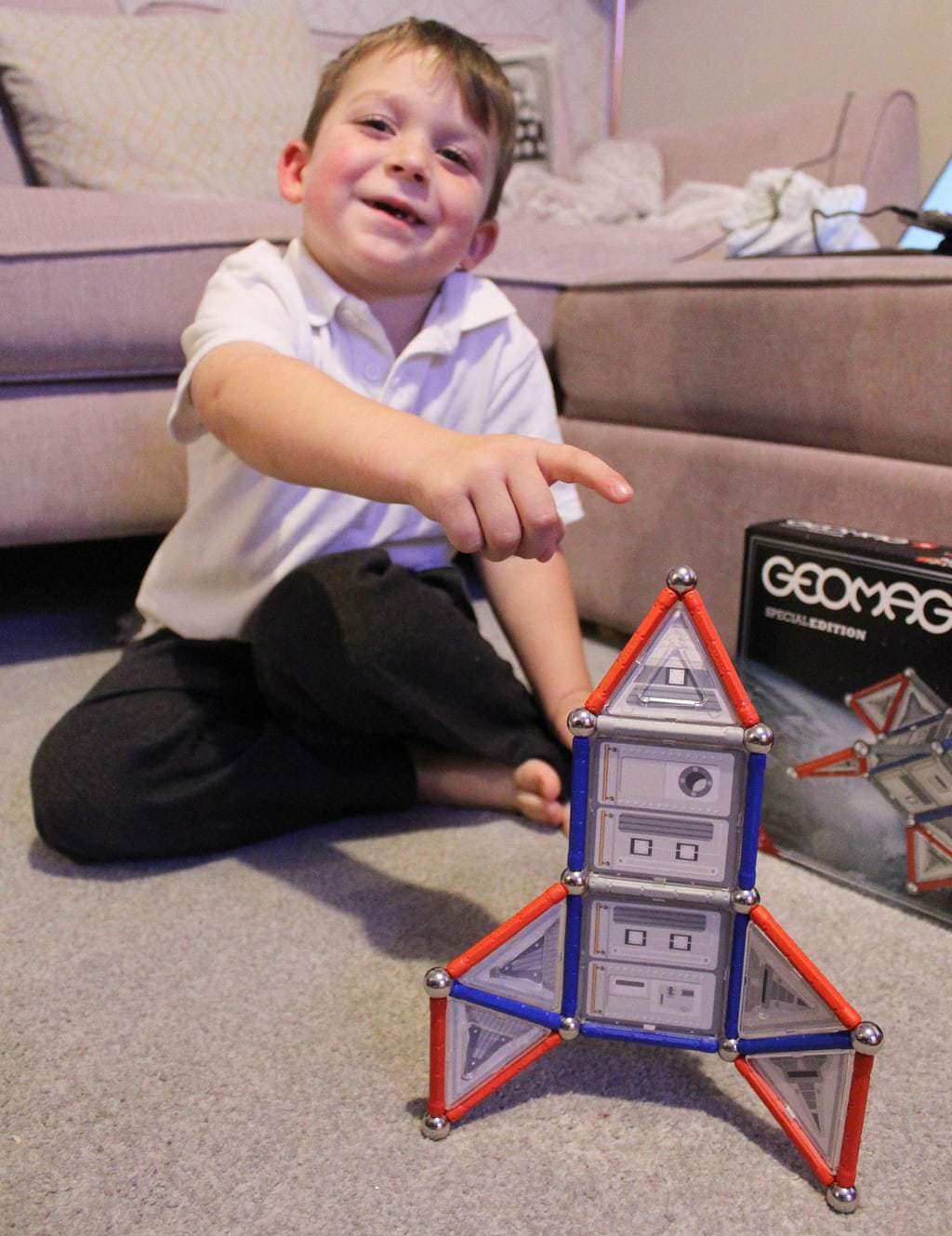 Both of these special edition NASA Geomag sets are endorsed by NASA themselves as part of the celebrations for the 50th anniversary of the first manned lunar landing, so a small part of history as well as a great way to get kids interested in space, construction and science.
The NASA Rocket Set retails at £39.99 and the NASA Rover Set retails at £25.00. Both sets are available from the Entertainer and also in the range available at Amazon. I also have a giveaway and one lucky person will win BOTH sets! Please use the Gleam form below to enter and read the T&Cs.
Win 2 NASA GeoMag sets worth over £60!