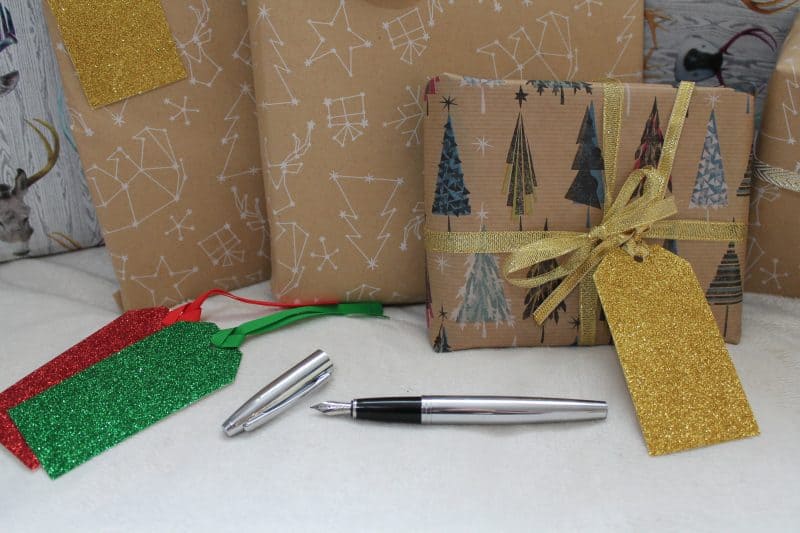 I love choosing presents for people, I'm sure I don't get it right all the time but I do try and put some thought into the gifts I give. It does make it easier now that I am older as I have less adults to buy presents for and more kids, who are infinitely easier to buy for. This is because they'll see something on an advert or in a shop and tell you that "that's on my christmas list" and then do the same thing again the next time they see something they want, and so on. Adults I do find tricky at times, especially people we don't see very often as you can never be sure that you're buying something that they don't already have. I try to steer clear from beauty products too, not only can people be a bit fussy about what they use but it sort of feels like not a lot of effort has gone into it!
Anyway, this year I managed to get the kids sorted early on so I only have to focus on adult presents from now on, and I've even made a start on wrapping everything! I have such a narrow window of opportunity to do it in as there are only two days a week when they're both in childcare, and it's only for five hours! Now I've wrapped their presents up (mostly bits to go with a wooden kitchen and lots of books!) I just have to do a few stocking fillers closer to the time. 
Wrapping is something that I love to do, but am not that great at. Give me a box or a book and I'll wrap it up nicely, but anything more elaborate and you might have to wrestle through layers of sticky tape to get to your goodies! I tend to cover my not-so-great wrapping skills with ribbon and bows where possible, along with a nicely written gift tag! I often keep pretty gift tags to use as bookmarks in recipe books, so having a nicely written one is a bonus as I'll see the message and remember the gift and the gift-giver throughout the year! This year I'm taking extra care with my gift tags, and with my Christmas cards when I write them next week and using a CROSS Pen, that arrived as part of a set. I've not used a fountain pen in absolutely years, and it really made me take extra care with my writing, which can often verge into the doctors scrawl category! There was also a heavy ballpoint pen in the set for quick notes, though I've been loving using the fountain pen most of the time! I remember getting my very first fountain pen in year four at primary school, and very soon after that getting ink all over my hands and I played around with an ink cartridge! So far so good though, as I just popped the cartridge in and started writing, I'm clearly much neater these days than my eleven year old self! CROSS have a huge selection of pens, most can be pesonalised and there is even a bespoke Star Wars collection that look like mini R2D2s!
My wrapping this year is from Paperchase, they've got some awesome modern designs this year, which makes wrapping all the more fun! I really need to crack on and get the rest of the present s on my list so I can wrap everything up early, post the ones that need to get sent to friends and family and then relax in the run up to Christmas!
I was sent a CROSS pen set to feature in this post. All words and opinions are my own