Ickle Bubba is a brand I'm not familiar with so far, so when we were asked if we wanted to test out the Ickle Bubba Solar car seat we agreed! It's a Group 1-2-3 seat, which makes it suitable from 9 months to around 12 years – height dependant – they need to reach 135cms. It can attach with an Isofix fitting or a three point seatbelt and is a forward facing only seat with a recline feature. Arlo is just under 15kg so is a group 1 still but no for much longer, so we decided to let this be 'his' seat, and until he reaches 15kg we'll be using it with the harness rather than the 3-point 'adult' belt, though this easily used.
The Ickle Bubba Solar car seat is ready to install out of the box, as you can see if the picture above. We needed to remove the seat and head cushions as Arlo doesn't need them, which involved a fairly laborious process of taken a rod out of the back of the seat to be able to pull the seat away from the isofix base part and wiggle the straps out of the hooks and then un-thread them from the head rest cushion, then re thread them. But it's not the sort of thing you have to do again, until you no longer need the straps.
Installation
To install the Ickle Bubba Solar car seat using isofix you lengthen the connectors by pulling the lever on the front of the seat, and then connecting them to the loops in your car. You'll know they're fitted correctly because you'll see a bright green line. The next step is to use the top-tether strap (which is located in a section in the back of the seat) and attach that to the D-ring behind the seat, again there is a green indicator on the straps' buckle to let you know it is secure. You can also install the seat using your three point seat belt if you don't have isofix, though I think this process would take longer as you need to open the seat up with the metal rod to allow the buckle and belt to pass through, though there are markings and diagrams on the side of the seat to assist you. With isofix it took around 5 minutes to install.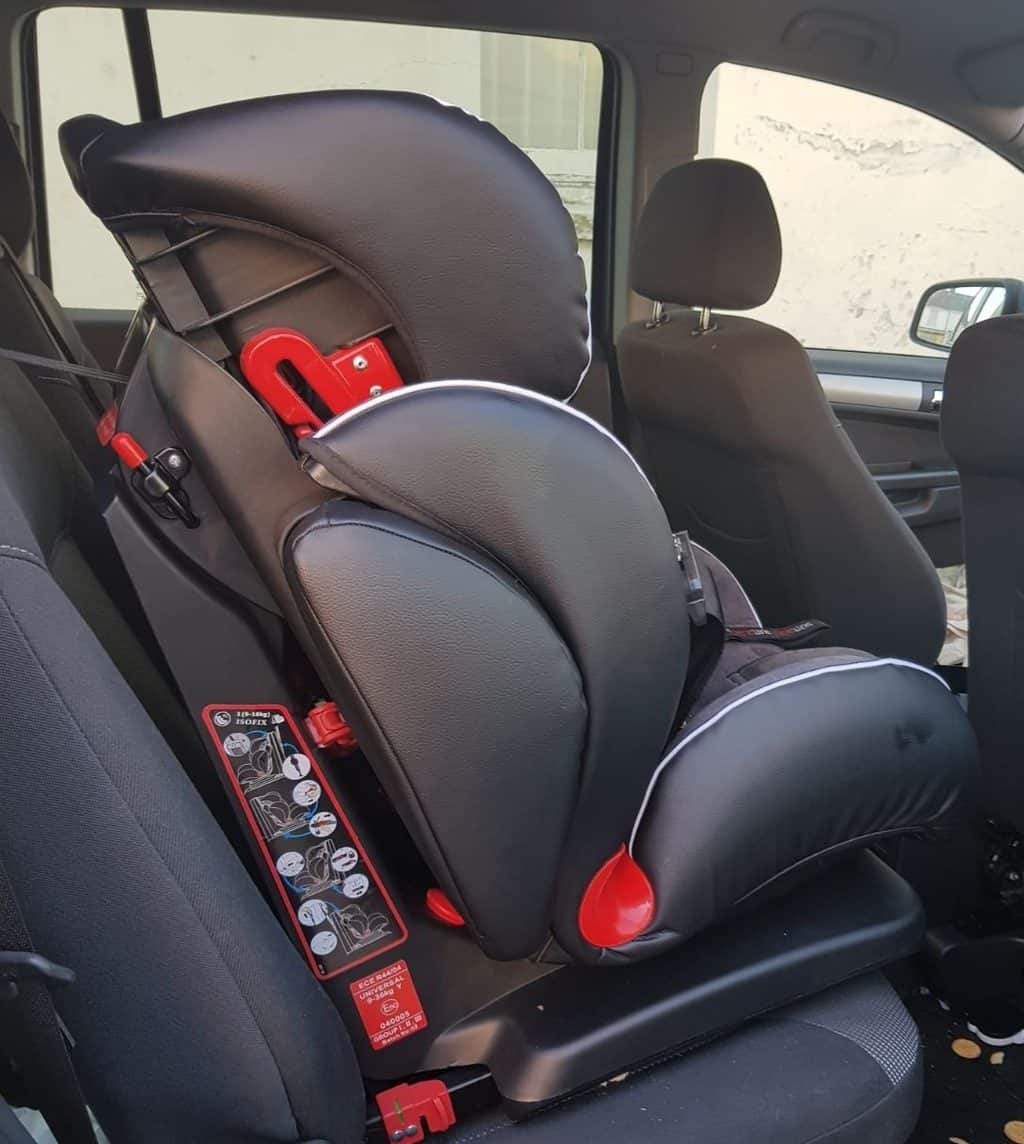 Features
Side Impact Cushions – I've not seen these on any car seat before and loved this idea as they give your child extra protection in the event you get shunted from the side. You only need to install the one closest to the door but we've chosen to put both on as sometimes we move the kids seats around depending on who is driving and how many passengers we have in the car. I loved having this extra bit of reassurance in the event of an accident.
Materials used –  leatherette cover on the sides of the seat and a soft touch stay-cool fabric on the seat, back and cushions. Arlo of course christened the material with greasy fingers the first time he used it and they baby wiped off easily – bonus! The covers are removable for easy washing too.
Magnetic strap holders – There are two little dots on each side of the seat and these show you where the strap buckles can be placed to magnetise them in place whilst you're getting your kid in and out of the seat. No more fishing around behind them to find the buckle and would be perfect for getting a sleeping baby out without disturbing them.
Recline options – there are three, to ensure that there are no floppy heads happening – a fact we can attest to!
Integrated Isofix – meaning you don't to buy anything extra to use the Isofix fittings in your car.
What we thought
We're fans! Apart from a slightly fiddly process to take the un-needed padding out installation was easy with the isofix fittings. The seat is really comfy for Arlo, and we've now been using the seat for a few weeks with no head-lolling during car naps. Thankfully there hasn't been an incident of car sickness so we've not had to test how easy the cover is to remove and wash just yet but I was worried about the brushed soft material being hard to clean but I've baby-wiped sticky finger marks and snot (sorry!) off it without a mark being left – which I was really impressed by! The straps are also SO easy to adjust which makes life so much easier when it's cold and you just want to get them buckled up fast! I'll admit I am dreading having to take the straps off when Arlo hits the correct weight as it will be another fiddly process but when it's done it's done!
You can buy the Ickle Bubba Solar car seat on Amazon for £169– which for a car seat that lasts 12 years isn't bad at all, it equates to £20.28 a year!