For some reason our home has a disproportionately large bathroom. Don't get me wrong, I like having a bigger space but I also find that it gets filled up with random things more than any other room in the house, purely because there is space to put things! Any large box that's been delivered gets stored there, all our bed linen lives in the cupboard there and we even have a small chest of drawers full of DIY bits and pieces because there's nowhere else to put it! But I really want to start whittling down the tat in the house, so have been making an effort to think about what we store and where recently. I've come to the conclusion that having things on display means I then only want to keep the things we need so that the place looks less cluttered and there is less opportunity to hide tat.
So now in our bathroom we have two bathroom cabinets, one for essentials and one for medicines as it is out of the reach of the kids. We then have a tall boy (from the Ikea Malm range) and a new set of ladder shelves from Sue Ryder Online  which are perfect for storing the bath-time essentials and towels. I love ladder style shelving as it's less dominating than standard up and down shelves due to being tapered at the top.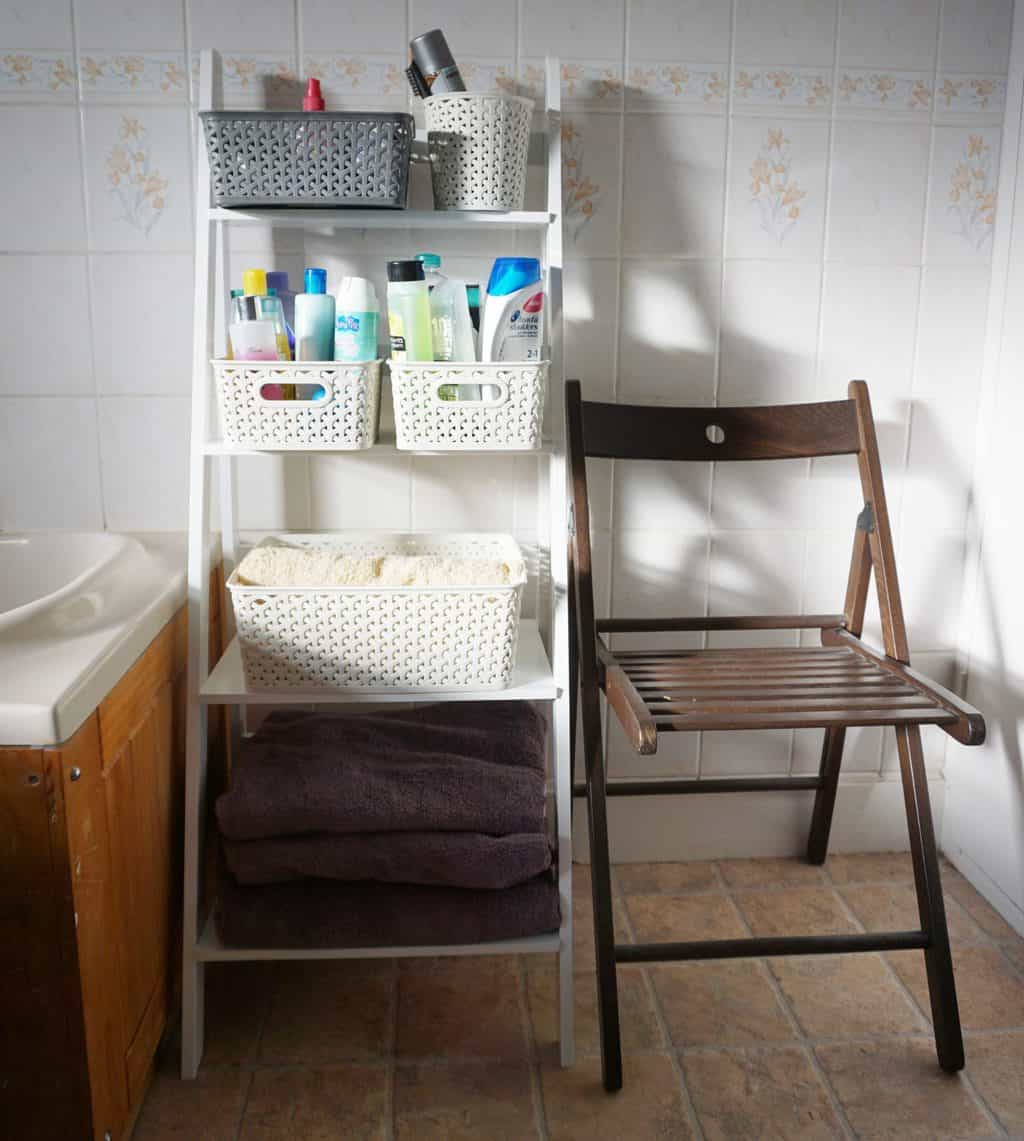 I discovered the Curver range of 'rattan' plastic containers last year and use them all over the house now, we have them in the kitchen, the playroom cupboard for the kids pens and paints etc and now in the bathroom too. They're easy to wash (I've put them in the dishwasher!) look clean and tidy and come in a range of shapes and sizes. I actually found the grey one in Poundland last year but sadly have never seen them again since in there! I get them from Amazon now, and the smaller ones are around £1.99.
The Ikea unit actually has a lift up top with a mirror in it and space to keep makeup but I'm too short to use it properly so we tend to use the top for storage, and I used the bathroom cabinet as a mirror. I keep makeup in the top two smaller drawers, then in the larger drawers things like spare sun cream, spare bottles of shampoo and conditioner and other assorted bathroom things! Oh, also the kids swim nappies and swimming costumes, arm bands etc are all stored in the bottom drawer. I actually had this unit pre kids and then it was stuffed FULL with makeup and lotions, potions and other beautifying things! Oh, how things have changed!
Eventually when we redo the bathroom (yes, those tiles and wooden bath surround are not my choice!) we plan on extending the built in cupboard further to maximise the space, and maybe even adding a corner bath, the dream!
What storage solutions do you utilise in the bathroom?
Thanks to Sue Ryder for sending us the ladder shelves, all words and opinions are my own.