Labelling the kids clothes is definitely not one of my favourite tasks but sadly it's a very necessary one, as there seems to be some magic force field within a school that means that your kid will pick up the wrong jumper at least twice a week and end up with someone else's PE shorts without fail! Every last thing needs to be labelled, and with a set of clothes for every day and two kids that's about 30 things, all told. So far I have tried iron-on name labels which don't seem to last very well as I tend to tumble dry most of the kids clothes, and they pucker and peel off, plus I have also tried writing on the clothing tags with biro or sharpie but these always fade or they smudge and blur as you write them, plus they look messy, so not a great solution either.  Now though I have an Attach-a-Tag and named tags for each child, and I'm loving using it and how the tags look too!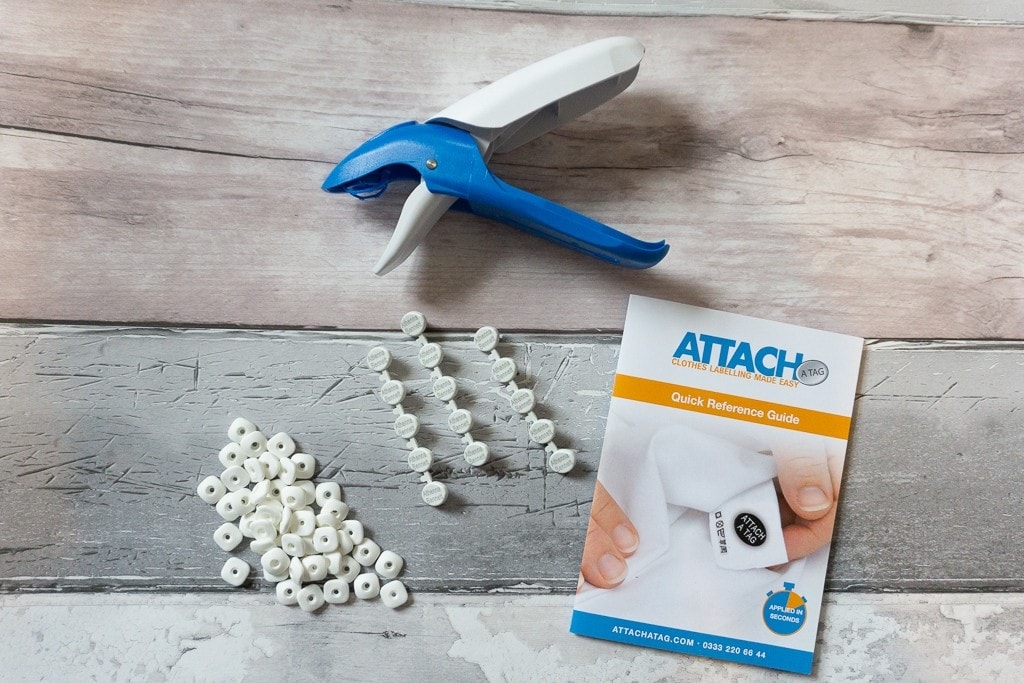 Attach-a-Tag is actually a company that's really local to me here in Sussex and they have created a really clever system that lets you label clothes with a small plastic tag which is personalised, meaning you can use these tags again and again! Plus the tool that you use to attach them is also the tool that you use to remove them, so effectively one set of tags could last your child their whole school career! It also saves you time and money, as you don't need to label every new set of uniform or buy any more iron on name labels!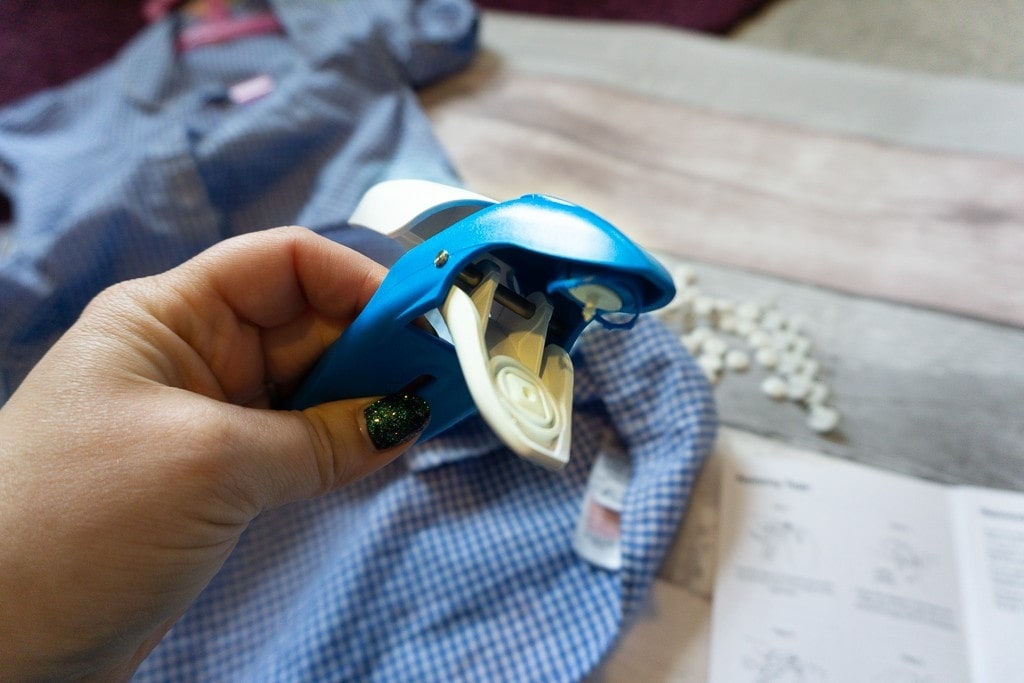 Using the Attach-a-Tag is so simple; you pop one of the oval name tags and one of the retainers into the 'dolphin' hand held applicator. Place the label or area of the piece of clothing you need to name between the two parts of the applicator, then squeeze it together and then twist the handle on the top until the tag is firmly attached! It's really speedy, 30 seconds or so per tag I reckon – and considering it took me over an hour to label Athena's first lot of uniform with the iron on tags that is a HUGE time saving for me! A set of 50 tags is £28.60 which includes the applicator tool, and you can buy extra packs of named tags for other kids from £11.75.
The tags can be machine washed & tumble dried plus the names are etched on, so won't fade and you can have up to 3 lines of personalisation. I chose black for Arlo's tags and white for Athena's tags purely to make it easier to grab the right one when I need to. If you need to remove the tags you just turn over the applicator, slide the oval part of the tag into the square hole and then slide it up, which then prise it off. You can re use the named part of the tags again and again, but do need a new retainer for each use, which is £4.50 for 30 and available to order from the website. You could easily label bags, hats, even trainers!
I'm definitely an Attach-a-Tag convert, anything that saves me time is a godsend, and add the fact that it is weirdly therapeutic too and you're on to a winner! Plus it's always great to support local businesses too!
Find out more and order at Attachatag.com