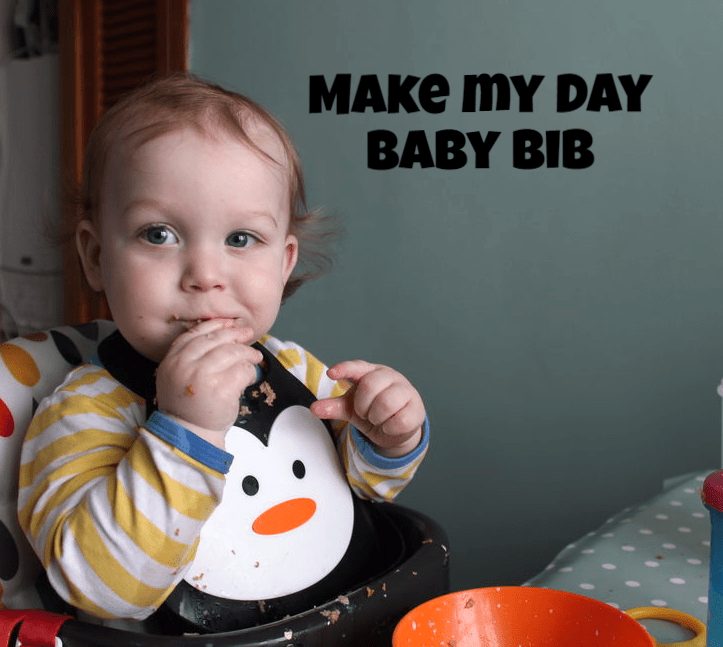 As I said in Arlo's 12 month recap he's finally started eating a bit over the last few weeks although he's still not quite at three meals a day just yet! I'm also finding that he's so much happier to be in the highchair recently too, probably because we've been having a lot more family dinners round the table since we gained more space in the house move!
Poor Arlo has only ever had one brand new bib of his own, one of those apron style ones with arms. All his others are his sisters hand me downs and are looking a little worse for wear now! Thankfully we were asked if we wanted to review one of the new to the UK 'Make my Day' bibs and as soon as I saw a penguin the deal was done! I can't resist a penguin…
Made from food-grade silicone the bib has a crumb catcher, a rounded edge at the neckline and easy to fasten (by me) rubber poppers that Arlo hasn't been able to undo on his own unlike the tommee tippee ones in a similar style (it's also softer and more flexible so less intrusive to movement) . It is also stain proof and dishwasher safe too, plus it can be rolled up for easy storage when you're out and about.
We've put the bib through its paces with bolognese pasta sauce and can confirm that it is indeed stain free!  You can buy them from Cheeky Rascals (my amazing Brit Mums Live sponsors from last year, read more about them here) for £14.99. There are 16 styles to choose from including a super cute tuxedo one, perfect for meals out and bumble bees, frogs and jewelled necklaces too!
We were sent this item for the purpose of this review. All words and opinions are my own.