I've spent a while honing my mum uniform, and though I want to edge towards more dresses at some point, but at the moment it's a skinny jeans with a lot of stretch, a jumper and a pair of flip flops. However the temperatures are rapidly decreasing and especially at 8.15 in the morning it is a bit too chilly for my trusty flip flops! Thankfully I have new pair of boots from JD Williams that add a bit of fun to my often boring 'uniform' in the form of these leopard print beauties! They're flat and comfy and come in a couple of different width fittings too. They're also slip on which is a godsend when you've got a toddler under one arm, and book bag and water-bottle under the other and realise you've not got your shoes on yet!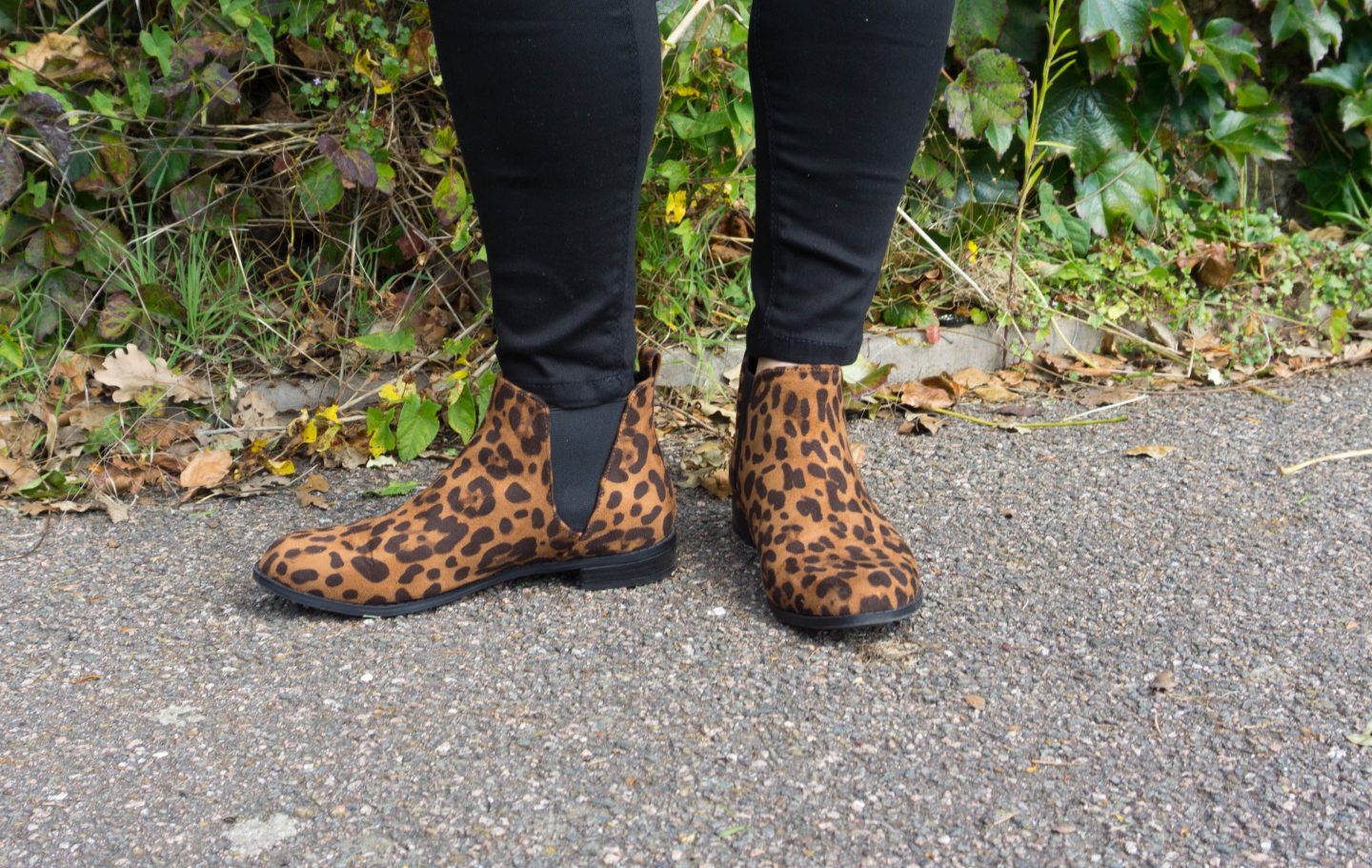 As I said, stretchy skinny jeans are another staple, though this pair are actually jeggings! They've got a button and zip fly and functioning back pockets though so feel more like jeans but are really comfy and I think they're pretty flattering too as they're not baggy round the ankles. I got them in short length as I am fairly short myself so often regular length things need to be turned up and ruin the look. They've washed really well so far, no shrinking or getting those funny fold lines some denim gets from the washing machine.
This sweater is quickly becoming one of my favourite items of clothing, it's quilted, super soft and so comfortable to wear. The bright gold 'Off Duty' stands out well and hasn't faded in the wash. My hildminder pointed out that I should get another one that says 'On Duty' for when Im with the kids! I way prefer being off duty though! I think this will be the perfect sweatshirt for snuggling into on my flight to Israel in a couple of weeks!
Lastly I added a bit of colour in the form of this gorgeous Mi Pac backpack metallic rose gold. I can't get enough of it and it's replaced my changing bag & handbag! I love a backpack, I just find it a lot easier to be hands free especially when I've got the kids to keep an eye on, as I often end up holding a scooter or bike as well as a hand or two! It's perfect for autumn and winter as the thick pleather keeps everything inside dry, plus it has a pocket that my little laptop fits into, padded straps and a front pocket for the essentials. I've had so many comments about it too, which is always nice!
I was really surprised by the range of styles and brands available on the JD Williams website, and it was so easy to navigate, picking my colour, style, size and the ability to save your favourites, which I LOVE on any clothing website! I also really loved the 'Style Adviser' feature, which asks you a series of questions about your body, colours, shopping habits and a few other things and then it gives you four pages of outfit ideas, genius! Definitely a good way to find some outfit inspiration if you're at a loose end!