Oversized T & flocked leggings: Boohoo. Boots: George @ Asda. Necklace: a handmade gift from Skye.
A slouchy outfit for running errands round Norwich when we were in Norfolk last week. The leggings are too long (short girl problems) but I love them so kept them and wore them ruched at the ankle, which gives me fat ankles but never mind! The black in the pattern is flocked material so I can often be found stroking my own legs when I'm wearing them. Both the top and leggings were in the BooHoo sale and on a weekend with free shipping, hurrah!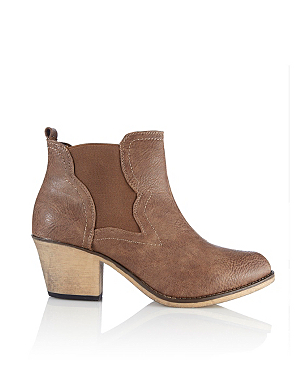 Now the boots I saw on Georges instagram, and that day we did the weekly shop at ASDA for the sole (haha!) reason that I wanted the boots. The western style detailing round the elastic is gorgeous, and they're not too high that I can wear them round town without pain! They go with jeans and dresses because they're not hideously clunky like so many boots out in the shops at the moment (they remind me of the chunky shoes and boots I wore to school in my teens, think kickers etc!) I forgot to take a photo of them on so a stock photo will do!
Looking at these photos I am wondering if I should cut my hair or not… it's ridiculously long! I did dye in a lot darker last week too, but Sam thinks it looks even longer darker!
What's your opinion of waist length hair? Can I pull it off?