For Arlo's birthday we spent the day at Paultons Family Theme Park, home of Peppa Pig World and both kids had a blast! It was a Friday so it wasn't too busy at all, though the busiest area of the park was Peppa Pig World for sure, and I don't think I've ever seen so many toddlers in one place! I made a video of our vlog too, you can see that at the end of the post. We'd never been before so spent a bit of timing exploring the map to work out where to go first, the park isn't so huge that it feels like a mission to get from area to area which is handy with two small kids. We visited the Critter Creek area first, Athena and I went on the Cat-o-pillar coaster which she loved, then we had a walk thorough the Beastie Burrow to visit some actually creepy critters, then a spin on the teacups. Sam then braved the Pirate Ship with Athena and we strolled off towards Peppa Pig World. Sam downloaded the app on his phone so we knew where to go to, and could get directions if we needed, plus queue times which would really come in handy on busier days.
I thought the incessant background music in Peppa Pig World would drive me crazy but actually I soon tuned it out (though I did find myself humming it in the car on the way back!) and the whole area is well designed, with everything in keeping with the Peppa Pig theme. I think we actually could have just spent the whole day there, and I am sure many people do, especially those with really young children. All the rides in this area are designed so that children of any age can go on them apart from Georges Dinosaur where there is a minimum height restriction, but Arlo met this so we had no problem.
Along with the rides there is an indoor soft play centre that we didn't explore, though it would be perfect for parents that want to rest their achey legs whilst hyperactive kids carry on running around! It looked quite large and well designed. There is also Mr Potato's play park with slides, tunnels and other equipment to clamber on, as well as a muddle puddle splash park (which wasn't on as it was a bit chilly). We also got to meet Peppa and George, the queue for this was about 25 minutes, thankfully Sam kept Arlo occupied outside the line whilst Athena and I waited in it, then joined us for the photo, otherwise we wouldn't have waited as he doesn't exactly have much patience for standing in line and there are no buggies allowed in the queue (understandably so) so he'd have just run off anyway! Talking of buggies you can hire push-along carts from Paultons, which would be great for people with older kids who might get tired, or who just don't want to cart their own buggy along. There is plenty of space to leave pushchairs outside each ride and we just took a rucksack onto the rides with our valuables. When we visited (late March) not all the hot food outlets were open, but there were plenty of snack-type places open plus of course ice cream and donuts. We ate lunch in the Wild Forest which is at the entrance. Service was speedy and I the menu was simple but with more choice than I expected.
After lunch we explored The Lost Kingdom area, which Sam and I obviously loved a bit more than Peppa Pig World! We had a ride in a jeep at The Dinosaur Tour Co past 'real' animatronic dinosaurs, and then had a talk about a T-Rex, even meeting a real one up close (which was actually fairly convincing and Athena still thinks it was a real dinosaur and I haven't had the heart to put her right!) Sam had a ride on the Flight of the Pterosaur and there were a couple of other 'thrill' rides too. There are a lot of animatronic dinosaurs dotted around this area of the park which the kids loved and really helped with the atmosphere!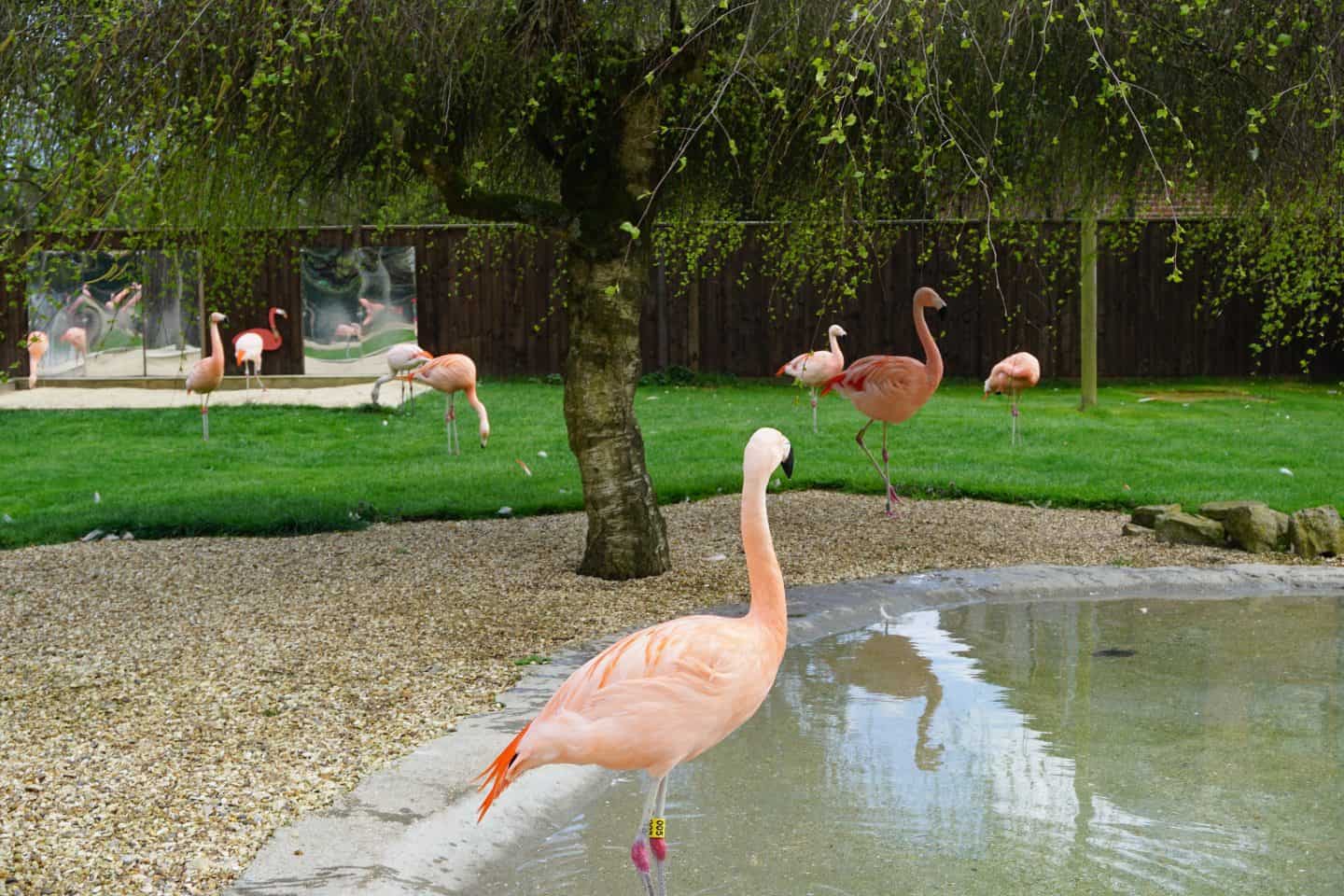 There was a large play park and a big splash pad area just outside The Lost Kingdom along with plenty of seating and a cafe, and another area of the park that we didn't explore with the Sky Swinger & the River Ride. We wandered back to Peppa Pig World via a trip into cinema for a 4D Cinema experience. The showing was only 15 minutes long so perfect for small people with a short attention span, although Arlo took the opportunity to have a little snooze behind his 3d glasses! All the rides were much quieter in the late afternoon so we went on a few things with absolutely no queue at all which was lovely, although the morning queue times had never been over 5 minutes apart from the meet and greet bit. We exited via the Bug Toy Shop, so the kids now have a Peppa/George toy each plus a few more toy cars for Arlo and a torch for Athena.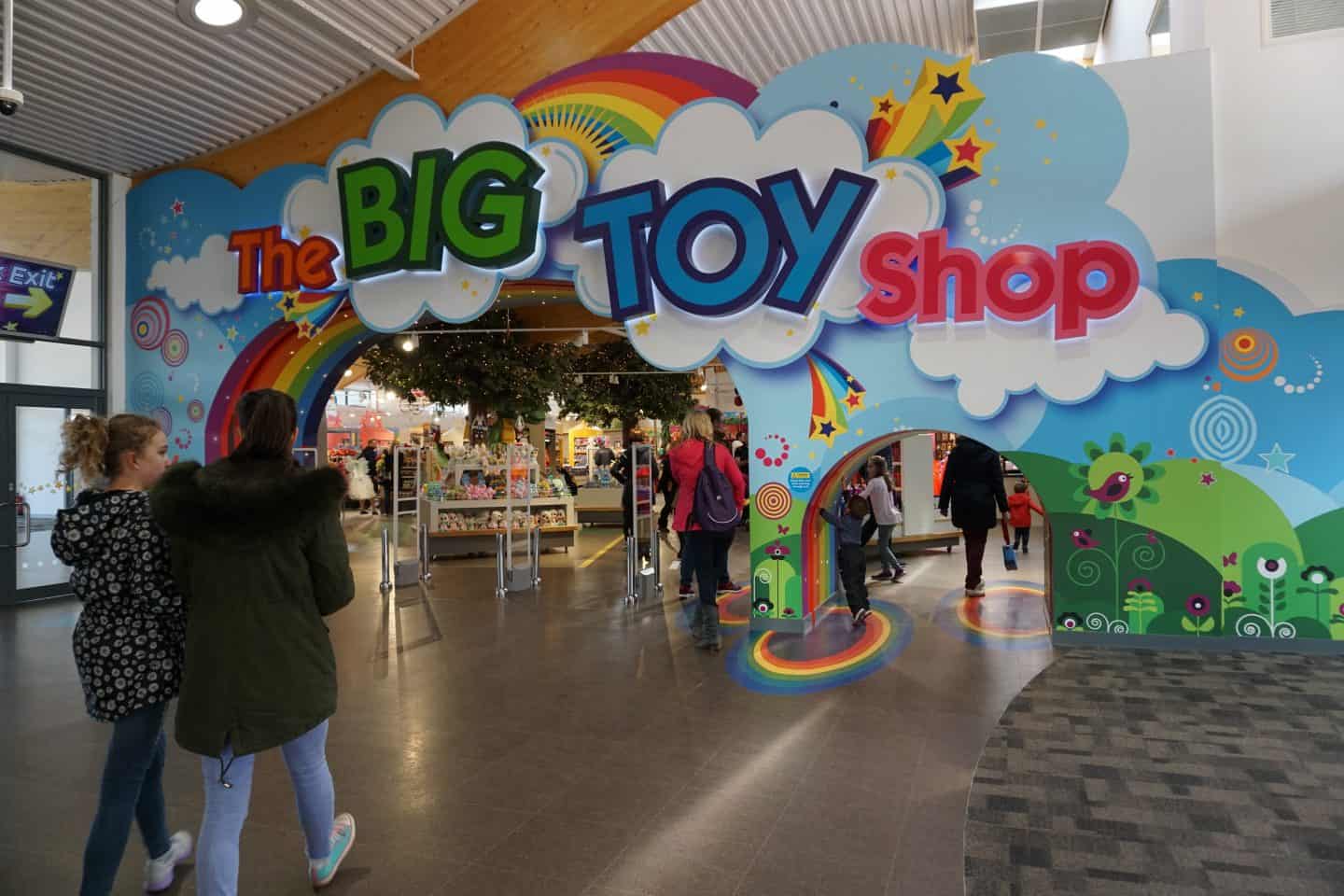 I think with our kids being 2 and 3 I think we did the right amount, when they are a bit older and have a bit more stamina (and perhaps less of a love for Peppa Pig!) we'll probably spend more time in other areas of the theme park a bit more but we arrived at 11am and left at 5pm so were managed to fill a whole day despite not seeing everything! We wanted to go on the train and see more of the animals but there just wasn't time, we'll start with those things next time!
I made a little video of our day too… it shows a bit more of what the park and the rides are like!
We were provided with free entry to Paultons Park in exchange for our honest review.