Book reviews of some of the books I read in May & June! Click for other book related posts.
The Forgotten Daughter – Renita D'Silva
A book as part of the Bahlsen Book Club. At first glance I thought it might be a 'real life sob story' (which tend to be badly written and not much fun to read) but it wasn't so I was happy! The Forgotten Daughter plays out the story of three women, whose lives become entwined in ways they never realised could happen. It is set mainly in India, but partly in the UK, with the different characters taking turns each chapter. The chapters that feature Shilpa start with recipes, a detail of the book I absolutely love. It really helps to add to the imagery of India that is rife throughout the book. Parts of the book are also told in a diary format, and I love that too for the connection you feel to the writer… I admit that I knew where the tale was leading before it got there but then this isn't billed as a mystery and it didn't ruin the enjoyment for me at all.
As for the writing style I have nothing to complain about, I had to look up a word to make sure it meant what I think it did (it did too, I just can't remember for the life of me what the word was!) but I like a book that keeps my brain working and uses a wide vocabulary so this wasn't a problem for me!
The Winner – David Baldacci
I put this on my kindle to read on holiday when I went away at some point last year and just never got round to it, but I wish I had read it earlier as it's fast paced, and I read it over two bath times! (I had to top up the hot water both times, it's a long book!) Baldacci is known for his thrillers and this novel is definitely that. If you had the choice to win the jackpot on the lottery in return for changing your identity and fleeing the country, would you? This book follows the story of LuAnn after she agrees to do just that and signs a contract with Jackson… only it's just not as clear cut as that! There were a couple of sex scenes that were unnecessary, i'm far from a prude I just don't think it was necessary to go into detail, just alluding to it would have worked just as well. I think most people would side with either LuAnn or Jackson, all the characters are believable, and although the plot is far fetched it is not inconceivable really… and full of suspense and intrigue. Mostly unpredictable too!
Sealed with a Kiss – Rachael Lucas
This was another book that I was lucky enough to be sent through the Bahlsen book club. First impressions of the title and blurb made me a little wary, and definitely categorise this book as Chic Lit, which isn't my favoured genre. I have said before on this blog though that I like to alternate between 'books that make me reflect', 'books that make me use my brain' and 'books I can whizz through that make me feel good'. This is definitely the latter! I shot through it in two sittings as it is such an easy read. The dialogue is natural, the story is lickety split but not rushed and the characters are likeable, apart from the ones you're not meant to like! There is a sequel out in November that I'd like to read though, because I did find myself thinking 'what happens NOW' at the end of the book!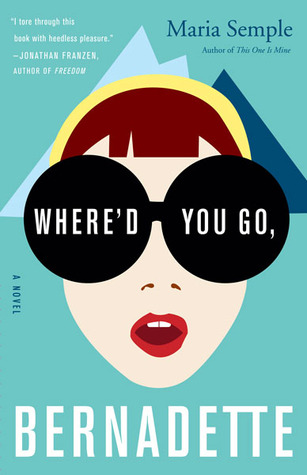 Where'd You Go Bernadette? – Maria Semple
Lent to me by my ma, this is an amazing page turner, and is a satirical comedy written in epistolary form (written as a series of documents/diary entries etc) which is why I couldn't stop reading it, as it's a whole heap of bite sized pieces that entice you to read more and more. Basically Bernadette (a reclusive architect married to a Microsoft bigwig) disappears and her daughter Bea (highly intelligent but trying to be normal) is trying to find out where she went. Lots of different characters and overlapping plots help make this book absurdly fun to read. Maria Semple (the author) wrote for Arrested Development too, so if you liked that you'll probably love this.
What did you read recently? any recommendations for me? If you've read any of the titles I've read then what did you think of them?